Robby Messer | August 29th, 2018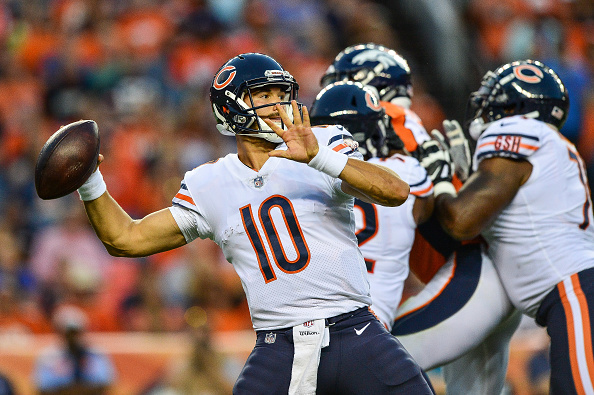 As opening day gets ever closer, we want to continue to look at what can be expected by teams for the upcoming season. The NFC North has plenty of potential to be a tough division, but there are many question marks, namely with the health and development of young players and players returning from injury. The Chicago Bears are hoping everything clicks for them in 2018, so they can, at least, put up a good fight.
Chicago Bears Season Preview
Recap of Last Season
In 2017, the Bears did NOT put up much of a fight, as evidenced by their 5-11 record.  2017 first round pick Mitchell Trubisky took over the starting job after Mike Glennon couldn't get the job done. The switch came after the team started 1-3, but even Trubisky showed some expected growing pains on his way to a 4-8 record. The Bears really struggled against teams in their own division, losing all six games.  In those games, Chicago quarterbacks had a 60% completion rate to go with six touchdown passes and six picks. Against the entire NFC, the Bears had a 60% completion rate, nine touchdowns, and eleven picks, but were also sacked 26 times. To say the team needed to improve on both sides of the ball would be an understatement.
Strengths This Year
Mitchell Trubisky looks to improve on his rookie season. He wasn't asked to do much last year. This year he will take more of the offensive responsibility as he grows. At home, he showed promise with an 89.9 rating and a 4/1 TD/INT. If he can play as well on the road this season, he can become a weapon in the offense
The Bears approached free agency clearly with the future in mind, and not the "win-now" mentality of other teams. The most hyped player the Bears added to their roster was first-round pick Roquan Smith, who the team drafted with the 8th pick in this year's draft. The linebacker held out early, but is now signed and expected to make a difference on the field once he is ready to go.
They acquired linebacker/defensive end Aaron Lynch from the 49ers, who could be an asset if he stays healthy, which hasn't been easy for the 25-year-old. The one-year deal with the Bears will put his health to the test. If Smith pans out and Lynch returns to form, the Bears defense could be a strength this year.
Weaknesses This Year
Their weakness was truly on the offensive side. The team had more games when the leading rusher had less than 50 yards (6) than they did with the leading rusher gaining 100 or more (5). The Bears had only one game with a 100-yard receiver.
As noted throughout this article, the Bears weakness is their health. Many of the players they are counting on have had health issues before and have not been able to maintain a consistent presence on the field.
Additions/Improvements
The Bears went with veteran backup quarterback Chase Daniel in the event something happens to Mitchell Trubisky. Daniel doesn't have a lot of starting experience coming from New Orleans (and Kansas City before that), but at least brings some NFL experience. Not only that, Daniel was some experience with new Bears head coach Matt Nagy from their time in Kansas City, so that can only help if he is called upon to play.
Taylor Gabriel will give the Bears a true downfield threat, but, like other players brought in this season, it all depends on his health. Gabriel suffered a foot injury last year with the Falcons and seemed to never be the same.
Trey Burton will give the Bears, and Trubisky, an athletic target at tight end.  He played for the Eagles during last season's Super Bowl victory, and the Bears hope he can play a larger role with them to help fill the void left by Zach Miller, who is still recovering from a serious knee injury.
The Bears took another chance on the free agent market by signing Allen Robinson who played in only one game last season while recovering from a torn ACL.
Despite the gambles taken by the Bears the free agent signings of players returning from injury, the team let some players recovering from injuries move on to other teams.
The signing of Chase Daniel allowed the Bears to let quarterback Mike Glennon go (he eventually signed with the Cardinals), but he wasn't the only one the team allowed to leave.
Subtractions/Regressions
Linebacker Pernell McPhee's bad knees made him a liability and he signed with Washington. Quentin Demps had a career-high six interceptions in 2016 but played in just three games last season before fracturing his forearm. He is currently unsigned.  Linebacker Willie Young is also looking for work after missing most of last season due to injury.  His release was a bit of a surprise after a strong 2016. Mark Sanchez was released after spending last season on the bench. Unless another team picks him up, his fall from grace is over.
Prediction
The Bears really have nowhere to go but up this season, but only if injury-prone signings can prove they're fully recovered and Trubisky can take charge of an offense that ranked 30th last season. Too many questions that have no solid answers will have the Bears finishing the season a little better but still on the outside looking in at 6-10.
Questions and comments?
thescorecrowsports@gmail.com
Follow Us on Twitter @thescorecrow
Follow Us on Reddit at u/TheScorecrow
Follow Robby Messer on Twitter @talkoutofturn
Main Credit Image: [getty src="1019060672″ width="594″ height="395″ tld="com"]
Advertisement