Eddie Bronsozian |March 5th, 2019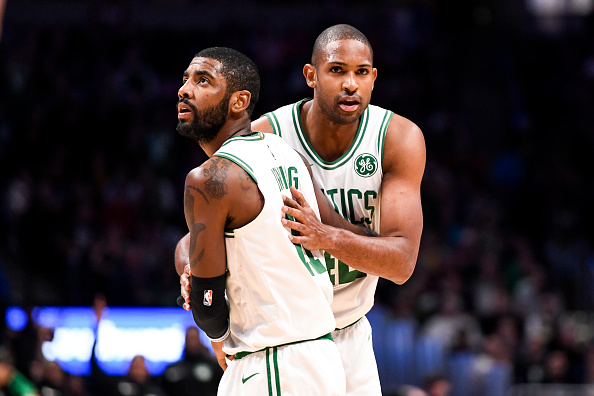 The Boston Celtics are coming off a very disappointing week. They went 1-3, they defeated the struggling Washington Wizards and lost to the Houston Rockets, Toronto Raptors and Portland Trailblazers. They are all high-level teams, but they were very disappointing performances from the C's end.
Summary of Last Week
They started last week off playing against a great and strong Raptors team. Boston needed a win badly against the Raptors to bounce back and showed some good signs of improving chemistry, but they disappointed once again. They ended up losing 118-95, even though Toronto is a great team that is an embarrassing loss by 20-plus points. Unlike the C's, Toronto's chemistry is always very good, they play very well together and move the ball a ton. Kyrie Irving had only seven points for Boston and they didn't look like they were out there having "fun" together, instead playing isolation basketball.
Then on Wednesday night Boston played the Portland Trailblazers who recently picked up some solid players such as Enes Kanter and Rodney Hood. Damian Lillard is an amazing player and an All-Star, he came into TD Garden and did his thing, whereas the Celtics had a chance to win that game, but came up short again. Kyrie dropped 31 points, but it wasn't enough, while Lillard dropped 33 points and gave out 4 assists. Hayward has just been having a tough time as he is trying to get back to his old form, he is averaging five points per game since All Star break in about 25 minutes per game. Celtics lost to the Blazers 92-97.
After back to back losses Celtics were ready to play the Wizards at home in the TD Garden. They went into that game, expected to win against a team without their star point guard in John Wall, but they still have Bradley Beal. The Celtics were able to get it done in this one winning by 11 points against Washington 107-96. The Celtics played much better as a team in this one as Kyrie dished out 12 assists, Al Horford had a solid game with 18 points and Morris picked up a solid nine rebounds for the C's. They played a bit sloppy at times, but finally got into the win column for the first time since the All-Star break.
On Sunday afternoon, Celtics played against the Houston Rockets on ABC. Houston has been playing well and were definitely favorites coming into this one, especially with the way the Celtics have been struggling. Boston was down by 20 plus points in the first half, they almost completed a comeback against Houston, but came up short; James Harden dropped 42 on the C's in the TD Garden as he put on a phenomenal showing, Houston defeated Boston 115-104. It was a very rough week for the C's, they have a little bit of time to get it together before the playoffs begin.
What Will this Week Look Like?
Boston is coming off a very tough week, their schedule doesn't get much easier as they face off against the best team in the NBA, the Golden State Warriors. You know the deal with Stephen Curry and Kevin Durant leading the way for the Warriors, Steph is averaging 28.4 points, 5.2 assists and 5.3 rebounds per game. Kevin Durant is averaging 27.6 points, 5.8 assists and 6.9 Rebounds per game, it's going to be very hard to stop those two, as they are two of the top five players in the league. Don't forget about Klay Thompson now, he isn't having the best season of his career, but he is a huge threat from 3 point range and can guard many different positions at a very high level. He is a very underrated part of the Warriors offense with Steph and Durant covering the spotlight. Klay is averaging 22.2 points this season and shooting .396 % from three-point range, if that's not enough the Warriors also have Demarcus Cousins for this year since his return from injury, he leads the team in rebounding at 8.1 per game, he is scoring about 15.8 points a game and gives the Warriors yet another offensive weapon and defensive presence down low. Don't leave Draymond Green out the equation, he is obviously not having the best season of his career, but he continues to move the ball well for Golden State, he gets his teammates open looks and is very versatile on the defensive end. This will definitely not be an easy game to win for the Celtics, but they really need the win. Boston has played well against Golden State the past few years, dating back to when Isaiah Thomas played for Boston. They match up very well against Golden State although they added Cousins, but when the Celtics play with togetherness and play well on the defensive end they can force the opposing team to take difficult shots. I expect Boston to play up to their level of competition and put up a great game and play as a team, but ultimately I expect them to come up short in a close game on the road against the Warriors at the Oracle Arena, which is a very tough place to earn a victory.
Wednesday vs Sacramento Kings
On Wednesday night the Celtics will face off against a young Sacramento Kings team, they play with heart and have a chance to make the playoffs this season in a tough Western Conference. De'Aaron Fox seems to be the team's leader at the point guard position, he is averaging 7.3 assists in his second season with the Kings. Buddy Hield is their leading scorer at 20.9 points per game, he is a great three-point shooter and has emerged as the Kings top scoring option this season. He is shooting a career high .443% from 3 point range and .469 from the field. Fox is the team's second-leading scorer at 17.2 points per game. Willie Cauley-Stein is also another great young player on Sacramento, he has been very solid this season at the center position averaging 13.9 points, 8.4 rebounds, and 2.5 assists. The Kings currently have a record of 31-31 setting them up at the .500 mark, they will give the Celtics a very tough time even though they are a young and upcoming team. They are a solid defensive team with their athleticism and length that's for sure, the Celtics will have to find a way to match their intensity and effort because it will not be a game they can just cruise through. It's going to be a very good and entertaining game as it will get competitive with the Celtics young players going up against the Kings young players. Jaylen Brown vs Fox, Jayson Tatum vs Hield etc. I expect Boston to win a close game on the road in Sacramento, which I expect will be a very entertaining game.
Saturday vs Los Angeles Lakers
On Saturday night the Celtics will be going up against the Los Angeles Lakers. The Lakers have been struggling and are 4.5 games out of making the playoffs. The Lakers currently sit at the 10th seed in the West with a record of 30-34. LeBron James has been doing his thing, but the young players seem disconnected from the rest of the team especially after there were rumors going around that the Lakers would trade all of their players for Anthony Davis. There seems to be no chemistry between LeBron and the young guys. Lebron was out for about a month this season with a groin injury, that was the first time in his career that he had a serious issue or an injury and had to take off numerous games. The Lakers struggled throughout that period, but even with LeBron back they have struggled vastly on the defensive end and don't show much effort. Lonzo Ball has been out the last few weeks with his leg injury, he had been great on the defensive end for the Lakers so with him being out that has hurt their defense quite a bit. Overall that isn't an excuse for the lack of effort on defense, starting with the King himself. Lebron has been doing his thing all season long, he's averaging 27.0 points, 8.1 assists, and 8.7 rebounds. Even though he has been putting up great stats as always he just hasn't been able to dominate like he used to and carry a good, but not great team like the Lakers to the playoffs like he has with his previous teams for the past decade. Kyle Kuzma is their second-leading scorer at 18.9 points per game and their 3rd scoring option has been Brandon Ingram, who was expected to be a much better player at this point in his career. He has played well at times, but not like everyone expected he is averaging 18.3 points as the team's 3rd scoring option, which is still solid, but most Laker fans and analysts league-wide expected more from him. The Celtics are having chemistry problems themselves and will look to get revenge on the Lakers. If you remember Rajon Rondo hit a mid-range jump-shot buzzer beater to win the game at the TD Garden against his former team. I expect Kyrie to lead the Celtics to a win over the desperate Lakers unless, of course, Boston decides to play selfish basketball like they have been recently which has lead to many losses.
Expectations
The regular season is slowly coming to an end and the Boston Celtics are still the fifth seed in the Eastern Conference. They have struggled to get the chemistry together due to the fact that everyone is worried about their own agenda. Brad Stevens has to step in and handle the players' situation and their egos, he also needs to realize that Gordon Hayward is probably not going to reach his old form or close to his best self until next season. He should definitely think about giving Terry Rozier and Jaylen Brown some of Hayward's minutes especially since he is still working his way back, not only that, but the young guys were the reason Boston made it to the conference finals last season.
If the Celtics can put their egos and agendas aside and focus on improving the chemistry before playoff time, just imagine the young guys and others such as Horford and Marcus Morris gelling well with Kyrie Irving, that is a scary team to face and could give the Warriors a run for their money. If worst comes to worst for the Celtics, they could get bounced out in the first or second round and that could mean the departure of Kyrie Irving for the Celtics. I believe that the Celtics will get it together and Brad Stevens will be a huge part of that. I expect Boston to get back on track this week and finish with a record of 2-1. I believe that it will be very tough to beat Golden State at Oracle Arena, but don't be surprised if Kyrie Irving hits a big shot to win the game or Marcus Smart gets a game-winning stop, after all who knows what can happen in a game when it comes to the Celtics.
Questions and comments?
thescorecrowsports@gmail.com
Follow Us on Twitter @thescorecrow
Follow Us on Reddit at u/TheScorecrow
Follow Us on Facebook at The Scorecrow
Follow Us on Instagram at The Scorecrow
Follow Eddie Bronsozian on Twitter @Sports_report34
Main Credit Image: [getty src="1057870118″ width="594″ height="396″ tld="co.uk"]