Eddie Bronsozian | January 28th, 2019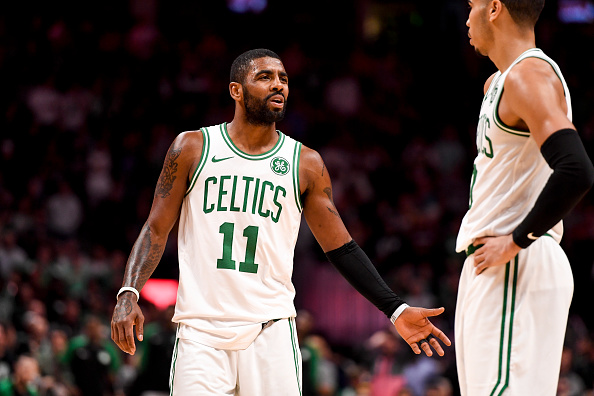 The Boston Celtics ended last week with a 2 – 1 record. They had a solid week even though they had one loss because it was against the Golden State Warriors who are the best team in the league. They played well against the Warriors but just came up short due to some sloppy turnovers.
Summary of Last Week
The Celtics started last week off beating the Miami Heat in a revenge game 107 – 99. Miami had defeated Boston two weeks before so you know they were eager to get the win, especially at TD Garden. Miami played well and almost came back, but the C's handled their business. Good ball movement and unselfish play were key to Boston's victory. Irving had 26 points and 10 assists that game. Then on Wednesday night, the Celtics hosted the Cleveland Cavaliers in Boston, they easily won that one 123 – 103. The Cavaliers had the worst record in the league coming into that one at 9 – 40. Kevin Love was still out for the Cavs so that sure didn't help them, but the C's took care of business as expected. Kyrie was out with flu-like symptoms and Horford took a game off to rest. Terry Rozier had a great game covering for Kyrie leading the C's with 26 points, 8 rebounds, and 6 assists. The Celtics then had a couple of days off to prepare for the showdown with the Golden State Warriors on Saturday night. Both teams came to play that night, Kevin Durant led the Warriors with 33 points and 9 rebounds and Kyrie lead Boston with 32 points and 10 assists. It was a possible finals preview and an epic showdown, but Warriors earned the W in a close one 115 – 111. On the bright side for Boston Al Horford had his best performance of the year dropping 22 points along with 13 rebounds and 2 blocks. Although Boston lost that game at home, Hayward still has time and he is slowly picking up his feet to try and get back to the player he was before the tragic injury. Boston will learn from its mistakes and Brad Stevens will guide them through it.
What Will this Week Bring?
The Boston Celtics start this upcoming week facing off against the Brooklyn Nets for the 3rd time this month. Their current head-to-head regular season record is tied at 1 – 1. Brooklyn has been playing really well of late and has shown bright spots being lead by D'Angelo Russell and Spencer Dinwiddie. The Nets currently sit at the #6 seed in the Eastern conference right behind Boston. Bad news for the Nets though, is that Spencer Dinwiddie is having thumb surgery and is going to be out a minimum of 3 weeks. The Nets will still put up a great game against Boston, D'Angelo Russell is averaging 23.3 PPG, 6.6 APG, and 3.8 RPG in his last 10 games. On the Celtics side of things Kyrie has been passing the ball at a very high and consistent level, he is averaging 8.4 APG in the last 10 games. The Celtics have been playing at a much higher and consistent level than earlier in the season which is why I expect them to defeat Brooklyn Monday night in a close game.
Wednesday vs Charlotte Hornets
The Celtics play against the Charlotte Hornets on Wednesday night in Boston. The Hornets currently sit at the # 8 seed with a record of 23 – 25 in the Eastern Conference lead by point guard Kemba Walker. Kemba was just chosen as a starter for the East in this year's All-Star game on Thursday night. Kemba is having one of his best seasons if not his best averaging 22.3 PPG, 4.5 APG, and 4.5 RPG. He doesn't have a great supporting cast alongside him; for crying out loud the best player on the team after Kemba is currently Jeremy Lamb. He is a good scoring role player and that is about it, so Kemba is doing his best to carry the team on his back to the playoffs this year. He definitely deserves to be an All-Star starter the way he has been playing. The head to head season record is tied at 1 game apiece, Boston won the last time they faced off by 16 points. With Kyrie playing great and the young guys stepping up the last few games, I expect Boston to defeat Charlotte by 10 plus points.
Friday vs New York Knicks
On Friday night the Celtics head over to Madison Square Garden to face off against the New York Knicks. The Knicks are a below average team this season as everyone expected them to be, also due to the facts that Kristaps Porzingis has been out with a knee injury. The Knicks recently announced that Enes Kanter, Tim Hardaway Jr., and Courtney Lee are on the trade block and that they will listen to offers from different teams. They are currently the # 14 seed in the Eastern Conference with a record of 10 – 38. Tim Hardaway Jr. has been their leading scorer at 19.4 PPG thus far; Alonzo Trier has shown some promise in some flashy moments this season. He is a very crafty and quick guard that can dribble really well and score the ball. Kevin Knox the rookie they drafted has played great at times and shown some promise as well but has been inconsistent for the most part. Overall the Knicks have been a mess, Kanter hasn't been getting any playing time and would like to be traded somewhere he is gonna be used the right way. Boston is one of the top tier teams in the league and shouldn't have any problems against the horrendous Knicks so expect them to defeat the Knicks in a blowout win.
Sunday vs Oklahoma City Thunder
Boston will face off against the Oklahoma City Thunder on Sunday afternoon on ABC. Two of the top teams will face off so it should be a showdown. Paul George is having the best year of his career statistically and Russell Westbrook continues to dominate in every statistical category averaging 21.9 PPG, 10.7 APG and 10.8 RPG. Paul George was just named All-Star starter for the Western Conference basically over Anthony Davis. That right there should tell you what kind of season he is having; PG 13 is averaging 26.9 PPG this season along with 4.0 APG and 8 RPG. He is also a possible candidate for defensive player of the year this season averaging 2.3 STLS which leads the league. He is ranked as the 2nd best defensive player this season so far right behind the Greek Freak with a 101.4 defensive rating. Kyrie will perform for Boston as usual, but if they want to beat the Thunder Sunday afternoon it has to be a team effort. Tatum, Morris, and Horford will have to play at a high level along with Rozier, Hayward, and Brown off the bench. Marcus Smart will do what he does best and give Boston the energy they need along his recently improved 3pt shot. I believe the Celtics will win this game at home in a very close game.
Expectations
Boston still sits at the #5 seed in the Eastern Conference, but they have been playing really well on both sides of the basketball. Marcus Smarts improved 3 point shooting has had a huge impact on games for the C's. His confidence has skyrocketed and he is not afraid to shoot the basketball, the good thing about it is that it gives Boston another perimeter shooter and a threat from the outside. Kyrie Irving was just named an All-Star starter for the Eastern Conference which was great news for him and the Celtics, but not much of a surprise due to how great he has played this season. With that being said Boston has been much more consistent and it has lead to more wins. On the other hand, Hayward hasn't looked so great, but good news for him and the C's is that there is still a long way to go this season. It's not easy coming off a serious injury like that after a year off but look at Paul George for instance since coming back from a broken leg he has been just phenomenal. There is still hope for Hayward to get back to his old self it's just going to take some time. I believe the Celtics will have a great week and finish it off with a record of 4 – 0.
Questions and comments?
thescorecrowsports@gmail.com
Follow Us on Twitter @thescorecrow
Follow Us on Reddit at u/TheScorecrow
Follow Eddie Bronsozian on Twitter @Sports_report34
Main Credit Image: [getty src="1057940896″ width="594″ height="396″ tld="com"]