Eddie Bronsozian | January 14th, 2019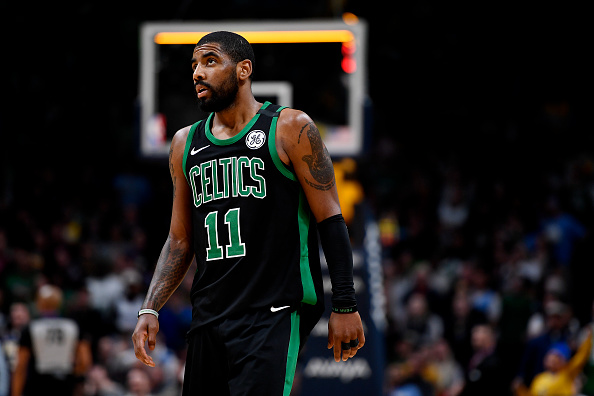 The Boston Celtics still haven't got the chemistry together. They have struggled winning games on the road, their road record currently sits at 10-12. They ended up going 2-2 last week and lost back-to-back games on the road.
Summary of last week
The Celtics started the week off strong by blowing out the Nets in Boston by 21 points. After a day off they went up against a top-3 seed in the East, the Indiana Pacers, and also blew them out by a 27-point margin. They played in a back-to-back against the Heat in Miami and ended up surprisingly losing that game by 16 points. Miami shot 46.2% from the 3-point line and Wade led the Heat with 19 points. The Celtics struggled offensively as only four players scored in double figures, they shot a lot of contested threes and weren't aggressive going to the basket. They were mostly settling for jump shots and didn't move the ball much. Kyrie led the C's with 22 points, 5 rebounds, and 5 assists, but it wasn't enough. As they ended their week on Saturday, the Celtics came up short against a below average Orlando Magic team losing 103-105. Boston was up by 10 at halftime, but it went downhill after that as the Magic made a run in the 4th quarter to take the lead. Terrance Ross gave them 25 points off the bench and Aaron Gordon dominated with 28 points and 12 rebounds. That was key to Orlando's win over Boston. Kyrie Irving seemed very frustrated with Hayward's decision at the end of the game; it could've tied or won the game. Hopefully, Celtics will have a better record through their next four games.
How will this week look?
The Celtics will have a rematch with the Nets on Monday night in Brooklyn. The Celtics took care of business the last time they faced the Nets, although the Nets are playing better than anyone expected and currently sit at #7 in the Eastern Conference. The Nets will be better prepared for the Celtics this time around, but I still expect the Celtics to take care of business due to their surplus of talent unless they settle for tough jump shots and lack ball movement. The Celtics really need to stay consistent with a lot of ball movement and shot selection if they want to have a chance to earn home-court advantage throughout the playoffs by moving up in seeding.
Wednesday vs Toronto
On Wednesday night the Celtics have a tough matchup against their East rival the Toronto Raptors who currently sit at #1 in the Eastern Conference. The Raptors are coming in with a record of 33-12; the season series between both teams is currently tied at 1 apiece. It's definitely going to be a close game and will come down to the wire. Expect it to be a high-scoring game filled with a lot of highlights. The Celtics will have to play well together and trust each other by sacrificing the ball more than they are used to or else they will not be able to beat a team as talented as Toronto. Aaron Baynes is still out with a right-hand injury, but if he can suit up for Boston Wednesday night that would be a huge positive for the C's especially on the defensive end. It's going to be very competitive and things could get ugly with gritty players from both teams such as Marcus Smart and Fred Van Fleet. I believe the Celtics will win a close one with the leadership of Kyrie Irving and especially since they are playing at home with a record of 15-5 this season.
Friday vs Memphis
Friday Evening the Celtics take on the "Gritty and tough" Memphis Grizzlies at home. Memphis hasn't been playing too well as of late, coming into this one with a record of 19-23 losing five of their last six games. The Celtics are going to have to work hard and rebound well against the Grizzlies who have a lot of size up front with players like Marc Gasol and Jaren Jackson Jr. Memphis also moves the ball very well with Mike Conley running the point. They play tough and are very aggressive on the defensive end of the ball so the Celtics will have to match their intensity. A positive note for the Celtics as of late has been Marcus Smart's much-improved 3-point shooting; he is shooting a career-high 35% from three this season. His improved 3-point shooting has made him a threat and opposing teams can no longer gamble on giving him too much space. This now opens up more options for the Celtics and gives them another reliable shooting option. I expect the Celtics to take care of business at home possibly in a blowout.
Saturday vs Atlanta
The Celtics will finish off the week against a young and below .500 Atlanta Hawks team. The Hawks are not a playoff team and are currently in the rebuilding process with a record of 13-30. They have a young stud in Trae Young who has averaged 15.6 PPG and 7.2 APG this season. They have something to look forward to in the future along with their athletic young player John Collins who is a part of the highlight reel almost every other night. The Celtics should dominate in this game as they are on another level compared to the young Hawks and have much more talent. I expect the Celtics to move the ball and get a lot of open looks in this one. I believe that five or more players will be in double figures for the C's and that they will defeat Atlanta easily.
Expectations
The Celtics currently sit at the #5 seed in the Eastern Conference, which is way below expectations coming into the season. The Celtics have looked very good as a team as far as their chemistry and ball movement goes, but only in a few games this season. Overall they still have a lot of room for improvement after losing back-to-back games to Miami and Orlando. The young guys seem to play with "effort" only when they feel like it and, at times, play isolation ball way too much; that includes Jaylen Brown, Terry Rozier and Jayson Tatum. Kyrie seemed very disappointed with the young guys after the loss to Orlando Saturday night and said: "that the young guys don't know what it takes to be a championship level team." Of course, Kyrie is speaking from experience and as a leader of this team that's great that he is addressing this issue. It's going to be interesting to see how they handle the issues with team chemistry moving forward as it is only the first half of the season. Overall the Celtics will have to get it together soon in order to earn the #1 seed in the Eastern Conference and if they want to get to the NBA finals. I truly believe the Celtics can go 4 – 0 this week if they work out their chemistry issues, but their toughest opponent this week is definitely the Toronto Raptors. They should be able to take care of business with the rest of their opponents this week.
Questions and comments?
thescorecrowsports@gmail.com
Follow Us on Twitter @thescorecrow
Follow Us on Reddit at u/TheScorecrow
Follow Eddie Bronsozian on Twitter @Sports_report34
Main Credit Image: [getty src="911972940″ width="594″ height="396″ tld="com"]