Eddie Bronsozian | February 5th, 2019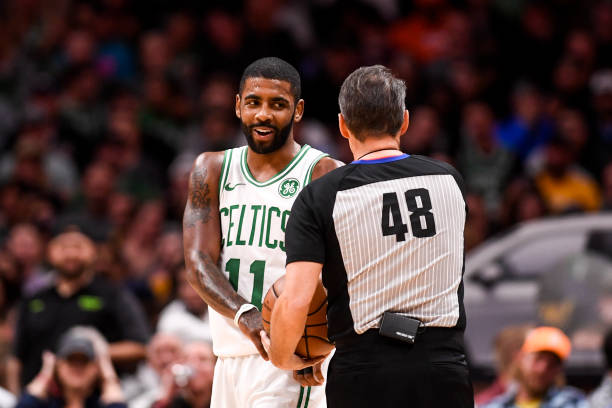 The Boston Celtics are coming off an undefeated week in which they went 4-0. Kyrie Irving has just been phenomenal and Jaylen Brown has really stepped up off the bench. Celtics have won four straight games.
Overview of Last Week
The Boston Celtics began last week defeating the Brooklyn Nets in a pretty close game 112 – 104. Kyrie sat out that game, but Jaylen Brown and Marcus Smart lead the C's to a victory. Jaylen Brown dropped 21 points off the bench and Marcus Smart had 21 points to go along with seven assists which were a team high. Boston took care of business as Kyrie didn't play. On Wednesday night the Celtics went up against the Charlotte Hornets at home. They defeated the Hornets 126-94, Boston won in a huge blowout as Terry Rozier and Jaylen Brown lead the C's as the top performers. Brown led the way with 24 points and ten rebounds and Terry Rozier had a solid all-around performance with 17 points, ten assists, and five rebounds. Then on Friday night Boston played the Knicks at Madison Square Garden as Kyrie Irving returned to the starting lineup. Knicks fans were chanting "We Want Kyrie", as the rumors continue to swirl and have created a lot of drama around the league. Kyrie had 23 points, six assists, and ten rebounds, and as for the Knicks, Damyean Dotson dropped 22 points along with Noah Vonleh dropping seven points, 11 rebounds and seven assists. Boston easily won this game 113 – 99. Then on Sunday afternoon, Boston played the Oklahoma City Thunder – it was a very entertaining and down to the wire showdown. The Celtics won in a very close game 134 – 129. Russell Westbrook made a silly turnover at the end of the game when they had a chance to tie it. Kyrie led the way for Boston with 30 points, 11 assists, and 4 rebounds. Al Horford also had a great game as he dropped 17 points to go with nine assists. Marcus Smart was 4 – 9 from three-point range and he finished with 18 points and seven assists. On the other hand, for Oklahoma City, Paul George led the way with 37 points, four assists and four rebounds and his teammate Russell Westbrook had a triple-double (22 points, 16 assists and 12 rebounds). Boston took care of business at home and has moved up to #3 in the Eastern Conference.
What Will This Week Look Like?
Celtics begin this upcoming week in Cleveland against the Cavaliers; Kevin Love is still out for them and Rodney Hood just got traded to Portland. Boston easily took care of business the last time they faced the Cavs. They are obviously much more talented than them, but they have also been playing great and are currently on a 4 game winning streak since losing to the Warriors. Kyrie is averaging 10.1 APG in the last 10 games, he has also been dominating in crunch time, and he displayed that Sunday afternoon against the Thunder. Collin Sexton has been "ok" in his rookie year, but hasn't amazed or showcased anything special just yet. Jordan Clarkson leads the Cavs in scoring at 16.8 PPG and is shooting 45.6% from the field. Cleveland has the third worst record in the league at 11 – 42. I expect Boston to go into Cleveland and win by 15+ points; I also think that the reserves will get to see some time on the floor.
Thursday vs Los Angeles Lakers
On Thursday night the Celtics will play against their longtime hated rivals the Los Angeles Lakers at the TD Garden. This is definitely going to be a great game, especially if LeBron James is back in the starting lineup for the Lakers. Every time the Lakers and Celtics face off in the regular season, no matter the talent each team has, it always ends up being a very entertaining game. The Lakers' young players such as Brandon Ingram, Kyle Kuzma, and Josh Hart will go up against the youth of the C's with the likes of Jaylen Brown, Jayson Tatum, and Terry Rozier. You also have Lebron James going up against Kyrie Irving which makes it even better, especially because there are all these rumors going around that they will possibly reunite in LA. Kyrie vs Lebron – hopefully LBJ is good to go come Thursday night. Kyrie has embraced his role as a leader, so expect him to have a huge game not only by scoring but by also distributing the ball. Lebron will do his thing and put up great stats. The Lakers come into this one sitting at 27 – 26. They have struggled to find ways to win without Lebron, and if that's not enough, Lonzo Ball is currently out with an ankle injury, he is the team leader in assists this season at 5.4 APG. Kyle Kuzma leads the Lakers in scoring at 18.8 PPG. Rajon Rondo has been dishing out the ball really well for the Lakers since returning from his hand injury. He is averaging 10.8 PPG and 10.6 APG in the last 10 games. Jaylen Brown has stepped it up off the bench for the Celtics, in the last 10 games, he is averaging 14 PPG and 4.8 RPG. I expect Brown to continue his scoring off the bench and that he will play well against the Lakers. I believe that Boston defeats the Lakers in a close game if Lebron plays and a blowout if he doesn't.
Saturday vs Los Angeles Clippers
Saturday night, the Celtics end the week off by facing Los Angeles again, but this time it's the Clippers. The Clippers came into the season expected to be a team that would have nothing to do with the NBA playoffs. Well, they have played beyond expectations and currently stand at #8 in the Western Conference with a record of 29 – 25. Tobias Harris is having a career year but didn't make the All-Star Team even though most fans and players believe he deserved it. He is averaging 20.7 PPG and 7.9 RPG; he has been the best player on the Clippers this year, and along with the help of Lou Williams' scoring and assisting off the bench, they definitely have a shot at making the playoffs this year. Patrick Beverley is a heck of a defender and isn't scared to guard the top point guards in the league, he is just a "dog" out there on the court. Lou Williams is averaging 19.3 PPG and 5.3 APG off the bench this season giving the Clippers a huge boost. Montrezl Harrell has also been a very solid player for LA averaging 1.4 BPG as he gives them a defensive presence down low. Their young guy Shai Gilgeous-Alexander has played well for them this season averaging 10.1 PPG, 3 APG and 2.8 RPG as a rookie starter thus far. Expect the Clippers to put up a fight against the Celtics especially with their scrappy defensive guys such as Beverly, Harrell and Shai Gilgeous-Alexander. I expect Boston to defeat the LA Clippers in a close game as things could get chippy in this one due to the fact that both teams play great defense.
Expectations
Boston had been sitting at the #5 seed in the Eastern Conference for the last two weeks. They just moved into the #3 spot after a win over Oklahoma City Sunday afternoon. The Celtics are starting to pick up the pace and seem to be looking like the team we expected them to be with the exception of Gordon Hayward. Jaylen Brown is slowly gaining his confidence back and has been putting up solid numbers off the bench lately. That is a huge positive for the Celtics especially with Kyrie emerging as the alpha/leader of the team. Tatum has also been pretty consistent this season thus far averaging 16.1 PPG, 1.8 APG and 6.2 RPG. Marcus Smart's 3 point shooting has been a huge positive for Boston; he has been very consistent from downtown and it's definitely showing that he worked on his shot during the offseason. He is shooting a career-high .367% from downtown and .408% from the field. Horford has been getting a bit more involved in the offense as of late and it has had a positive impact on the team, his passing ability also helps spread the floor for Boston. Boston has won four games in a row. With the way they have been playing it looks like they are going to have another undefeated week coming up. I expect Boston to end the week with a 3-0 record taking care of business against the Cavaliers and Clippers; the challenging game for the C's will be against the Lakers if Lebron ends up playing.
Questions and comments?
thescorecrowsports@gmail.com
Follow Us on Twitter @thescorecrow
Follow Us on Reddit at u/TheScorecrow
Follow Eddie Bronsozian on Twitter @Sports_report34
Main Credit Image:[getty src="1057870548″ width="594″ height="396″ tld="com"]