Eddie Bronsozian | February 26th, 2019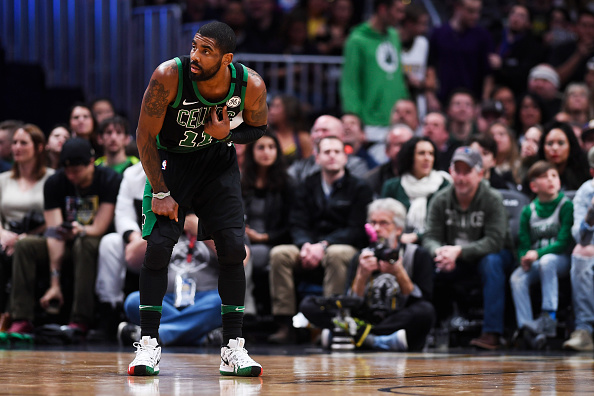 The Boston Celtics are coming off a horrendous and tough week, going 0-2. They lost to Milwaukee by 1 on the road, Kyrie missed a contested shot in a tough loss. The unexpected loss came against the Bulls in which they lost by 10 points, they sit at the #5 spot in the East. Very horrendous lost for the C's.
Summary of Last Week
I predicted that the Celtics would go 2-0 last week and I thought at worst they would end up going 1-1, due to the fact that they were going to play the Bucks who have been on a tear. The Celtics ended last week with a record of 2-0, definitely didn't expect them to lose to Chicago by double digits. They played the Bucks in Milwaukee on Thursday night and lost 97-98 in a nail-biting finish, as Kyrie had a chance to win the game. He might have gotten fouled, but that's a very tough call for the refs at the end of an intense and close game. Then on Saturday evening Boston went up against the Chicago Bulls, they were obviously projected to easily win this game. The last time they played the Bulls they won by 56 points, they ended up dropping this game to Chicago 116-126. They didn't show much effort on the defensive end, they seemed to play down to their opponents level. They thought they could come out with a mentality of oh let's just take it easy in the beginning then make a quick run and win the game against a low-level team. Kyrie Irving had 37 points and 10 assists and it still wasn't enough, the C's seem to still be struggling with getting the chemistry together.
Will this Week Bring a better Outcome?
Boston has a pretty tough schedule in their next 4 games this week. They face off against the Toronto Raptors on Tuesday night, they are currently 2-1 against Toronto so far this season and have played well in those three games. It will definitely be a showdown as the headlines will not only be Boston vs Toronto but Kyrie Irving vs Kawhi Leonard. Kawhi Leonard is leading the Raptors in PPG this season at 26.9, Kyle Lowry is the leader in APG for them at 9.1. It is going to be a straight "showdown" Kyrie has balled the last two times these teams faced each other, he had 20 plus points and double-digit assists in each of those games. On the other hand, Kawhi had 33 points the last time they faced off. Pascal Siakam has been a bright spot for Toronto and he has been on a roll, he is having an amazing year and could possibly win most improved player. He is a very important part of what the Raptors are trying to accomplish this season, which is to win a championship. In the last 10 games Siakam is averaging 20.9 PPG, 2.8 APG, and 6.8 RPG, he is very versatile and can switch onto different defenders. He can also shoot the 3-ball at a consistent level, he is shooting .354 from deep this season. He is shooting 50% from the field in the last 10 games, he will definitely give Boston problems with his length and versatility. I expect Boston to bounce back from the loss against Chicago and win a nail-biting showdown against Toronto.
Wednesday vs Portland Trailblazers
On Wednesday night the Celtics take on the Portland Trailblazers at the TD Garden in which should be a very good game. Portland has been playing at a high level all season long, they currently sit at the #4 seed in the Western Conference with a record of 37-23. Damian Lillard is having a great year, he was also chosen as an All-Star this season. He leads the team in points at 25.9 a game, he also leads them in assists at 6.4 a game and steals at 1.2 a game. Jusuf Nurkic is their anchor down low averaging 15.4 PPG, 10.2 RPG, and 1.5 BLKPG. C.J. Mccollum is also having a solid year playing alongside Dame Dolla, he is averaging 20.9 PPG, 2.8 APG and 4.1 RPG. Boston definitely has to step it up on the defensive end because the Blazers are a great all around team and have more than one consistent scoring option on their roster. Kyrie will definitely put on a show on Bostons end, but others need to step up such as Jaylen Brown, Jayson Tatum, and Terry Rozier off the bench. Horford has been very solid for Boston recently, he is averaging 15.2 PPG, 5.4 APG and 7.9 RPG along with 1.3 BLKPG in the last 10 games. I expect Boston to win in a close game, Portland has been playing very well so it will not be easy, but being at home will definitely help Boston.
Friday vs Washington Wizards
On Friday night Boston will be taking on the struggling Washington Wizards at home in the TD Garden. The Washington Wizards are having a very tough season, they were expected to be a top 5 playoff team in the East without Lebron James this season, but haven't played up to expectations. John Wall is out for 12 months after falling down and injuring himself inside his home, that was very tough news for him and the Wizards team. Obviously, without John Wall, they aren't as talented of a team, but they were playing without effort and having chemistry issues even before John Wall went out due to his knee surgery. On the bright side for Washington Bradley Beal has been on a tear averaging 25.6 PPG, 5.4 APG and shooting 47.7% from the field. The Wizards recently traded Otto Porter Jr. at the trade deadline, they had signed him to a big deal thinking he would be a big part of their future, but clearly, that didn't work out. The Wizards as a whole are a mess, they recently picked up Jabari Parker who is a solid scorer and rebounder and they also traded for Bobby Portis who is young and has shown flashes of being a good player. Thomas Bryant has been a "promising and young solid" player this season coming off the bench and averaging 9.8 PPG, 5.9 RPG and 1.2 APG. I predict that Boston will easily win this one by 10 plus points, expect Terry Rozier and the reserves to see quite a bit of time on the Court.
Sunday vs Houston Rockets
On Sunday afternoon the Boston Celtics will be facing off against the Houston Rockets. Houston currently has a record of 35-25 which has them sitting at the #5 seed in the West. James Harden has been having a historic and phenomenal season thus far, due to the fact that he had to step up in absence of Clint Capela and Chris Paul who are obviously a huge part of their team's success. Harden is averaging 36.5 PPG, 7.7 APG, 6.7 RPG and 2.1 steals a game. He was also on a historic streak of getting at least 30 points a game which ended at 32 games. Clint Capela was averaging 17.3 PPG, 12.6 RPG, and 1.8 BLKPG before getting hurt. Chris Paul was averaging 16.0 PPG, 8.3 APG and 4.3 RPG. Chris Paul is back and healthy on the court again, he lead the Rockets without Harden to a win over Golden State the other night; he had 23 points, 17 assists and 5 rebounds to go along with 2 steals. Capela has also returned for Houston since their game against the Lakers, he has been solid and is trying to get back to form. As for Boston, Al Horford definitely has to step up against Capela who is a high-level rebounder and has a lot of athleticism. Baynes is still out for a couple more weeks according to the team, he would have been great to matchup against Capela and help with rebounding. Boston will have to play well, the young guys have to step up and help Kyrie out in a team effort. I believe the C's can beat Houston, but I don't think they will because Houston has been on a roll especially with Chris Paul and Capela returning. Don't be surprised if Boston somehow pulls off a win though.
Expectations
The Boston Celtics are back to square one, they currently sit at the #5 seed in the Eastern Conference with a record of 37-23. They seem to continue to have chemistry problems, the young guys just can't seem to figure out how to sacrifice the ball with Irving on the court. It seems to be a more serious situation than everyone thought it was, the regular season is almost over and the issues are still occurring. Brad Stevens can possibly tweak the lineup once again, maybe bring Jaylen Brown back into the starting lineup and move Marcus Smart back to the bench. The Celtics are coming off back to back tough losses, a big chunk of the issues seems to lead back to coach Stevens and not just the players. Boston is in serious trouble, also because they currently don't have home-court advantage. Can he make a lineup edit or change the young players' mindsets to "get it together", that has still remained to be seen. Hayward should also sacrifice some of his minutes to the youth in order for them to possibly perform better as a team that they were used to until Gordon gets back to form. We Shall see what happens, these next couple of months are going to be very interesting.
Questions and comments?
thescorecrowsports@gmail.com
Follow Us on Twitter @thescorecrow
Follow Us on Reddit at u/TheScorecrow
Follow Us on Facebook at The Scorecrow
Follow Us on Instagram at The Scorecrow
Follow Eddie Bronsozian on Twitter @Sports_report34
Main Credit Image: [getty src="911958030″ width="594″ height="396″ tld="com"]