Eddie Bronsozian | February 21st, 2019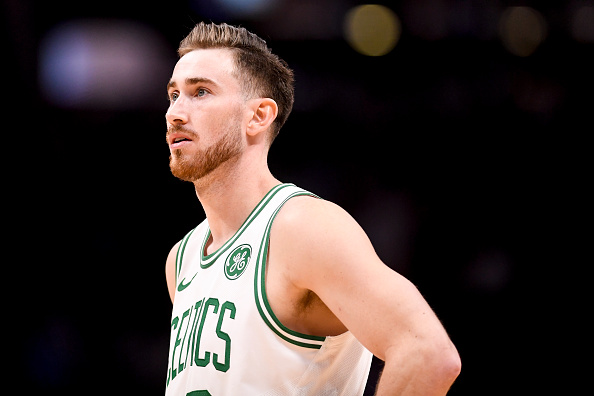 The Celtics finished last week off going undefeated. They defeated the Philadelphia 76ers and Detroit Pistons. They finished the week going 2-0 right before All-Star break, a great way to end it.
Summary of Last Week
Overall the Celtics had a short, but great winning week. They defeated the Philadelphia 76ers on Tuesday night at their home, without their starting point guard Kyrie Irving. They won in a hard-fought battle 112-109, Gordon Hayward had a great game including a few clutch threes. He dropped 26 points to go along with 4 rebounds and 3 assists. As for the 76ers Embiid put up 23 points to go along with 14 rebounds. Celtics just continue to "own" Philadelphia every time they have played against them, they just find a way to get it done against them. Then on Wednesday night which was a back to back for the C's; they faced off against the Detroit Pistons in the TD Garden. Kyrie was also out for that game with a minor knee sprain, Boston seemed to be moving the ball a bit more without Kyrie. Boston played well as a whole and defeated the Pistons 118-110; for the most part, the C's were blowing Detroit out, but they made a little run at the end of the game. Six Celtic's had double-figure points. Jayson Tatum led the way with 19 points, Horford dropped 17 points, picked up 14 rebounds and dished out 8 assists. Hayward also had another good game dropping 18 points to go along with 5 rebounds and 8 assists. Blake Griffin led all scorers with 32 to go along with 8 rebounds and 5 assists. Andre Drummond put up 21 points to go along with 17 boards. Very solid week for Boston last week.
What Will This Week Look Like?
The Celtics are back in action as NBA All-Star weekend is now over, they look to begin the week against the "scorching hot" Milwaukee Bucks who currently are #1 in the Eastern Conference. The Celtics haven't looked great on the road this season with a record of 14-13. This is going to be a great challenge for Boston, Giannis is basically unstoppable, but Boston has a lot of versatile defenders which will try and make him take tough shots. Kyrie should be back in the starting lineup especially since he played in the All-Star game and looked good. Giannis is averaging 27.2 PPG, 12.7 RPG, and 1.4 BLKPG and has the Bucks currently sitting at the #1 seed in the East; continues to show why he could be MVP. Kris Middleton has been balling for Milwaukee as well, he was chosen as an All-Star this year for the first time in his career, he is averaging 17.1 PPG, 5.8 RPG, and 4.2 APG. Eric Bledsoe and Malcolm Brogdon have also been solid contributors as both guards are averaging 15.8 PPG. Bledsoe is averaging 5.4 APG and Malcolm Brogdon is averaging 3.3 APG. It's going to be a tough game on the road for the C's, but I expect them to get it together after they had some time off due to the All-Star Break. I expect Boston to defeat the Milwaukee Bucks in a very close nail-biting game.
Saturday vs Chicago Bulls
The Boston Celtics will take on the Chicago Bulls on the road on Saturday evening. The Chicago Bulls have been a non-playoff team all season long as expected, they seem to have found a "Franchise" player in Lauri Markkanen. They also have a bunch of solid young players which have shown "potential" including recently acquired Otto Porter Jr. Kris Dunn, Wendell Carter Jr, and Justin Holiday have been solid for Chicago and could be valuable young pieces. Zach Lavine is leading Chicago in PPG at 23 while also picking up 4.5 boards a game and dishing out 4 APG. Lauri Markkanen is averaging 18.5 PPG, to go along with 8.8 RPG since returning from injury; the Bulls are coming into this one with a record of 14-44 which is the 4th worst record in the league. That has them currently sitting at the #13th seed in the Eastern Conference, I expect this to be an easy win for the C's. Boston is much more talented and should have no problem defeating a non-playoff team, expect five or more players to put up double-digit points in this one for the C's. I expect Boston to defeat Chicago in a blowout victory, the reserves should also get some playtime as well.
Expectations
The Celtics are coming into this week sitting at the #4 seed in the Eastern Conference. I expect them to start this week of strong coming off All-Star break, Brad Stevens should be able to help the team get it together. The young studs need to learn how to play with Kyrie and Hayward, but also play like they did last year in the playoffs in order for Boston to go "far". Their goal is to win a championship and you're definitely going to need a superstar. Kyrie Irving is that superstar, Tatum, Brown, and Rozier have to figure out how to blend their great play from last year into this season. Hayward seems to be slowly picking up the slack, but it's gonna take a bit more time for him to get to complete form. It's now the second half of the NBA regular season, if Boston wants to have success and win a lot of games they have to become very consistent or else they are in serious trouble especially due to the fact that Kyrie is going to be a free agent come this summer and he could look to leave. I believe Boston "can" figure it out, but we shall see if they actually will or not. I believe the Celtics will finish off this week going 2-0, they really need to step it up in order to move into a top two seed in the Eastern Conference to earn home-court advantage which will be very important come playoff time.
Questions and comments?
thescorecrowsports@gmail.com
Follow Us on Twitter @thescorecrow
Follow Us on Reddit at u/TheScorecrow
Follow Us on Facebook at The Scorecrow
Follow Us on Instagram at The Scorecrow
Follow Eddie Bronsozian on Twitter @Sports_report34
Main Credit Image: [getty src="1057940518″ width="594″ height="396″ tld="com"]