Eddie Bronsozian | February 11th, 2019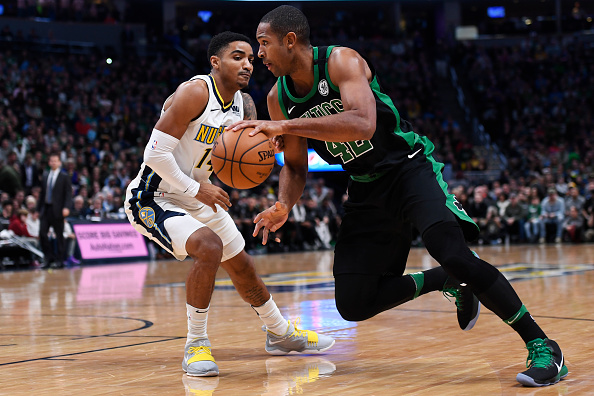 The Celtics are coming off a disappointing 1-2 week, with losses against the Lakers and Clippers. The C's looked like they found their "groove", but yet again are still inconsistent.
Summary of Last Week
The Celtics began last week off with a win over the Cavaliers 103 – 96. Marcus Morris and Kyrie Irving were both out with minor injuries, but Celtics were still able to handle business as Tatum lead the way with 25 points and 7 rebounds. Gordon Hayward had a good performance off the bench pouring in 18 points along with 6 rebounds and assists. Great sign for the C's and Gordon himself. Collin Sexton lead the way for the Cavs with 27 points and his recently acquired teammate Alec Burks had 21 points. Then on Thursday night the Celtics were "stunned" at the buzzer as former Celtic Rajon Rondo hit the game-winning jump shot; after ending up with a loose ball from which Horford blocked Brandon Ingram's lay-in attempt. Very tough loss for Boston in the TD Garden. Kyrie led the way for Boston with 24 points to go along with 8 assists. Jayson Tatum also had a big game dropping 22 points along with 10 rebounds and 5 assists. Lebron had a triple-double for the Lakers and also hit a few clutch threes (28 PTS, 12 ASTS, 12 REBS). Kuzma drained 5 threes and finished with 25 points and picked up 5 boards. On Saturday evening the Celtics gave up a 28 points lead and lost to the Clippers 112-123. Kyrie left that game with a right knee sprain and is now listed day to day. Celtics played isolation ball and according to Marcus Morris, they weren't having fun out on the court. Hayward had a solid game dropping 19 points, Rozier also played well off the bench with 16 points, 5 rebounds, and 3 assists. For the Clipper Montrezl Harrell had 21 points and 6 rebounds in the comeback win over Boston. Gallinari dropped 19 points to go along with 10 rebounds. A very disappointing week from the Celtics.
What Will This Week Bring?
The Celtics will look to get things started against the Philadelphia 76ers on Tuesday night in what will be a tough matchup for Boston. The 76ers just acquired Tobias Harris from the Los Angeles Clippers adding another versatile forward to their already very talented team. The 76ers have been playing well and currently sit at the #4 seed in the East. The Celtics need to step it up and play well as a team against Philly. Kyrie should be back in the starting lineup by Tuesday, but either way, Boston needs to get it together. Joel Embiid has been an absolute monster down low this season averaging 27.2 PPG, 13.5 RPG, and 3.5 APG. Ben Simmons, on the other hand, is averaging 16.9 PPG, 9.3 RPG, and 8.0 APG, they are both very special talents. Celtics have a lot on their plate come Tuesday night especially with the addition of Tobias Harris who has played at an All-Star level this year with the Clippers. They also have Jimmy Butler on the squad, one of the best two-way guards in the league, he is very versatile and can guard multiple positions. Boston has to be ready to face this new and improved 76ers squad, they have to share the ball and trust each other, expect big games from Kyrie if he plays, Al Horford and Marcus Smart. They have to play "together" if they want to defeat the 76ers. I expect this game to be a very close one, but I believe that the 76ers will get it done at home especially with Boston's recent struggles.
Wednesday vs Detroit Pistons
On Wednesday night Boston will play in a back to back against the Detroit Pistons at home in the TD Garden. As you know Pistons have a very talented front court with Blake Griffin and Andre Drummond, they recently moved into the #8 seed in the Eastern Conference with a record of 25-29 tied with the Miami Heat. Blake Griffin is averaging 26.1 PPG, 5.3 APG and 8.1 RPG, on the other hand, Drummond is averaging 17.1 PPG, 14.9 PPG, and 1.2 APG. Boston will definitely need to step up their rebounding against Detroit. Drummond is #1 in Rebounding in the league, Horford isn't a great rebounder, but he's going to have to step up as well as the rest of the Celtics team. Expect Robert Williams to see some time on the court with his great athleticism and length. Boston has had a lot of success against Detroit in the past, I expect Boston to attempt and make a lot of 3's against a not so great Pistons defense. Jaylen Brown, Tatum and Marcus Morris should have good all-around games due to the fact that Pistons recently traded away their good wing defenders in Reggie Bullock and Stanley Johnson. They also picked up Thon Maker which gives them another lengthy defender to protect the paint. Kyrie Irving needs to lead the ball movement and find ways to get all the guys involved. Boston's bench will also be a huge factor in this game because if they play well Boston is almost guaranteed to win; the Pistons don't have too many good players coming off their bench. The Celtics probably have the deepest and most talented team in the league besides Golden State. I expect the Celtics to take care of Business and defeat the Pistons in a close game.
Expectations
The Celtics had moved up to the #3 seed in the Eastern Conference, they have currently fallen back to the #5 seed with their recent struggles. They have played well at times, but definitely not as of late especially after they blew a 28 point lead against the Los Angeles Clipper who recently traded one of their top players in Tobias Harris and got rid of their veterans. Very embarrassing performance from the C's. They only play two games this week due to the fact that it's All-Star Weekend. This is Bostons last chance to get it together and work things out before the All-Star break comes to an end. Kyrie Irving and Jayson Tatum will both be participating for All-Star weekend representing the Celtics. This is their chance to figure it out even with Hayward still progressing, they should be the #1 or #2 seed in the Eastern Conference right now, but yet they are still struggling. Well see what happens after All-Star break, but if they want Kyrie to re-sign they better step it up and show him they can play.
Questions and comments?
thescorecrowsports@gmail.com
Follow Us on Twitter @thescorecrow
Follow Us on Reddit at u/TheScorecrow
Follow Eddie Bronsozian on Twitter @Sports_report34
Main Credit Image: [getty src="911957686″ width="594″ height="396″ tld="com"]