Alex Kielar | May 1st, 2019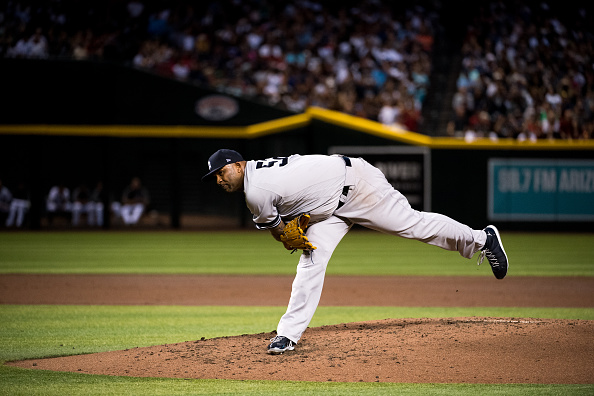 On Tuesday night, CC Sabathia became just the 17th pitcher of all-time to reach the 3,000 career strikeout plateau. Striking out a former battery mate in Diamondbacks' John Ryan Murphy, who was a backup catcher for the Yankees from 2013-15, for his 3,000th strikeout, Sabathia further made his case for the Hall of Fame. Sabathia is the first pitcher since John Smoltz in 2008 to reach the milestone.
Sabathia also joins Randy Johnson and Steve Carlton as only the third southpaw to strike out 3,000 in their careers. Johnson and Carlton both eclipsed 4,000 career strikeouts. Of the 17 pitchers to strike out 3,000 in their careers, only Roger Clemens and Curt Schilling are not in the Hall of Fame (at least not yet).
Sabathia is also three wins away from 250 in his career, and once he gets there this year, he will become the 13th pitcher in history to have 3,000 strikeouts and 250 wins.
Sabathia is currently in his 19th and final season of his career, after announcing his retirement prior to the season. He started his career with the Cleveland Indians in 2001, where he struck out Baltimore Orioles' Mike Kinkade for his first strikeout in his debut. Sabathia was then traded at the trade deadline in 2008, after 7 1/2 dominating years in Cleveland, to the Milwaukee Brewers. In Milwaukee, he went on an unbelievable run of pitching on three days rest every start and carrying the Brewers to their first playoff berth since 1982.
The Yankees then made a splash in the 2008 offseason, signing Sabathia to a 7-year $160 million deal. Sabathia had an outstanding season in 2009, helping the Yankees to their 27th World Series Championship. That season, he went 19-8 with a 3.37 ERA and 197 strikeouts in 230 innings pitched. In the ALCS that year, Sabathia won both of his starts, struck out 12, and had an ERA of 1.13 in 16 innings, to earn MVP honors for the series. Sabathia then followed up that season with his first 20 win season in 2010.
Over the latter part of his career, Sabathia has sort of had to "reinvent" himself, as he saw a drop in velocity, accustomed to throwing 98 and then dropping to the low to mid-90s. He has done an outstanding job of locating better and not having to rely on velocity to get outs, having excellent control. During his whole career, Sabathia has always been a workhorse, pitching on three days rest if needed, and giving you 6,7,8,9 innings. He's also been a "stopper" always putting stops to his teams' losing streak and going out and giving his all. Not only that, but he is an excellent teammate, and even when he struggles, he's always there to support his teammates and has their backs.
After an outstanding career, Sabathia is, in my mind, a surefire lock for the Hall of Fame. With the All-Star Game in Cleveland this Summer, it should be a great moment when CC appears in his final All-Star game where it all started, which he certainly will end up being in.
Questions and comments?
thescorecrowsports@gmail.com
Follow Us on Twitter @thescorecrow
Follow Us on Reddit at u/TheScorecrow
Follow Us on Facebook at The Scorecrow
Follow Us on Instagram at The Scorecrow
Follow Alex Kielar on Twitter @TPE_ScorecrowAK
Main Image Credit:
[getty src="1146160001″ width="594″ height="396″ tld="com"]