Brendan Abban | February 24th, 2019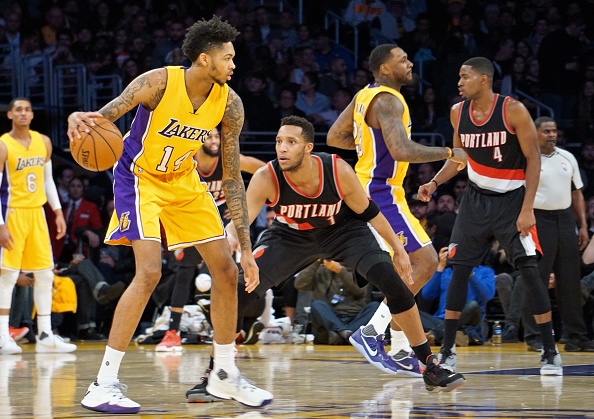 The Los Angeles Lakers are going through a tough time period currently. They have lost three of their last five games to teams below .500. Their opponents are averaging 118 points in those losses which would rank second to last in defensive rankings. Despite the Lakers troubles, Brandon Ingram has been a key bright spot during this stretch.
Since the All-Star break, Ingram is averaging 27.8 points on 56.7 percent shooting from the field and 54.5 percent shooting from three. He is also averaging 7.5 rebounds and has a 1.5 plus/minus. Ingram is one of the centerpieces of the Lakers young core and arguably has the highest ceiling.
The Lakers took Ingram with the second overall pick in the 2016 NBA Draft after he drew comparisons to Kevin Durant. Ingram has shown flashes of the potential to become a perennial All-Star. However, the lack of consistency has made many question his value as a player.
LeBron James was quoted saying "I think he's next" in reference to Ingram prior to the season per ESPN. Ingram's recent flurry of high-level performances displays the talent and skill James' spoke of. The key for Ingram is being able to string together these type of performances night after night.
Ingram's increased aggressiveness and improved shot selection have led to his better play. He has been more decisive and better at feeling when to press down on the gas pedal. His length and ability to come downhill have got him to the free throw line more during this stretch. Ingram is attempting 9.8 free throws post-All-Star, versus his season average of 5.6.
Brandon Ingram dropped 27 points and 13 boards, shooting 50% from the field in tonight's #LakersWin pic.twitter.com/unvBwjHpVh

— Los Angeles Lakers (@Lakers) February 22, 2019
It also helps that he is making 74.4 percent of his free throws during this stretch which is an improvement on his 67 percent average on the season. Ingram's play is even more impressive when considering the drama surrounding the Lakers.
Anthony Davis' trade request sent the NBA into a tailspin. The Lakers made it no secret that they were actively pursuing Davis and things got tense. The Lakers were rumored to be offering packages including Ingram and others apart of the young core.
All the outside noise has put a magnifying glass on the Lakers during their playoff push which amplifies the pressure. While they might not look all too impressive as a team, Ingram is putting himself on the map.
James even acknowledges the high-level Ingram is playing at and wants him to keep it up:
LeBron James is loving the type of mind frame Brandon Ingram has on the floor right now. #Lakers #LakeShow pic.twitter.com/m9PXUPinW3

— LakeShow (@LA__LakeShow) February 27, 2019
If he can continue to play at this high level on both ends of the court, a playoff berth is feasible. At the end of the day, it is all about consistency for Ingram. A consistency both he and the Lakers need to reach their goals.
Questions and comments?
thescorecrowsports@gmail.com
Follow Us on Twitter @thescorecrow
Follow Us on Reddit at u/TheScorecrow
Follow Us on Facebook at The Scorecrow
Follow Us on Instagram at The Scorecrow
Follow Brendan Abban on Twitter @AbbanBrendan
Main Credit Image: [getty src="631447246″ width="594″ height="419″ tld="com"]