Givanni Damico | December 3rd, 2018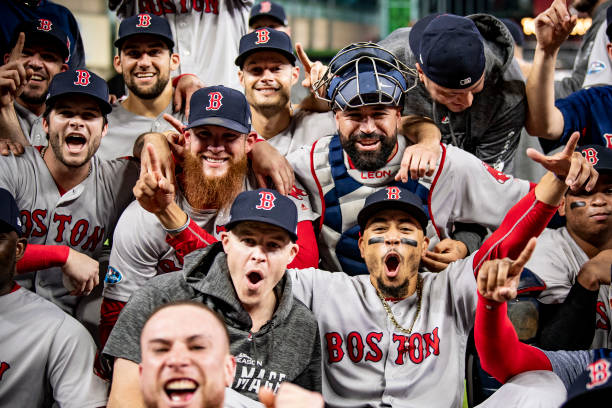 The Red Sox are coming off of a dominant ALCS series against the reigning champion Houston Astros. Let's take a look back at the series.
ALCS Recap:
My prediction for the ALCS was Astros in seven because I believed that their pitching would win them the series. That was far from true. The Red Sox outscored the Astros 29-21 in the five-game series and got to the Astros' starters early. This series was a lot more geared towards the offense than I thought it would be.
Game one would be the only game the Red Sox lost. On paper, it looks like the Astros dominated the game, winning 7-2. This simply was not the case. This game was close the entire time until the ninth inning when Houston got to Brandon Workman. Josh Reddick hit a solo shot, then Workman walked two batters and gave up another long ball to Yuli Gurriel. The only good performance on the Boston side of that game was the bullpen minus Brandon Workman.
Game two was very back and forth. This game was started by Gerrit Cole for the Astros and David Price for the Red Sox. Neither of them had their best stuff and got hit around quite a bit. In the first, Cole gave up a leadoff double to Mookie Betts and a single from Benintendi scored the run. Xander Bogaerts then reached on an error and Steve Pearce walked to load the bases. A Rafael Devers single made the game 2-0 going into the top of the second. Price got hit around to start the inning after getting one out. Carlos Correa singled, then Martin Maldonado doubled to put runners on second and third with one out. With two outs, George Springer came up with a two-run double to tie the game. In the top of the third, Price surrendered a two-run home run to Marwin Gonzalez to put Houston ahead 4-2 but in the bottom of the inning, Boston came back with three runs of their own. Cole loaded the bases and Jackie Bradley Jr. came up with a clutch three-run double. At this point it's 5-4 and Boston tacked on two more in the seventh and eighth to make it 7-4. Houston added a run in the ninth but it wasn't enough.
Game three looks like a blowout if you didn't watch it. The Red Sox won 8-2 but five of those runs were put up in the eighth inning off of Roberto Osuna. They put up two runs in the first off of Dallas Keuchel thanks to an RBI double by J.D. Martinez. The Astros came back with one of their own due to a Marwin Gonzalez RBI single. Both starters performed admirably and the next run wasn't put up until the bottom of the fifth when Alex Bregman tied the game with an RBI double. They couldn't hold Boston in the next half inning though, as Steve Pearce homered to make it 3-2. It was all Boston from there as Roberto Osuna loaded the bases and hit a batter to get a run in. Then to seal the game, Jackie Bradley Jr. hit a monster grand slam to put the game out of reach.
Game four was very exciting. This game was pivotal for the series and Houston just couldn't hang on to a lead. The scoring began in the first when Rafael Devers sent a two-run single to left. Carlos Correa came through in the bottom of the second with an RBI single to make it a one-run game, but the Sox got the run back in the next half inning via a Xander Bogaerts RBI single. Houston wasn't having it though. In the bottom of the third, George Springer went yard to make it a one-run game. Then they got runners on which resulted in an RBI single for Josh Reddick. In the next inning, Tony Kemp sent one deep to make it a 4-3 Astros lead. But to continue the action, the Red Sox tied it in the next half inning thanks to another RBI single by Xander Bogaerts. The Astros would jump out to another lead after a Carlos Correa RBI single, only to have it erased by a Jackie Bradley Jr. two-run home run to give Boston the lead. This gave them a 6-5 lead and they would hang on to win it 8-6.
Game five ended the Astros' hopes. David Price was lights out and it was all Boston, all game. Every run came courtesy of the long ball in this game with J.D. Martinez hitting a solo shot and Rafael Devers hitting a three-run home run. Marwin Gonzalez also went yard but it was a losing effort. Boston won 4-1 in the game and in the series.
Who came through?
Jackie Bradley Jr. was incredibly clutch at the bottom of the lineup for Boston. He hit two huge home runs, one being a grand slam. The grand slam didn't affect the outcome of the game because they would have won anyway but it put the game away for Boston. The two-run home run was incredibly pivotal in game four and allowed for Boston to win. Xander Bogaerts was the other major player for Boston. He didn't do anything flashy but he came through with RBI single after RBI single and big hit after big hit. Despite only going 5-20 (.250), three of his hits resulted in RBIs which allowed Boston to tie the game or take the lead. The starters came through as well. Chris Sale is the only starter whose efforts resulted in the team losing the game. He only allowed one hit but he walked four batters and was taken out after four innings. David Price wasn't great in game two but he absolutely shut the door in game five. They trusted him and put their faith in him for game five and he couldn't have done better. Rick Porcello and Nathan Eovaldi's performances can't be overlooked either.
Who didn't come through?
There weren't many people who didn't pull their own weight. The second base position, being both Ian Kinsler and Eduardo Nunez, left a lot to be desired as their names weren't in the scorebook too much. The catcher's position is in the same situation, but Christian Vazquez nor Sandy Leon are known for their hitting ability so this was expected. Brandon Workman didn't look sharp at all out of the bullpen and I doubt we see too much of him in the World Series. Craig Kimbrel was also a little bit shaky in games he pitched in. I look forward to seeing who's bullpen performs better.
Strengths:
This team's strength is the entire lineup basically. They have a star-studded outfield and some guys in the infield who make plays and came through like Xander Bogaerts. Obviously, J.D. Martinez and Mookie Betts are the biggest threats in the lineup. Both of them are in the MVP talks but it's undoubtedly going to be Mookie Betts. Betts and J.D. strike fear into the opposing pitcher because they are capable of anything at the plate.
Let's not forget about Chris Sale and the starters. Sale was shaky in game one but when this man is on, he is nearly unhittable. Rick Porcello has been very efficient when he starts, getting out of innings with only eleven pitches or less thrown sometimes. David Price showed how he can perform in clutch situations in game five, as he finally earned that first postseason win. Was it a fluke? Nathan Eovaldi is like Chris Sale where when he is on, he can't be stopped. He can hit 101 with his fastball which is insane for a starter.
Weaknesses:
This team is very well-rounded but the catcher position doesn't provide much help in the lineup. Christian Vazquez and Sandy Leon are both good defensively but they aren't known for their bats, which is an issue when they're needed in big situations. Ian Kinsler and Eduardo Nunez have been less than great too in the last month. If they get production from these guys in the World Series, they can win in four games.
Their only other real weakness is their bullpen. It isn't bad, but it's inconsistent. We saw that inconsistency in Brandon Workman and Craig Kimbrel who both were off when they pitched in the ALCS. The good thing is, their starters give them longevity when they pitch so they don't always need to rely heavily on the bullpen. When they do need to rely on the pen, they just need to bring in the right guys for the right situations. If you're bringing someone in with the bases loaded and two outs, it can't be Brandon Workman or Joe Kelly who have trouble finding the strike zone.
X-Factor:
My X-Factor for Boston this series is Xander Bogaerts. If they can keep getting production out of him at the top of the lineup, they will see their run totals go up. It's simple. I'm not supposed to leave a prediction, but I have to. I don't see the Red Sox losing. Red Sox in 6, J.D. Martinez is the World Series MVP.
Questions and comments?
thescorecrowsports@gmail.com
Follow Us on Twitter @thescorecrow
Follow Us on Reddit at u/TheScorecrow
Follow Givanni Damico on Twitter @giodamico15
Main Credit Image: "[getty src="1056975384″ width="594″ height="396″ tld="com"]