Givanni Damico | March 12th, 2019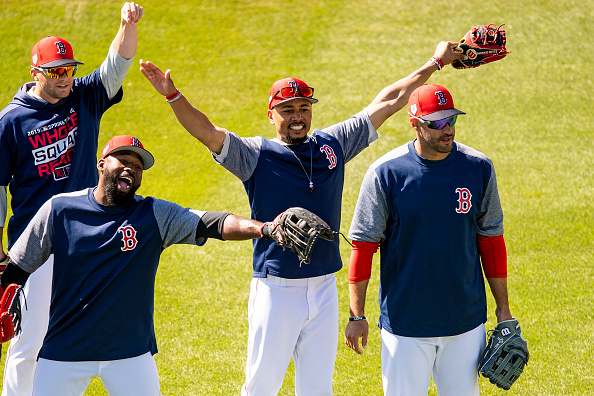 Recap: 108-54 (1st in AL East, World Series Champions)
What can I say about this Red Sox team? They won the World Series. The level at which they played was insane. As a Yankees fan, I'm well aware that no lead was safe when it came to the Red Sox last year, they could always pull something out of their hat. When it comes to wins for this season, the Red Sox and Yankees have the highest projected win totals at 95.5. You just know it's going to be a battle all season long.
Mookie Betts was the clear leader of this team. He slashed .346/.438/.640 with 32 home runs and 80 runs batted in. Did I mention that he stole 30 bases? Oh yeah, he also won a gold glove. Mookie Betts is the definition of "five-star player". He recorded a WAR of 10.9, which led the league. Not only did the Red Sox have Betts, but they also had J.D. Martinez. Martinez hit .330 with 43 home runs and a whopping 130 runs batted in. Martinez was third on the team with a 6.4 WAR. It wasn't just the two sluggers that led this Red Sox team, they also have arguably the best pitcher in the American League, Chris Sale. Chris Sale was second on the team in WAR with a 6.9 WAR. He pitched to a 12-4 record with a 2.11 ERA. His strikeouts per nine sat at 13.5, leading the league when it came to starting pitchers. Sale dealt with an injury here and there last season, but I think the most important thing to note about Sale is that he still managed to struggle in the months of September and October. Careerwise, he is 11-16 with a 3.78 in these two months (including 2018). In September, he went 0-0 with a 3.75 ERA. To be fair, he only started four games and the Red Sox were very conservative with how they used him because of his previous injury suffered in August. The postseason wasn't great for Sale Either. Sale started three games and appeared in five. In these five games, Sale went 1-0 with a 3.62 ERA. This would be good for a number three pitcher in the rotation, but for Sale, they are weak numbers. Once again, the Red Sox didn't need to overwork Sale in the postseason, so they used him very conservatively. Despite his struggles, the Red Sox cruised through the playoffs.
Key Additions:
None
Aside from hanging onto Steve Pearce and bringing Nathan Eovaldi back, which should help, I'm not leaving someone out that would even remotely help the team. The only people they signed are guys that will probably make an impact in Triple-A Pawtucket, but there is no one new that will help the Major League team. The Sox are getting Dustin Pedroia back from injury, but he isn't new to the team, therefore he doesn't fit in this category.
Key Subtractions:
Craig Kimbrel?, RP (2018 w/ BOS): 5-1, 2.74 ERA, 42/47 SV, 96 SO, 31 BB, 0.995 WHIP, 2.3 WAR
Since entering the league in 2010, Craig Kimbrel has been one of the most dominant pitchers in baseball. From 2010-2014, Kimbrel was undoubtedly the best closer in baseball. He was a part of the beloved Atlanta Braves' bullpen consisting of him, Eric O'Flaherty, and Jonny Venters. Last year was one of Kimbrel's most inconsistent seasons since he entered the league. He had the third-highest walk rate of his career at 4.5 walks per nine innings, and the third lowest strikeout rate of his career at 13.9 (which is still amazing). Kimbrel has done a fantastic job of staying healthy throughout his career and is one of the most interesting players to watch in baseball. I put a question mark next to his name because at the time this is being written, Kimbrel is still unsigned. I don't expect him to resign with the Red Sox, which is why I'm considering this a subtraction at the time of writing. This is an absolutely huge loss for the Red Sox. The Sox had one of the worst bullpens in the league last season, and the loss of Kimbrel only makes it much worse. Not to mention that they didn't sign anyone to join the bullpen. The bullpen can win and lose games so easily, so the Red Sox have a lot to figure out.
Joe Kelly, RP (2018 w/ BOS): 4-2, 4.39 ERA, 2/7 SV, 68 SO, 32 BB, 1.355 WHIP, 0.5 WAR
Despite the lackluster stats, Kelly was one of the Red Sox go-to guys out of the bullpen. He is a flame-thrower who lacks pinpoint accuracy but is very hard to hit. Most of his runs came off of runners that he put on base via base-on-balls. For a team with very little bullpen help, this loss was killer for them.
Ian Kinsler, 2B (2018 w/ LAA & BOS): .240 BA, 14 HR, 14 RBI, 16 SB, .301 OBP, .380 SLG, .681 OPS, 2.4 WAR
Ian Kinsler did not make a huge impact in Boston in 2018. Nevertheless, Boston is still losing a starter here. He will be replaced by Dustin Pedroia, who missed almost the entire season last year. In my opinion, even at this point in his career, I think that Dustin Pedroia is still a .280 hitter. We'll see how much of an impact Pedroia can make after recovering from injury.
Strengths:
Outfield (including J.D. Martinez)
The Red Sox outfield is honestly quite underrated. Obviously, Mookie Betts is the leader of this team and the leader of this outfield. I've talked about him enough, we all know how good he is. Let's talk about Jackie Bradley Jr. Bradley will never be a .300 hitter, but he has that "unsuspecting" power where he can be a 25 home run hitter. We saw this in 2016 when he hit 26 home runs which went along with a .267 average. Bradley is also a gold glover. He had a bad year last year, but we can't forget how he performed in his All-Star season. If he puts it all together, Bradley can return back to how he played in 2016. I always thought of Andrew Benintendi as an overrated prospect and that he didn't have all the tools to put together a successful career. So far, he's proving me very wrong. Last year, Benintendi hit .290 with 16 home runs, 87 runs batted in, as well as 21 stolen bases. I wouldn't call him a five-tool player because his power is very inconsistent and because his arm isn't very strong. Benintendi has definitely had two solid seasons in a row, but he will have to turn it up this year if he wants to make an improvement on those two seasons. I'd like him to take the .290 average that he had last year and his 20 home runs from 2017 and put those together in 2019. Actually, I wouldn't like that because I'm a Yankees fan, but I'm sure Red Sox fans would love it. I'm also including J.D. Martinez under this "outfield" category, solely because I didn't think he merited his own category (although he might). Martinez is a rare player who hits for both a .300+ batting average as well as 40+ home runs. The funny thing about J.D. Martinez is that in his first three seasons (all with Houston), he could not hit for power. He only hit 23 home runs in those three years over 899 at-bats. Then, in his first season with Detroit, he hit 23 home runs in 480 at-bats. In 2017, he bounced from Detroit to Arizona for half of the year, then elected for free agency. The Red Sox, of course, were the suitors for Martinez and have him for the next four seasons.
Rotation
The Red Sox have Chris Sale. Sale is one of the most dominant pitchers in baseball. No one can compare to his strikeout rate. We already spoke about Sale though, so let's move on to David Price. Many consider Price to be one of the most overpaid players in baseball. These people aren't wrong. To be fair, Price deserved the contract at the time, but he didn't pan out how Boston expected him to in 2016 and 2017. In 2018, he was slightly better, but still not worth his contract. He got a lot of run support which led to a 16-7 record with a 3.58 ERA. He pitched well in the postseason and will be looking to carry momentum into 2019. Rick Porcello has to be one of the worst Cy Young award winners of all time. I'd go as far as to say that he isn't even a very good pitcher. His career ERA sits at 4.26 and he has only had three seasons out of his ten-year career with a sub-4.00 ERA. In my opinion, Rick Porcello is the worst piece of this rotation. Nathan Eovaldi joined the Red Sox halfway through the season and performed well for them. In 11 regular season starts, Eovaldi went 3-3 with a 3.33 ERA and struck out eight batters per nine innings. In the postseason, Eovaldi went 2-1 with a 1.61 ERA and secured two holds as well. He made a huge impact down the stretch and returns to Boston looking to continue his postseason dominance. Rounding out the rotation is Eduardo Rodriguez. Rodriguez's win-loss record is inflated because it seemed as if whenever he pitched, the Red Sox provided a lot of run support. E-Rod went 13-5 with a 3.82 ERA and struck out 10 batters per nine innings. I meant no disrespect to him earlier by saying that his success was because of run support, as he will be one of the better bottom-of-the-rotation guys in baseball.
Weaknesses
Bullpen
The Red Sox must have the worst bullpen in baseball. Rivaled by only the Royals and the White Sox, the Red Sox do not have any dominant arm in the bullpen. A couple of guys like Brandon Workman and Ryan Brasier pitched well for the Red Sox last season, but they have not been consistent throughout their careers. They also have Matt Barnes, but a 3.64 ERA for someone that is listed as the closer right now is just unacceptable. Sure, he struck out 14 batters per nine last year, but he also walked close to five guys per nine. He was very inconsistent which you can't have with an everyday closer. If anyone should be the closer, it should be Ryan Brasier. Last year was Brasier's first year in the MLB since 2013 when he played for the Los Angeles Angels. He isn't a big strikeout guy, striking out 7.8 guys per nine, but he went 2-0 with a 1.60 ERA last year and was very tough to hit. He only gave up five hits per nine innings to pair nicely with only two walks per nine. He did not put men on base. Other than these three guys (who aren't even anything too special), the Red Sox have no one in the bullpen. The bullpen is obviously very important and can make or break games so it could be a struggle for the Sox if their starters can't go six-plus innings.
Infield Projections:
1B – Steve Pearce, Mitch Moreland
2B – Dustin Pedroia, Brock Holt
3B – Rafael Devers, Eduardo Nunez
SS – Xander Bogaerts
Note:
Steve Pearce platooned against lefties last season, but he was so dominant in the postseason that I feel like it'd be madness if they started Moreland over him.
Outfield Projections:
LF – Andrew Benintendi, J.D. Martinez
CF – Jackie Bradley Jr.
RF – Mookie Betts
Note:
Obviously, J.D. Martinez will be the designated hitter, but if need be, he can play corner outfield.
Starting Rotation Projections:
Chris Sale
David Price
Nathan Eovaldi
Rick Porcello
Eduardo Rodriguez
Bullpen Projections:
Tyler Thornburg
Hector Velazquez
Heath Hembree
Brandon Workman
Ryan Brasier
Matt Barnes
Note:
Not good.
Prediction: 2nd in AL East (94-68), Clinch Playoffs
The Red Sox are still one of the most dominant teams in baseball, but the Yankees rival them this year much more than they did last year. The Yankees made additions in the lineup, rotation, and bullpen, adding D.J. Lemahieu, Troy Tulowitzki, James Paxton, and Adam Ottavino. The Red Sox made no additions, rather losing two key pieces in the bullpen. Their bullpen is atrociously bad now, which I believe will cost them quite a few games. Plus, I'm not entirely sure if all the players who made huge strides for the Red Sox (Martinez, Eovaldi, Pearce) can do it again this season. This team could still easily go deep into the playoffs, but I don't see them winning the AL East this season.
Check out our other Team Previews | Colorado Rockies | Toronto Blue Jays | Minnesota Twins | Atlanta Braves | Chicago Cubs | Tampa Bay Rays | Arizona Diamondbacks | Miami Marlins | Cincinnati Reds | Seattle Mariners | Texas Rangers |Los Angeles Dodgers | New York Yankees | Milwaukee Brewers | San Diego Padres | Detroit Tigers | Kansas City Royals | Cleveland Indians | Oakland A's | Philadelphia Phillies
Questions and comments?
thescorecrowsports@gmail.com
Follow Us on Twitter @thescorecrow
Follow Us on Reddit at u/TheScorecrow
Follow Us on Facebook at The Scorecrow
Follow Us on Instagram at The Scorecrow
Follow Givanni Damico on Twitter @giodamico15
Main Credit Image: [getty src="1129054188″ width="594″ height="396″ tld="com"]