Frank Dyevoich | August 18th, 2018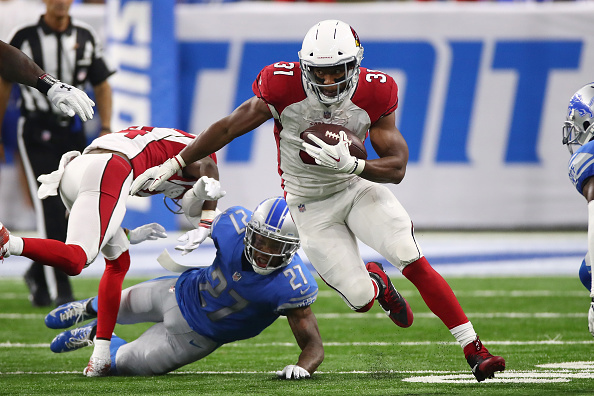 The running back position once again reigns supreme in fantasy football. There seemed to be a trend leaning toward wide receiver dominance given the consistency of the guys at the top, but the elite play of the NFL's best running backs over the past few seasons quickly put a stop to that. When preparing for your draft, you want to separate your running backs into tiers so you can find the best values without sacrificing production. Here is the fifth installment of Blood, Sweat, and Tiers. The first article on the rookies is here. The second on my likes and dislikes is here. Tier 4 is here. Tier 3 is here.
Tier 2
David Johnson (ARZ) – No team in the NFL will lean on their workhorse running back more than the Arizona Cardinals. Glass Bradford is likely to be hurt so we have to assume that rookie Josh Rosen will be at the helm, which will inevitably lead to a run-heavy approach. DJ has proven that he can handle all the work they want to give him, and his metrics are off the charts. He will be the focal point of the offense and the 2nd option in the passing game behind the great Larry Fitzgerald. He only has one season as the starter under his belt, and what a season it was.
In 2016, DJ averaged 18.3 carries per game, 23.3 touches, and 25.7 PPR PPG. He had 293 carries at 4.2 YPC and 80 receptions on a massive 120 targets for a total of 2,118 YFS and 20 TDs. The touchdowns won't be repeated, but he could easily get 10-13. Last year's wrist injury is not a concern so he is undoubtedly 100% healthy coming into the season. The concern with DJ is the Cardinals' offense. They have a porous offensive line, he will be the only focus of opposing defenses, and AZ does not figure to be a high scoring offense this year. Nevertheless, DJ's talent and the number of touches he projects to get are enough to have him locked in the top 4 of 2018's RBs.
Saquon Barkley (NYG) – Though Barkley has not played a snap in the NFL, his ceiling is the RB1 in fantasy this year. He was drafted #2 overall by a team desperate for a QB of the future. What that tells you is that the Giants are going for another title run with Eli Manning, which means a TON of work for Barkley. And Barkley is not your typical RB, he is an athletic marvel. He posted a SPARQ score (Nike's measurement of Speed, Power, Agility, Reaction, and Quickness) of 149.8, which is in the 99th percentile. According to NFL Stats, here are his combine numbers compared to other superstars: 29 reps of 225 bench press (Joe Thomas had 28), 1.54 10-yard split (DeSean Jackson had 1.55), 4.40-second 40-yard dash (Devin Hester had 4.43), 41in. vertical jump (Julio Jones had 38.5in). That means Barkley is stronger than Joe Thomas, quicker than D-JAX, faster than Devin Hester and can jump higher than Julio Jones.  He is basically a faster and stronger David Johnson.
When a player has not played in the NFL, you have to make projections based on college tape and measurables. Barkley has insane balance and agility and he can stop on a dime, change directions and accelerate to max speed in an instant. Frankly, we have not seen a player juke defenders out of their shoes like he does since Barry Sanders. Watch Barkley's 79 yard TD run against USC in the Rose Bowl where he forces 8 defenders to tackle air and he outruns every player on the defense.
With his elite lateral agility, he is a primary candidate to lead the league in forced missed tackles in 2018. Adding to Barkley's ceiling are his elite receiving and route running skills. The Giants have an improved offensive line with the additions of Nate Solder and Will Hernandez, and Barkley will rarely see stacked boxes with Odell Beckham, Jr., Sterling Shepard and Evan Engram commanding the attention of opposing secondaries. He's a candidate for 275 carries and 65+ receptions and could post numbers in the range of 1,300 yards rushing and 600 yards receiving with the potential for 10-13 TDs. The only reason he is behind DJ is because DJ has done it before. Have no fears trusting Barkley to lead your squad to a championship in 2018.
Alvin Kamara (NO) – What Alvin Kamara did last year was nothing short of spectacular. He finished 3rd in PPR and 4th in standard on only 120 attempts. In comparison, Bell had 321, Gurley had 279 and Kareem Hunt had 272. He was also 3rd in targets (101) behind Christian McCaffery and Bell and 2nd in receptions (82). What's most incredible about Kamara's 2017 was his historical efficiency. He finished averaging 6.1 YPC and an astounding 7.7 yards per touch, which is the highest yards per touch efficiency of all time for any RB with at least 200 touches. It is a truly amazing stat and impossible to repeat. He also had an incredible TD output on so few touches, scoring a total of 13. That's a 6.4% TD rate, besting both 2017 Todd Gurley (5.55%) and 2016 David Johnson (5.4%).
Due to Kamara's historic 2017, he is the perfect player to illustrate the idea of "regression to the mean." The idea is that players with extraordinary efficient/inefficient seasons are far more likely to finish the following year near the efficiency average. Although there is certainly regression coming for Kamara there are still many reasons why you can safely rely on him as an RB1 in 2018. Mark Ingram is suspended for 4 games, and although the Saints said they do not want to give Kamara more work, his production on the field will inevitably lead to more carries. Further, his role in the passing game is solidified and no team in the league has had a larger percentage of their targets go to the RB position than the Saints. Kamara's efficient 2017 will not repeat itself, but his talent and his role in a pass-happy Saints offense still provide plenty of room for the first-round return on investment.
Questions and comments?
thescorecrowsports@gmail.com
Follow Us on Twitter @thescorecrow
Follow Us on Reddit at u/TheScorecrow
Follow Frank Dyevoich on Twitter @Fantasy_Giant
Main Credit Image: [getty src="848435186″ width="594″ height="396″ tld="com"]