Dale Money | April 19th, 2019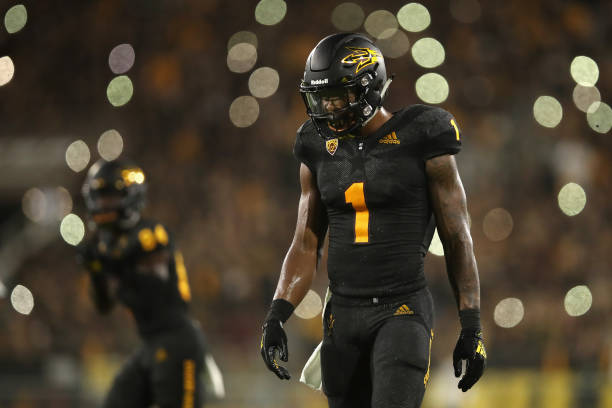 The end of the Joe Flacco era officially came to a head, in mid-February, when he was traded to the Denver Broncos for a 4th round pick. Now entering this season as the starter, Lamar Jackson knows the pressure is on, to build upon his late-season progress, where he helped lead them to a Wild Card game against the LA Chargers. This is his team now free and clear, no looking back.
With the additions of safety Earl Thomas and running back Mark Ingram, the Ravens added two veterans who are used to winning and leading by example.  With the 3rd round compensatory pick after losing center Ryan Jensen, the Ravens will now have eight picks in the 2019 draft. They will be quite busy in the second and third days of the draft, with a pair of picks in the third, fourth and six rounds of the draft.
Round 1, Pick 22: N'Keal Harry, WR Arizona State
The Ravens would love to have a game-breaker, a deep threat who could grow with Lamar Jackson, and when was the last time they had a true star receiver. A potential true red-zone threat, he posted 17 touchdowns in his last two years at Arizona State. Harry has the prototypical size you want in a receiver, and excellent body control when adjusting to the ball. Although, he doesn't create a lot of separation and lacks shiftiness to make people miss.
Round 3, Pick 85: Vosean Joseph, LB Florida 
The Ravens will be looking to add a linebacker with one of their early picks, after losing both Terrell Suggs and CJ Mosley, two of their cornerstone linebackers to free agency this offseason. I like Joseph at this spot and should help in restocking that talented Ravens defensive front. Joseph started 11 of 13 games in 2018, allowing him to lead the Gators with 93 tackles, nine for loss, four sacks, and one forced fumble. He competes with a quick trigger and shows off his impressive mix of athleticism and range. He plays with lateral mobility, speed, and does not wander from the area of play.
Round 3, Pick 102: Beau Benzschawel, OG Wisconsin 
The Ravens are in desperate need at Offensive Guard, Benzschawel would be a nice selection in the third round, one of the bigger guards in his class at 6'6″, 309 pounds, he was a part of arguably the best Offensive line in the country last year, at Wisconsin. A very strong young man, he has a quick first step and does well in pass protection, and uses his hands well to keep defenders off of him.  Has enough athleticism in space to take out second level blockers and help out his running back.
Round 4, Pick 113: Amani Hooker, S Iowa 
A solid addition for the Ravens secondary in the fourth round, Hooker was one of the best safeties in football last season. Finishing the year with four interceptions, seven passes defended, one sack, 3.5 tackles for loss, and 65 total tackles. Earning himself Big Ten Defensive Back of the Year. A smart defender, with good ball-hawking skills, and speed, he ran a 4.48-second 40-yard dash at the NFL Scouting Combine. Has NFL size, with length and muscular build.
Round 4, Pick 123: Tyree Jackson, QB Buffalo
With Flacco now history in Baltimore, the Ravens are going to need a useful backup. Jackson could be that guy, a big athletic passer with a cannon for an arm, he kicked off 2018, with an impressive six-touchdown game. He carried that hot streak on, totaling fifteen touchdowns and three picks in his first four games, but cooled quite a bit after that, posting four touchdowns in his next four, finishing up the year with 28 touchdowns and 12 picks. Is quite adept at moving in the pocket and is very coachable. He does have the tools to be a starter in the NFL, but is raw and needs plenty of work. 
Round 5, No 160: Shareef Miller, DL Penn State 
A great value pick in the 5th round, Miller, in fact, made a pre-draft visit to the Baltimore Ravens. Miller possesses good size for an NFL defensive end at six-foot-four and 254 pounds. His athleticism and ability to make plays in the backfield are all valuable assets for the NFL game. He combined 14.5 sacks over three seasons with Penn State, 7.5 of those were last season.  He was named to the All-Big Ten third team in each of the past two seasons.
Round 6, No 191: Tyre Brady, WR Marshall  
With the second last choice, the Ravens dig deep and grab another wide receiver to add to N'Keal Harry, and possibly Brady can hang on with the team and become a solid contributor when its all said and done. The cupboard is bare, so the opportunity is there for the young receiver. A good size player, he has very good hand strength, with the ability to maintain a grip on the football through contact and is capable of catching those imperfect throws for your team. Is a physical receiver, that plays hard.
Round 6, No 193: Sione Takitaki, LB BYU – I do like this player as Raven's final choice, Takitaki has come along since he first began his College career as a BYU Cougar, from wild and immature to team captain, has great leadership qualities. Takitaki collected 119 total tackles, 75 were solo, and 4.5 sacks in his final season. He has a high motor and plays with a lot of emotion and passion. A versatile player, they can move him to both middle or outside linebacker, as he is well versed at both.
Check out our other Team Mock Drafts: San Francisco 49ers | Washington Redskins | Indianapolis Colts | New York Giants  |Arizona Cardinals| Jacksonville Jaguars | Detroit Lions | Tampa Bay Buccaneers | New York Jets | Green Bay Packers | Cleveland Browns | Los Angles Rams | Pittsburgh Steelers | Chicago Bears | Tennessee Titans
Questions and comments?
thescorecrowsports@gmail.com
Follow Us on Twitter @thescorecrow
Follow Us on Reddit at u/TheScorecrow
Follow Us on Facebook at The Scorecrow
Follow Us on Instagram at The Scorecrow
Follow Dale Money on Twitter @packerd_00
Main Image Credit: [getty src="1036060136″ width="594″ height="396″ tld="com"]