Zach Gotlieb | February 1st, 2019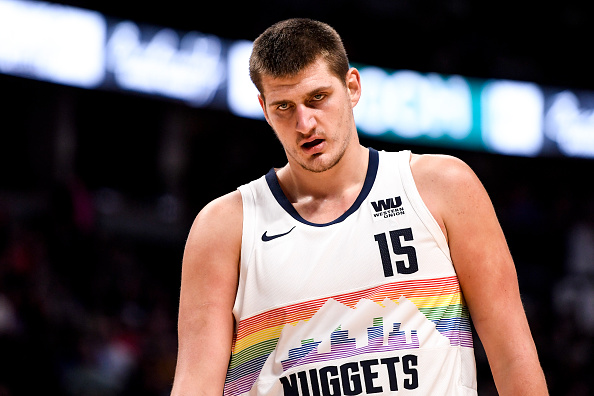 The year is 2011. The NBA world is still shaking after LeBron James decided to "Take his talents to South Beach" and team up with Dwyane Wade and eventually Chris Bosh to form a big 3 that would ultimately go on to win 2 NBA Finals in 4 years. It was also yet another year of Carmelo Anthony making it to the All-Star Game. He was a starter for the Western Conference as a representative of the Denver Nuggets. Little did Nuggets fans know that he would be traded to the New York Knicks just 3 days later. And little did Nuggets fans know that he would be the last player to represent the team in an All-Star Game for 8 years.
The Joker
The year is now 2019. LeBron James shook up the NBA world yet again, taking his talents to "SoCal" and joining the Lakers. The Denver Nuggets own the second seed in the Western Conference only trailing behind, potentially one of the greatest teams in NBA history in the Golden State Warriors. It's also the year that the Nuggets finally got their first all-star since Carmelo Anthony. It's been an 8-year hiatus since the team last saw an all-star. Center Nikola Jokic, A.K.A "The Joker" or the lesser known "Big Honey" has finally broken the streak.
Joker's selection will end what was the longest active drought of all-stars for any team in the NBA. This is no coincidence. Just going off of basic statistics, he is averaging a career high in points (20.1) and a career high in assists (7.7) and just under his career high in rebounds, which is 10.7, at 10.4 this season. That's good for 31st in points per game, ninth in assists per game and 16th in rebounds per game. The stat that stands out the most is his assist total. His 7.7 assists per game are good for first among centers in the NBA. In second place is Marc Gasol. He is only at 4.7 assists per game. A Whopping 3 whole assists more. He's 2nd in the league in triple-doubles with 8 this year and 24th overall. He's 2nd behind only Wilt Chamberlain in career triple-doubles by centers with 78. Jokic is just in his 4th year, so he has time to catch up. The scary thing is, what we all view as an incredible performance, his teammates find as just normal. That's not to take away from what he's done, it's actually the opposite. Being able to consistently put up near triple doubles if he doesn't actually get one and having his teammates just say that it's just another day in the office for him or that they expect it at this point is a sign of respect and belief that he truly is the superstar that we all think he can be.
There's plenty of other numbers that can further prove just how good "The Joker" has been this year, but honestly, they aren't even needed when it comes down to if you actually just watch a few games of his. How about this, the Nuggets have not had their entire opening night starting 5 (Jamal Murray, Gary Harris, Will Barton, Paul Millsap, and Nikola) start a game since the 2nd game of the season. He has been the best and most impactful player night in and night out. He's the Nuggets offensive savant, able to make plays around the perimeter, on the wing, in the paint, it doesn't matter. He can pass, he can shoot, he can rebound. He can do everything.
The Plays
His best plays of the year feature a perfectly executed pick-and-roll with backup center (yes, center) Mason Plumlee leading to a perfect alley-oop pass from Jokic to Plumlee for a dunk. And a defensive rebound that lead to a perfect baseball pass all the way across the court to Jamal Murray to beat the entire Los Angeles Clippers defense, which led to a dunk. What made that pass incredible was that it looked like he didn't even look before chucking the ball across the Pepsi Center Court. Just two examples of dozens this year alone. His passing vision is among the best in the NBA finding passing lanes and open players and cutters with consistency and ease. Watching him pass and find cutters is rare, especially among big men.
Where Nikola really gets his name "The Joker" is his attitude and demeanor. He just always seems to be having fun. After every home win, you see a video of him lifting up and playing with kids in the team tunnel on the way back to the locker room. He plays light, smiles whenever he can, and just seems to have a great time. All of that appears to come from his very simplistic approach to the game which he alluded to, saying, "Every game is (like) the game of pickup basketball in my hometown [Sombor, Serbia]. You need to go with that mentality and play the game. No pressure. Yes, you need to do something. But it's just a game.'' What else is there to say, it works. He plays relaxed, and you can tell when he's starting to press a little that he actively tries to calm himself down. It's been amazing to watch and see him mature into a true franchise player that this team can build around and run an entire offense through, while still seeing him smile and have fun and play loose just like he did back home.
Joker for MVP?
Guys like Charles Barkley have spoken very highly of him saying, "The Joker should be frontrunner for MVP." back in December, and Bill Walton has made comparisons to former Portland Trail Blazer Arvydas Sabonis. He's just another name along with a long list of comparisons just based on talents. Comparisons to Wilt, Magic, Kareem, and Arvydas are the main ones. If you watch highlights of those guys play and then watch Nikola play, you can see why.
Fans recognize it, chanting "MVP! MVP! MVP!" for him. The thing is, he doesn't see it. Consistently saying to stop or that he shouldn't be getting those chants. Some can say it's him being humble or really grounded or modest even, but I just don't think he realizes just how good he is.
Come February 17th, what Nuggets fans see on a nightly basis will be coming to Charlotte for the rest of the country, if not the world to see. It's been 8 years since the Denver Nuggets have had a player make the All-Star Game, and despite having several really good players come through here, no one is more deserving than the 23-year-old Serbian to be the one to end the drought.
Questions and comments?
thescorecrowsports@gmail.com
Follow Us on Twitter @thescorecrow
Follow Us on Reddit at u/TheScorecrow
Follow Zach Gotlieb on Twitter @zachgotlieb
Main Credit Image: https://media.gettyimages.com/photos/nikola-jokic-of-the-denver-nuggets-reacts-in-the-waning-minutes-the-picture-id1061271016?k=6&m=1061271016&s=594×594&w=0&h=AaGpe_ymCI92cyVu6fiifBnJbA8MW_e9EM1D7pXGMoE=