Coach Treal | November 12th, 2018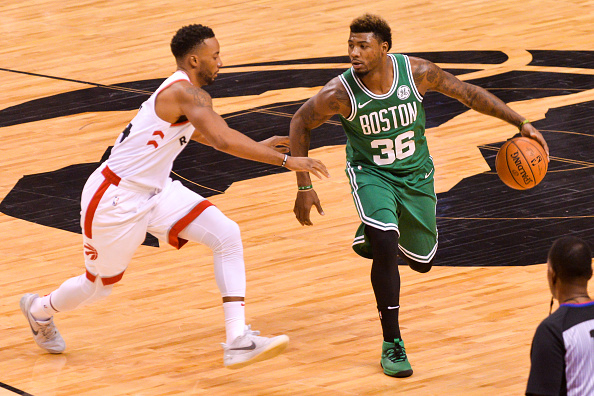 Basketball fans! We are back with another preview of some of the must-see games of the week all in one place for you. We have had a huge trade happen over the weekend as you know as Jimmy Butler heads back to the Eastern Conference to the 76ers. Keep an eye out this week to see how the Timberwolves look now with all this behind them.
Week 5 
(Nov 12 – Nov 18)
The T'Wolves don't have to wait long to see what life is like without All-Star Jimmy Butler as they are in action Monday night against the Nets. It's more than just them trading a player who showed he didn't want to be with the team anymore. They have to rebound in a hurry to salvage their season. They are coming off a winless road trip and still haven't won a game on the road all season. On top of all that, they are in the midst of a 5-game losing streak. The Derrick Rose story has been the highlight of what has been a tough start to the season, to say the least for this team. Something else to keep a look out for is when Jeff Teague returns from injury will Rose continue to start or go back to a bench role.
With Steph Curry already being ruled out for this game with a groin injury, it will be interesting to watch how backup Quinn Cook handles the added minutes and running this team. For the Clips, they are in the middle of the pack right now in the West and a win over GSW could be a springboard forward for this team as they try and remain in the hunt for a playoff berth.
Houston we have a problem has never been a truer statement as it pertains to this team. With so many various reports about the departure of future Hall of Famer Carmelo Anthony and the team just winning its first home game last night. It will be interesting to see how quickly they can turn things around before it's too late. Denver is one of the top teams in the league for me this season and should only get better once Isaiah Thomas gets back on the court.
It seems like every week these two teams are having a game but that's life in the West now for LeBron who has split his previous two road meetings with Portland. With the recent addition of Tyson Chandler, already paying huge dividends on the defensive end of the floor, the Lakers are starting to take shape and look to string together consecutive wins. The new Lake Show is still trying to figure out the end-of-game lineups that work best and should have a better feel for who closes out games as the season wears on.
In their first meeting since the epic 7-game Western Conference finals last season, these two teams are going in two completely different directions. As mentioned earlier they are still figuring out the roster situation with Carmelo and on top of that their scoring numbers are down across the board from last season. This is a game to keep a close eye on as they could find themselves on the wrong side of the playoff picture if they can't get this turned around sooner rather than later.
Another early season matchup as the Raps won an earlier contest and with the Cs currently on a 2-game slide, this is a game they need to win. They are still trying to figure out the rotations and different lineup combinations but the season is moving along and teams have started to pass them in the standings. I think Boston still is one of the best teams in the entire league, not just the east, but having so many players worthy of quality minutes can be a gift and curse and something Brad Stevens and his staff will continue to work through during the course of the season.
For all the injuries and offseason news, the Spurs are still right where they always are near the top of the standings in the Western Conference to date they have the fourth best record. They have seamlessly added DeMar DeRozan to the team and he has responded by posting some of the best stats of his career, not only scoring but facilitating and rebounding. The Warriors are a machine but are dealing with some early-season injuries to both Curry and Draymond Green so it will be interesting to see if either one suits up for this game.
Let us know in the comments below and hit me up on Twitter about what League Pass Games you are most excited for this week!
Questions and comments?
thescorecrowsports@gmail.com
Follow Us on Twitter @thescorecrow
Follow Us on Reddit at TheScorecrow
Follow Coach Treal on Twitter @CoachTreal2
Main Credit Image: [getty src="1052843252″ width="594″ height="396″ tld="co.uk"]