John Supowitz | March 2nd, 2019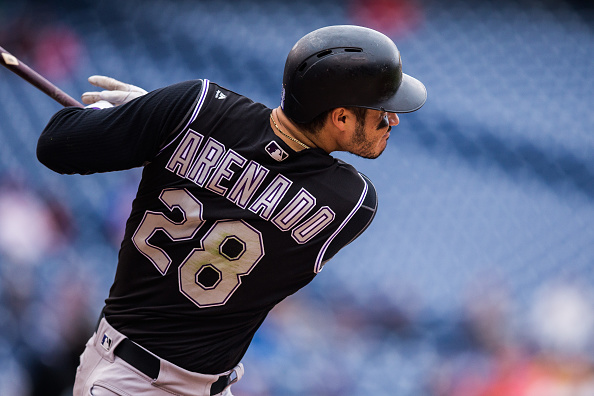 The next decade will be exciting. Three young superstars signed monster contracts and with become the face of their respective franchise. All of the victories and failures, whether their fault or not, will rest on their shoulders. I looked at some factors to try to figure out which one of these players has the best opportunity to cement a winning legacy.
What does the Future Bring?
What helps with Manny Machado and the Padres is their farm system, currently ranked at number one. A great group of young talent is ready to make their major league impact. Fernado Tatis Jr. is the number two prospect in all of baseball, Mackenzie Gore is the number two LHP prospect, Francisco Jose Mejía the number two catcher, and Luis Urias is the number one second baseman. They also have the opportunity to keep this team for a while:
Luis Urias is a free agent in 2025
Francisco Jose Mejía is a free agent in 2024
Fernando Tatis will most likely play this year which means Padres could control him till 2027.
The Padres can keep this young group of players together for at least half or more of Machado's contract.
1. Urias, 2B
2. Tatis, SS
3. Hosmer, 1B
4. Machado, 3B
5. Myers, LF
6. Renfroe/Reyes RF
7. Margot/Cordero CF
8. Hedges/Mejia C

The Padres have every single player listed above under team control for (at least) the next four seasons.

— AJ Cassavell (@AJCassavell) February 19, 2019
This has some potential.
Harper also has a young core of talent to build around. While the Padres' farm system needs some time to grow, the Phillies' are in full bloom.
They gave ace starter Aaron Nola a four-year $45 million extension.
Odúbel Herrera has club options through the 2023 season.
2018 breakout star Rhys Hoskins is arbitration eligible through the 2023 season.
They also have former CY Young winner Jake Arrieta (signed through 2020 (can opt-out after this season), team options in 2021 & 2022) and former MVP Andrew McCutchen (signed through 2021, team option 2022) giving a veteran presence to these young stars.
For Arenado, the Rockies' farm system is on the weaker side. Bleacher Report currently has them ranked 19th.
Shortstop Brendan Rodgers is the star of the farm system, ranked tenth on MLB.com top 100 prospects. In 2018 between AA Hartford and AAA Albuquerque he had 17 HR and 67 RBI. He's not on the 40 man roster so he'll probably start in AAA, but it seems like it will be a short stay.
To see the next Rockies prospect, you have to look all the way down to 95 for third baseman Colton Welker. Now with Arenado locked into the hot corner, what do they do with him? He's been very efficient at the plate posting a .337 batting average and .384 OBP in the minors, can they groom him to play somewhere else or could they trade him for help enhance the big-league club.
Machado looks to have a long a window to win, same with Harper, but Arenado has the better team right now. With Carlos Gonzalez, Trevor Story and Charlie Blackmon in the Colorado Rockies' lineup, they're looking to make a run sooner rather than later.
Home Ballpark
Arenado plays in Coors Field which sits 1,500+ miles about the sea level and the thinner air, helps the ball fly at a further distance. The main concern was if his numbers were exaggerated due to the home-field advantage in Colorado. His home/away split is drastic (.329 AVG/108 HR/ 376 RBI/.984 OPS in 1,853 plate appearances at home vs. .263 AVG/78 HR/140 RBI/.787 OPS in 1,842 plate appearances on the road). The benefit now is he continues to play 81 games a year at Coors.
On the opposite side, Machado will be playing at Petco Park a well-known pitcher's park. It not as bad when the ballpark first opened; They moved the left-center-field fence 12 feet, the right-center-field fence 20 feet, and the right-field fence 11 feet, also the height of the right-field wall was 11 feet, now it is 8. When once it ranked at the bottom of offensive categories, has moved to the middle of the pack. He's only played four games in San Diego, in 18 at-bats he has eight hits, 7 RBI, but has zero home runs.
Manny Machado's 2018 spray chart overlayed onto Petco Park's dimensions. It's a pitchers park, but righties with pull tendencies fare pretty well. Western Metal Building, look out. pic.twitter.com/rDFTqDqczJ

— AJ Cassavell (@AJCassavell) February 22, 2019
Out of the teams that Harper met for the final time, the Phillies, have the most hitter-friendly ballpark. Although he loses a foot to right-center (370ft to 369ft), he gains five feet to right field (335ft to 330ft). Harper has more home runs (14 in 50 career games) than in any of ballparks as a visitor and is the all-time leader in slugging percentage (min. 200 plate appearances) with .564.
H/T to @StatsBySTATS …

Highest Slugging Pct. at Citizens Bank Park – All-Time (min. 200 PA)

Bryce Harper – .564 👀
Rhys Hoskins – .562 👀
Chipper Jones – .547

— FantasyPros (@FantasyPros) February 28, 2019
His upper-cut swing is tailor-made for this ballpark.
It won't be surprising if Machado's power numbers take a dip. Coming from friendly Camden Yards, but he's still one of the best hitters in baseball and that won't change. Harper's power numbers could spike going to Philly, he only has one 40-home run season so far, in 13 years in that park, he will definitely add to that. With Arenado staying, his numbers will stay consistent.
Division Opponents
Arenado has owned the NL West throughout his career; .294 AVG/ .351 OBP/ .567 SLG vs Arizona, .283/ .342/ .511 vs. Los Angeles, .286/ .353/ .520 vs. San Diego, and .300/ .355/ .575 against the Giants.
What you are at ages 16 or 18 doesn't have to define you. Never stop improving & finding ways to take your game to the next level. You put in the work, you can be the one smiling in the end. #tbt #NolanArenado #MLB pic.twitter.com/JJu0y4fxNR

— Jerry Hairston, Jr. (@TheRealJHair) February 28, 2019
Machado has spent less than half a season in the NL West, so he also has some familiarity. He has a .327 avg. against the Giants, 259 against the Diamondbacks, .257 against the Rockies, and .185 against the Dodgers. He has some impressive history with NL west pitchers against Rockies Tyler Anderson (.375), Dodgers Joe Kelly (.500), and Giants' Jeff Samardzija (.675), but has struggled against Johnny Cute (.222), Jake Mcgee (.111), and Tajuan Walker (.182)
With the Diamondbacks trading Paul Goldschmidt and not re-signing Patrick Corbin, they'll look to rebuild.
The Giants are coming into 2019 with back-to-back losing seasons for the first time since 2008-09. They didn't improve much over the off-season (but it's an odd-number year, so you never know if they switched it up).
The Dodgers are the team to beat in this division. Back-to-back National League pennants, even with Machado gone, they get back their all-star shortstop Corey Seager, whose absence due to an elbow injury was the driving force for them to acquire Machado.
The Dodgers are in win-now mode. They've added again to their stellar team to try to get over that final hump to win a World Series, but with big-money, expiring contracts, they're currently not poised for the long haul, the Rockies are in the same boat but with less money on the books. With Arenado now there for the next decade, they could look to resign some of their other talent like Carlos Gonzalez to compete in the west. On the other side, the Padres are in it for the long haul. They won't compete this year, but this young team will look to go after a championship in the 2-3 years.
Harper, like Arenado, has the advantage of remaining in the same division. He has good numbers against the NL East opponents. Between the Mets, Phillies, Marlins, and Braves he's hit 96 home runs in 446 games, and over .500 slugging percentage against each team.
Harper remaining in the NL East will be one of the exciting divisions to watch. Besides the Marlins, everyone in the division has made improvements to their rosters. It was one of busiest divisions when it came to transactions.
Even with the loss of Harper, the Nationals did make some moves by signing second baseman Brian Dozier and starter Patrick Corbin.
The Mets in 2018, who ranked 29th in hits (1,282), and batting average (.234), made improvements to their lineup by adding Robinson Cano, Jed Lowrie, and Wilson Ramos. If their best players can stay healthy, they could make a run at the division.
The Atlanta Braves are the division champs. With the mixture of veterans like Freddie Freeman and Nick Markakis and a group of young players including Sean Newcomb and NL rookie of year Ronald Acuna Jr., they added experience catcher Brian McCann and former MVP, Josh Donaldson. This is a very balanced team on all sides and they are poised for a second consecutive division title.
With Atlanta and Philadelphia both young and talented, they'll battle each other for the division title for a long time, this will be a great rivalry to watch.
With all these factors and more, who can build a legacy?
Questions and comments?
thescorecrowsports@gmail.com
Follow Us on Twitter @thescorecrow
Follow Us on Reddit at u/TheScorecrow
Follow Us on Facebook at The Scorecrow
Follow Us on Instagram at The Scorecrow
Follow John Supowitz on Twitter @Imthatsupi85
Main Credit Image: [getty src="691138176″ width="594″ height="396″ tld="com"]