Jordan Leandre | February 10th, 2019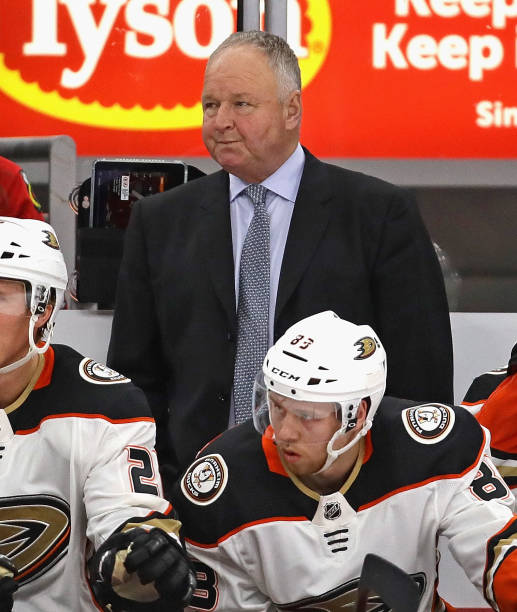 Something had to give eventually, and Anaheim has finally found their fall-guy. Head coach Randy Carlyle has been relieved of his duties after starting the season 21-26-9 (51 points), which is tied for the worst in the Pacific Division.
It became apparent a few weeks ago that the Ducks would be sellers at the deadline, as they had begun to sell off key veteran players like Andrew Cogliano. However, at the time Anaheim could still catch a glimmer of hope that somehow, someway they'd be able to right the ship and make a run at even a wild card spot.
But that just hasn't happened, as the Ducks have just lost their seventh consecutive game. Consequently, it cost the head coach his job after three seasons in this stint with the team.
GM Bob Murray is expected to fill in as interim head coach for the remainder of the season before looking to fill the vacancy this summer.
It was Murray who released a statement following what he described as a tough decision.
"We thank Randy for everything he has done for the organization," said Murray. "Leading the team to a Stanley Cup and three conference final appearances, he has accomplished so much in Anaheim. Difficult decisions need to be made when times are tough, and our play has clearly been unacceptable. We have a tradition of success in Anaheim and we need to get back to that" (Courtesy of NHL.com).
Carlyle is the winningest coach in the history of the Ducks franchise, going 341-229-84 (.586) over nine years and two stints with the team.
What makes this decision a little bit head-scratching is the timing of it all. Typically, when a guy leads you to a Stanley Cup and three separate conference final appearances, you'd wait it out until the end of the season to relieve him of his duties. However, with 26 games to go, the Ducks are just six points out of the second wildcard spot in the Western Conference.
Perhaps GM Bob Murray believes they still have an outside shot at the postseason, thus leading to this decision. Who knows? But Anaheim has found their fall-guy, and his name was Randy Carlyle.
Questions and comments?
thescorecrowsports@gmail.com
Follow us on Twitter @thescorecrow
Follow us on Reddit u/TheScorecrow
Follow Jordan Leandre on Twitter @JordanLeandre55
Main Image Credit: