Matt Woolsey | December 14th, 2018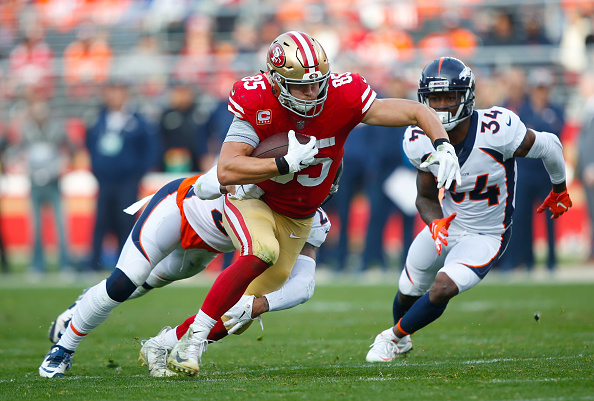 If you are still in the fantasy playoffs and have George Kittle as your tight end, you're playing him this week. He has proven to be an every week starter in fantasy this season. We have seen him put up monster games like he did this past Sunday when he was five yards shy of breaking the all-time single-game record for yards by a tight end set by one Shannon Sharpe. Again he is in your lineup for the remainder of the season.
Dynasty Value
But what about next season. Where is Kittle's value going forward? What is his dynasty value? Is he worth a first-round pick in dynasty? Is he worth an early-round pick in redraft next season?
Currently in half-point PPR (Points Per Reception), Kittle is the fourth tight end on the season. Only Zach Ertz, Travis Kelce, and Eric Ebron have scored more points than Kittle in 2018. Currently Kittle has 69 receptions…..nice on 102 targets. He has amassed over 1,100 yards and four touchdowns. He is the first pass-catcher for the 49ers to gain over 1,000 yards since Anquan Boldin in 2014. Colin Kaepernick was still the quarterback and Jim Harbaugh was still the head coach, that's bad.
An argument can be made that the 49ers have been decimated by injuries this season: Jerick McKinnon's torn ACL prior to the season starting, Pierre Garçon and Marquise Goodwin have been in and out of the lineup and Dante Pettis missed a few weeks with a knee injury. So Kittle has been forced-fed targets because he is the only one there. But by doing that the 49ers have seen what type of a player Kittle can become.
Currently, Kittle is second among all offensive players with yards after the catch right behind running back Christain McCaffrey. Just take a look at Kittle on this 85-yard touchdown catch from this past Sunday.
https://twitter.com/BarstoolUIowa/status/1071897330884976650
Kittle has the ability to make big plays down the field. He can be a crutch for whoever is under center. The mad scientist Kyle Shanahan can scheme ways of getting Kittle wide open like in the play up above, he has in fact done this all year long. For a guy who is potentially the only option in San Francisco, he is open an awful lot. After the game on Sunday, this is what the mad scientist had to say about Kittle.
Great quote from Kyle Shanahan re: George Kittle's ability to make plays after the catch.

"When the ball is in there air, the play is just starting. He runs angry, he runs confidently and he looks to score on every catch."

— Joe Fann (@Joe_Fann) December 10, 2018
So what is Kittle's value moving forward? A lot of fantasy players will punt the tight end to later rounds and stream the position. But when you can get a player like Kittle and plug him in week after week and not worry about streaming the position it makes your life a lot easier. I don't think it's difficult to think Kittle can be a top three tight end next season behind Ertz and Kelce. I think we may have seen the last of Gronk being the first tight end taking in the drafts. But if people still believe in Gronk next year then we are still talking about the top four tight ends. This puts Kittle right around a fourth maybe fifth-round pick. Is that too high for Kittle is that too high for someone who can be a difference maker at the position? By the way, Kittle would be a top-15 wide receiver right now.
Why Kittle is Worth It
Having a player like Kittle, a top-five tight end, would be a top 15 wide receiver is absolutely worth the fourth/fifth round pick. Why else do people take tight ends that high? They realize having a difference maker at the tight end position can push them to the finish line. When the rest of the league is struggling to get seven or eight points and your getting double-digit points every week it can make the difference between playing in the Weeks 14-16 or looking forward to the next season.
Kittle is also in his second-year. Being the difference maker he can be, I would easily give up at least a first-round pick in dynasty and would be looking to trade for him if you have a crappy tight end. If you are the Gronk owner I would be trying to get Kittle right now. When you need a difference maker at tight end, Kittle is your guy, now and in the future.
Questions and comments?
thescorecrowsports@gmail.com
Follow Us on Twitter @thescorecrow
Follow Us on Reddit at u/TheScorecrow
Follow Matt Woolsey on Twitter @AresgodFF
Main Credit Image: [getty src="1081279130″ width="594″ height="401″ tld="com"]