Troy Pierce | February 15th, 2019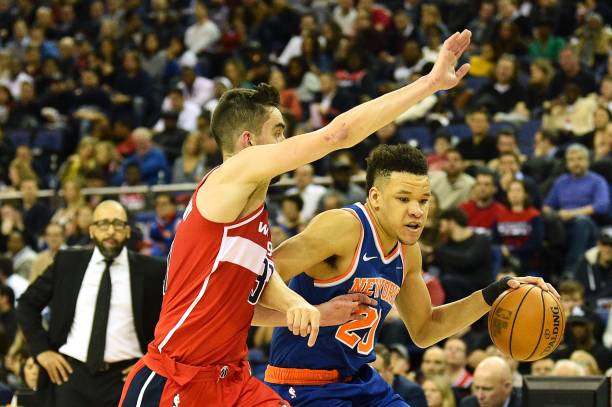 NBA All-Star weekend is arguably the biggest event during the NBA season. Celebrities and fans flock to see the best shooting, dunking, and most exciting plays that you cannot see anywhere else.
Traditionally, rookies (and sophomores) compete in what is known as the Rising Stars Game with other rookie standouts making appearances in the other all-star events. This year, aside from the rookies playing in the Rising Stars Game, four rookies will get to make their mark in the Skills Challenge and in the Dunk Contest.
RISING STARS GAME
In past years the Rising Stars Game was divided up into two teams that featured the top rookies against the top sophomore players. Over the last few years, the NBA has made the move to a Team USA vs Team World format in which the best U.S.-born rookies and sophomores will compete against the top rookies and sophomore from around the world.
Team USA will have rookies Jaren Jackson Jr. (Memphis Grizzlies), Kevin Knox (New York Knicks), and Marvin Bagley III (Sacramento Kings). Kevin Knox was named to Team USA in place of the injured Lonzo Ball (Los Angeles Lakers). Kyrie Irving will coach.
Team World will have rookies DeAndre Ayton (Phoenix Suns), Luka Doncic (Dallas Mavericks), Shai Gilgeous-Alexander (Los Angeles Clippers), Josh Okogie (Milwaukee Bucks), and Rodions Kurucs (Brooklyn Nets). Dirk Nowitzki will coach.
This should be, at the very least, an exciting and high-scoring game. Young players from across the league and across the world will be looking to make their mark on the biggest stage the NBA has to offer (besides the NBA Finals).
Projected Rising Stars Game MVP: Luka Doncic
SKILLS CHALLENGE
This year's Skills Challenge will include Luka Doncic and Trae Young (Atlanta Hawks). Both rookies have turned heads with their scoring and this will give them a chance to showcase their other skills. Both are gifted passers and ball-handlers, but those aspects of their game often are overlooked because of their ability to score.
Doncic has had a very impressive rookie season with each 30-point performance putting him closer and closer to hoisting the Rookie of the Year trophy above his head.
Trae Young's deep-range ability has had many compare him to Steph Curry early in his career. Young's quick-trigger and slight frame certainly fit the mold but an impressive performance in this competition could help him forge his own identity.
DUNK CONTEST
Last year, Donovan Mitchell won the Dunk Contest as a rookie and that's a route that Miles Bridges and Hamidou Diallo hope to follow as well.
Bridges is lengthy and athletic and will look to showcase his creativity and power in hopes of winning the 2019 Dunk Contest.
Diallo possesses good height at 6 foot 5 inches and has fantastic leaping ability to go with his athleticism. However, the dunk contest is as much about ability as it is creativity. Diallo will need to package all of those things into one if he wants to win the 2019 edition of this time-honored classic.
If I was choosing only between the two rookies in this competition I would have to go with Miles Bridges as the winner. Diallo was just sent down to the G League and is probably the least-known competitor in the field. Bridges also has the advantage of enjoying the All-Star festivities in front of his home fans. That being said, Dennis Smith Jr. is my pick to win the Dunk Contest after he came up short last year, despite last year's third-place finish.
Questions and comments?
thescorecrowsports@gmail.com
Follow Us on Twitter @thescorecrow
Follow Us on Reddit at TheScorecrow
Follow Troy on Twitter @HoopHead_prod
Main Credit Image:[getty src="1084006210″ width="594″ height="395″ tld="com"]