Smith Brickner | February 14th, 2019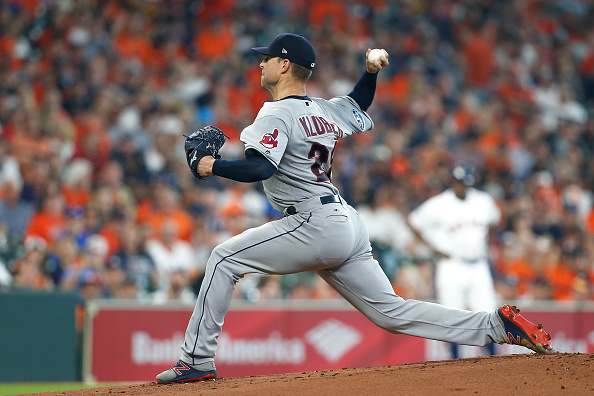 If you've been paying attention to the Major League Baseball offseason, you're probably well aware of the trade rumors surrounding two of the Cleveland Indians' best starters: Corey Kluber and Trevor Bauer. However, recent reports suggest the likelihood of either being moved is becoming increasingly unlikely. This is good news for the Indians fanbase, a fanbase still trying to figure out how the front office plans to win lots of games after 2019.
Wait, after 2019? What about 2019 itself?
Most of the baseball world seems to think that despite letting Michael Brantley walk in free agency and trading Yan Gomes, Edwin Encarnación and Yonder Alonso, the Indians should coast to the playoffs thanks to a lack of competition in their division. Indeed, Baseball Prospectus' PECOTA projections system has Cleveland due for 96 wins, easily the most in their division. Sounds great, but there's just one big, big problem. The Indians' lineup is problematic for a variety of reasons. As I'll explain in this piece, their bats could be the biggest reason why they lay an egg this season.
This winter, BP revealed a new metric called Deserved Runs Created Plus (DRC+). As I've explained in a previous piece, I'm a fan of the metric for many reasons. Based on DRC+, the Indians lineup is not good, to put it nicely. None but Francisco Lindor, Jose Ramirez and Carlos Santana – who was acquired in the deal which sent Encarnación to Seattle – are expected to post a DRC+ above the league average. Despite that trio of strong hitters, Baseball Prospectus projects the team will slash .248/.324/.419, good for 98 DRC+, or 2% below the league average.
Take a look at the team's Baseball Prospectus page. Here's what you see as their lineup:
Yup, there's your AL Central-winning lineup.
Some Options
I admit, using Baseball Prospectus' projected lineup is an imperfect practice because I believe Tyler Naquin will start over Luplow, but he also projects as a below-average hitter (92 DRC+). Their projections also don't really account for Oscar Mercado, one of Cleveland's better outfield prospects who played in Triple-A games last year and should make his debut sometime this season.
Back to Lindor for a second, he strained his calf last week in a workout and is out 7-9 weeks, meaning he could miss the beginning of the regular season. Calves are difficult because they're known as a pesky, slow-healing body part – just ask Josh Donaldson. In the blink of an eye, they lost a huge contributor in an already-meh lineup.
Suppose the Lindor injury drags into the regular season, who starts at short? The easy solution would be to move Ramirez to short and let one of Max Moroff or Yu-Cheng Chang play at 3rd. The only problem is, Moroff slashed a terrible .186/.284/.356 in 67 plate appearances – admittedly a small sample. But over parts of 3 seasons in the big leagues, he's compiled a 73 DRC+ and a 33% strikeout rate. He's performed better in Triple-A action, but he's no Lindor.
Chang is an intriguing but unproven Taiwanese prospect who's yet to reach the majors. He was good-not-great in 127 Triple-A games in 2018, slashing .256/.330/.411. However, he had an excellent showing in the Arizona Fall League and has always been credited with an excellent work ethic. Defensively, he's a tick above average at 3rd. He could be an average major leaguer without any one standout tool or glaring weakness. The smart business move for the Indians, however, would be to stash Chang in Triple-A to begin the year, thus adding on a year of extra team control. This means Moroff goes into the season as a starter in Terry Francona's lineup.
The Competition
With Moroff and Chang as the immediate replacement options, it makes for a difficult situation. It leaves the team with just 2 consistently above-average bats in their lineup. The Yankees, Red Sox and Astros, considered by many to be the Indians' main competition for the American League pennant, are hosting way better lineups. Check out how many above-average hitters each of those teams possess, as well as their expected team DRC+:
Yuli Gurriel is the only Astros regular with a projected DRC+ of less than 100, and he's at 99. The Yankees' below-average hitters are Troy Tulowitzki (99 DRC+) and Brett Gardner (98 DRC+). The Red Sox have a couple of players who are projected for exactly 100 DRC+ in Rafael Devers and Jackie Bradley Jr..
Are you noticing a trend here? The best teams have tons of productive players, and the "vulnerable" spots in their lineups could easily be league average, if not better. Those are balanced lineups. Those are championship-caliber lineups. The Indians aren't even in the same stratosphere, and you could argue they don't even have the best lineup in their own division.
For all the talk about how much a cakewalk the AL Central should be, there's a strong case to be made that the Twins have a better lineup. With 5 of their hitters expected to produce above the league average and sporting a team DRC+ of 101, the Twins lead the AL Central in projected offensive output. The Royals and White Sox each have 3 above-average hitters in their lineup, the Tigers have 4. Yes, their team DRC+'s are less than that of the Indians, but the point of this exercise is to show how small the Indians' margin for error is. Very rare is it when teams like the Indians have success when they have so many "ifs" in their lineup.
What can they do?
What makes this even more tricky for the Tribe, they don't have much money to spend, if any. Looking at payrolls from previous seasons isn't an option, as Cleveland's front office has made it clear both with words and actions that those spending levels weren't sustainable. Why else would you trade Gomes, who was quietly one of the best catchers in baseball last year? And why bother putting Kluber's name out there in trade talks?
Their inability to spend means they'll be looking for inexpensive options near the bottom of the free agent market. In my first piece for The Scorecrow, I mentioned Adam Jones as a potential candidate for a one-year contract. He's certainly lost a step, but he represents an upgrade over players like Luplow, Naquin, and Allen. Free agents like Jones are uninspiring additions, but they might be the kinds of additions that make the Indians more balanced and thus, a better ball club.
I'm fully aware that Baseball Prospectus' projection system is imperfect. Otherwise, why even play the game? Perhaps Baseball Prospectus is dead wrong on some of their players. But their projections are based on past performance, something that's proven to be a strong indication of future production. I only used BP's expected lineup to look at their team from as objective a standpoint as possible. Based on their system, a few injuries to their biggest contributors and it could get ugly in Cleveland real, real quick.
Cleveland is built on its pitching, true. I'm only trying to highlight the risk in predicting 90-plus wins for a team that's so wildly one-dimensional. If this team has success not just in the regular season but the post-season as well, they'll do it similar to how the 2015 Mets clinched a World Series berth: ridiculous pitching with unspectacular but clutch offensive output. If you're a betting person, is that really the kind of gamble you're willing to take?
Questions and comments?
thescorecrowsports@gmail.com
Follow Us on Twitter @thescorecrow
Follow Us on Reddit at u/TheScorecrow
Follow Smith Brickner on Twitter @SmithBrickner
Main Credit Image: [getty src="1046102808″ width="594″ height="396″ tld="com"]