John Supowitz    | April 23rd, 2019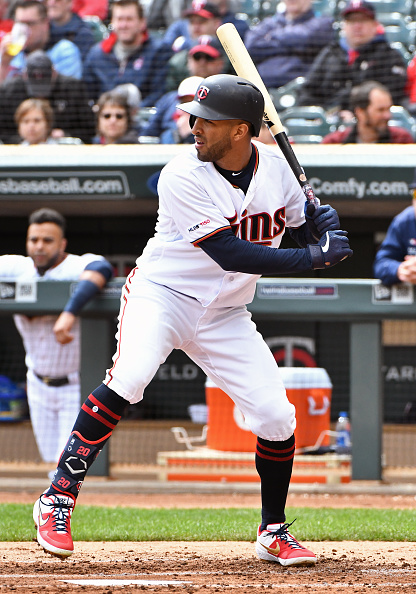 Who would have thought the best player the Marlins traded last year would be Christian Yelich? Safe to say since moving to the mid-west, he has become a marquee superstar. He began the week by doing something he already did this season: beat up the Cardinals. April 15th, he had three home runs against the red birds, added another the next night, giving him eight total in five consecutive games. Don't worry St., Louis; he doesn't save his power just for you, Yelich added four more homers, including his second multi-home run game of the week against the Dodgers, giving him on eight for the week and 16 RBI.
Rosario saw Yelich in the National League Central and thought their America League counterpart needed to be represented. On April 18th, he hit two home runs against the Blue Jays, then followed with three more in a doubleheader against Orioles to give him six for the week.
I wonder if you asked anyone how many home runs and RBI did Gallo have in 2017, 2018, how many would even be close to the number? Due to being on a Rangers squad that has been under .500 the last two seasons, Gallo's 82 HR and 172 RBI has gone under the radar. Now with Texas, just one and a half games out of first, and the team winning five out of six games last week, his accolades this week get some praise. He led the American League this week in AVG (.478), RBI (11), and OPS (1.654). He made it count when he made contact as his hard contact percentage was 70.6%.
There also been a lot of…smoke…sorry, around Justin, but he has yet to set his career on fire. A former first-round pick by the Rangers, he was dealt to the Mariners in his rookie year. Smoak was supposed to be their franchise first baseman, but struggles and injuries deterred him, He was put on waivers then claimed by the Blue Jays in 2014. The trend continued for his first two seasons with Toronto, until his first all-star season in 2017. Smoak hit 38 HR that season. Slight regression in 2018, he looks to be back on track in 2019. .313 on the season, this week his .444 AVG and three home runs earn him second place in RBI (10) for the week.
Pete Alonso and Fernando Tatis Jr. have been getting most of the attention as Rookie of the Year candidates, but Walker needs to be someone that's also in the conversation. Walker is taking advantage of his first opportunity to be a starter at first base after the Diamondbacks traded Paul Goldschmidt in the offseason. Currently leading qualified National League rookies in average (.347), he continued by leading all of baseball in AVG (.571), and OBP (.625). He had an outstanding BABIP of .909, to compare, Carlos Santana came in second with.583.
As good as Yelich is this year, Bellinger isn't too far behind. At the rate, these two are going baseball writers are going to feel torn about who should be this year's National League MVP. Their teams faced off this past weekend, Bellinger out hit Yelich 6-4, as he leads the league in AVG (.424) and hits (36).
Red Thunder gets another week on the list because not only has he played well but Yankees fans need a little cheering up after yet another star goes down. Frazier last week had .400 average, including homers in back-to-back games and five RBI against the Royals.
Questions and comments?
thescorecrowsports@gmail.com
Follow Us on Twitter @thescorecrow
Follow Us on Reddit at u/TheScorecrow
Follow Us on Facebook at The Scorecrow
Follow Us on Instagram at The Scorecrow
Follow John Supowitz on Twitter @Imthatsupi85
Main Image Credit: [getty src="1138718952″ width="416″ height="594″ tld="com"]