It is the infamous "dress rehearsal" game where starters on offense and defense sniff their first bit of action against one and other.
Here are the players to watch in the all-important third game of the preseason game.
Jakobi Meyers
The NC State alum has wildly exceeded the expectations of fans as well as coaches.
It is one thing to play well against your teammates and against the second stringers. It is another thing to go up against the players that will be suiting up come September.
It will say a lot if he takes the field with Tom Brady, Julian Edelman, and company. Will Brady target him? Can he create separation against someone who is not a scrub?
That is why we are telling you to watch him tonight.
Damien Harris
The Alabama running back can play. He has the ability to shoot the A-gap as good as any other running back on this roster including Sony Michel. He seems to also be able to catch passes as well as Michel can.
It is another case like Meyers of seeing if the kid can play when the starters are out there.
Watch for him tonight.
Jake Bailey
No ifs, ands or buts. Rookie Jake Bailey is the starting punter dethroning the Super Bowl Champion punter Ryan Allen.
Now that the has won the role with nobody breathing down his neck, it will be interesting to see how the team utilizes him.
Not just as the punter, but possibly as the kickoff specialist giving Stephen Gostkowski's foot a break.
Over 80 percent of his kickoffs in college were touchbacks. Look to see if he takes over as the specialist on kickoffs full-time.
JoeJuan Williams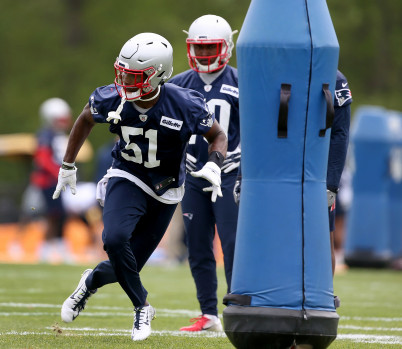 The second round selection has been taking a boatload of snaps this preseason.
It would be smart for Bill Belichick and Jerod Mayo to give the rookie reps against the Panthers' starting talent.
Fans and coaches already know what J.C. Jackson, Stephon Gilmore, and Jason McCourty can give you.
Watch to see if the rookie gets out there in the first quarter
Patrick Chung
Does he play? Does he sit? Pointing out the reason why this is being pointed out is beating a dead horse that all outlets including ours have discussed.
All eyes will be on the defense to see who trots out there at strong safety. It will be interesting to see but it would be more surprising if he does play rather than not.
As people forget with this situation, he is also clawing his way back from an injury he sustained in the Super Bowl.