Christopher Dinkins | February 27th, 2019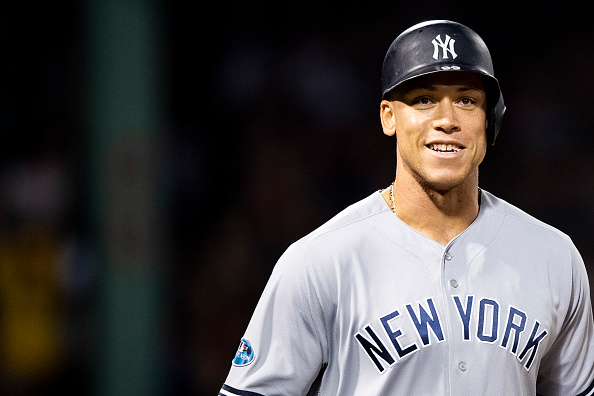 It's a new year and we are here to get into the 2019 season for the New York Yankees. I had the Yankees winning the World Series last year, but they fell short to the eventual world champion Boston Red Sox in the Divisional round. But its a new year, and you live and learn. The Yankees went through injuries and a less than stellar year from one of its main power bats. But last year is over and its time to focus on this season and putting some heat on those guys in Massachusetts.
Recap of 2018
The Yankees won 100 games last year and still finished eight games out of the division lead. Untimely injuries to Aaron Judge and Gary Sanchez put a damper on the season a little. A broken wrist kept Judge out for about six weeks while Sanchez landed on the disabled list twice with a groin strain that kept him out of the lineup. The Yankees had great power as they broke their own record from last season for most home runs by a team in the regular season.
New Additions for 2019
This season we will be stronger with additions of pitchers James Paxton and Adam Ottavino. On the offensive side, we added former all-star Troy Tulowitzki who signed for big league minimum to help keep the infield together until Didi Gregorius returns this summer from Tommy John surgery. Second baseman DJ LeMahieu was also brought in and is expected to be a super utility player.
The Rotation
The starting rotation which will showcase J.A. Happ returning as a free agent, Luis Severino, Masahiro Tanaka, and C.C. Sabathia who will be playing his last season before retirement. There will be a couple milestones Sabathia can reach early in the season as he is 4 wins from 250 and 14 Ks away from 3,000. The rotation will need to be a little bit stronger, which Paxton should help with, and remain injury free at least until the trade deadline because what we have depth wise is not very experienced. Jonathan Loaisiga, Chance Adams and Domingo German will be there but any contribution from them will be a positive.
The Bullpen
The Yankees bullpen is considered one of the strongest in baseball. We re-signed free agent Zack Britton who will be partnered up with Ottavino who we got from Colorado to go along with Dellin Betances to make up a great bullpen for the summertime stretch. Chad Green will fill out the bullpen and has been an underrated pitcher for the Yankees over the last two years. As expected, flamethrower Aroldis Chapman will be the closer. The Yankees will be able to replace their lack of starting depth with the games' best bullpen.
The Infield
The Yankees infield will be strong with Luke Voit, who made a very good impression last season. Voit will be trying to beat out Greg Bird for the starting spot and first base. We have been waiting a few years now for Bird to show the potential he has but, Voit has to be the favorite going into the spring. Gleyber Torres, Tulowitzki, and Miguel Andujar will be a strong infield. The experience from Torres and Andujar will be very helpful and Tulowitzki is a solid addition to hold down shortstop while they wait for Gregorius to return. The catching scenario will be very instrumental because a lot depends on how Sanchez responds from his very underachieving 2018. He showed signs late last year of still being a great hitter but he really fell off defensively behind the plate.
The Outfield
The outfield will be strong as well with MVP candidate Judge, Aaron Hicks, who just signed a seven-year extension for $70 million. Brett Gardner will be back as well, hopefully, to add on to a strong Yankees outfield. They will also have former MVP, Giancarlo Stanton, to help with a great outfield.
Reserves
The bench will be strong with the youth of Clint Frazier and Tyler Wade. They will also have veteran DJ LeMahieu a fine second-basemen. LeMahieu is coming off of a very good career in Colorado and will help the Yankees in gaining ground on Boston. They have depth that will make them a very scary team come playoff time.
The Yankees will survive without the addition of any other high-priced free agents, and you know who I am speaking about. I mentioned as soon as last year ended that we did not need either of those guys. One has signed with San Diego (Manny Machado) and the truth is coming out about the other guy (Bryce Harper.) So my season has been made already. Aaron Boone in his second year at the helm has to work this season like he is under a microscope. The goal this season is to not play in another wild-card game which is definitely a reachable goal. The Yankees have some players in the farm waiting for their chance. Or they may find themselves making a deal like they did with Justus Sheffield in the offseason.
Predictions
So this season once again I'm proclaiming that my Yankees will have a very good season. They will win the division and go on to win the World Series, this season will make it ten since the last World Series appearance by the Yankees, and it will be well worth the wait. Hopefully, everything will work out and another 100 plus win season is out there to be had. We just have to do better against those dreaded Red Sox. We will make an international trip to play Boston in London this season. It looks like the 28th world championship is on the horizon.
Check out our other Team Previews | Colorado Rockies | Toronto Blue Jays | Minnesota Twins | Atlanta Braves | Chicago Cubs | Tampa Bay Rays | Arizona Diamondbacks | Miami Marlins | Cincinnati Reds | Seattle Mariners | Texas Rangers |Los Angeles Dodgers
Questions and comments?
thescorecrowsports@gmail.com
Follow Us on Twitter @thescorecrow
Follow Us on Reddit at u/TheScorecrow
Follow Us on Facebook at The Scorecrow
Follow Us on Instagram at The Scorecrow
Follow Chris Dinkins on Twitter @rmdest
Main Credit Image: [getty src="1046776022″ width="594″ height="396″ tld="com"]