Devin Davis | May 16th, 2019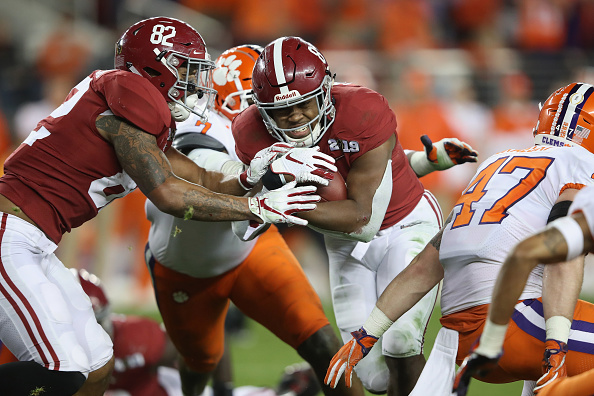 Each year, an exciting new class of prospects enters the National Football League and fantasy players become scouts as they attempt to identify that cornerstone player for their dynasty team. It is essential to become acquainted with this new crop of talent in order to gain the upper hand on your league mates. Now that the NFL Draft has concluded, it is time to rank and evaluate the rookies that should be selected in the first round of your rookie draft.
1. Josh Jacobs, RB, Oakland Raiders:
There has been an intense debate across the industry over which player should be selected with the first overall pick. I have settled on Josh Jacobs as the best overall option for dynasty leagues. Although he did not carry a heavy load at Alabama, this first-round rookie is poised to become the bell cow back for the Oakland Raiders. With the injury to Isaiah Crowell, Jacobs is primed to gain a prominent role in the Oakland backfield and projects to receive about 250 touches.
2. N'Keal Harry, WR, New England Patriots:
The other player in contention for that number one overall pick is the wide receiver out of Arizona State, N'Keal Harry. The number one receiving option for Tom Brady is slated to step into a huge role in his debut season. His size and physicality will allow him to work in the slot or on the boundary as he carves out a prominent role in the New England offense. Harry is by far the number one wide receiver target in rookie drafts this off-season.
The Jordan Howard replacement has an intriguing ring to it. The Bears traded up to select the talented back from Iowa State in order to fill that void. I expect Montgomery to receive a similar amount of carries to Josh Jacobs. However, Montgomery has to deal with the competition of Tarik Cohen that will limit the upside of Montgomery in the passing game.
4. Miles Sanders, RB, Philadelphia Eagles:
If your dynasty team needs a running back, your options run out fast. Sanders is the last premium back on the board and is ranked fourth overall. Sanders is more a long-term play, but I expect he will still receive a sizable workload in his rookie campaign. Currently, the Eagles have a crowded backfield and are poised to use a committee approach at the position. However, it is my hope that Sanders will possess the skill and talent to claim the load as the bell cow for years to come in Philadelphia.
5. D.K. Metcalf, WR, Seattle Seahawks:
A constant theme with my rankings has been opportunity. After Doug Baldwin retired, 73 targets and 711 snaps were vacated from the Seahawks offense. Metcalf now has the opportunity to step in and take on a large workload as a rookie receiver in Seattle. However, his ceiling is slightly limited due to the lack of passing volume in Seattle offense.
I am much higher on Hardman than the consensus and I don't particularly understand why. With the impending Tyreek Hill suspension, Hardman is poised to take over as a premium receiver in a Patrick Mahomes led offense. What more could you ask for from a situation? The opportunity to carve out a prolific role in the most explosive offense is there for the taking and I want to be the fantasy owner that reaps the rewards.
7. A.J. Brown, WR, Tennessee Titans:
Once again, opportunity strikes again. A spot opposite of Corey Davis will be a nice home for the productive talent from Ole Miss. Due to the offensive system in Tennessee, it will be difficult to envision a true breakout, but new offensive coordinator, Arthur Smith, should look to strengthen the air attack and optimize Marcus Mariota. I expect Brown to be a beneficiary of this increase in passing attempts.
Wide receiver is a deep position this season when it comes to rookie drafts. Campbell is the second-round pick from The Ohio State University that is looking to make an immediate impact in the Indianapolis offense. As a quick and raw slot receiver, Campbell provides an unlimited upside that will be attained as he develops into a more polished product. The after-the-catch threat will give defensive backs nightmares as they attempt to contain T.Y. Hilton and Campbell. This duo makes for a nice landing spot for the second-round wideout.
Arcega-Whiteside is a very talented wide receiver that projects to take over Philadelphia's number three receiver role. Arcega-Whiteside excels in the red zone and will be a source of touchdowns for Philadelphia. However, the Eagles possess a plethora of competition when it pertains to targets. This lack of volume will limit the upside of Arcega-Whiteside early in his career, but he projects to have a nice future while working with Carson Wentz.
To close out the first round, we have our first tight end off the board. The Iowa product is poised to receive a lion's share (pun intended) of the targets from Matthew Stafford. However, I am concerned with Hockenson's immediate production due to the struggling track record of rookie tight ends. Players such as O.J. Howard and David Njoku have struggled out of the gate and have yet to live up to their draft day value. I anticipate a similar start for Hockenson as he adjusts to the professional game, but once he begins his sophomore campaign, watch out!
Questions and comments?
thescorecrowsports@gmail.com
Follow Us on Twitter @thescorecrow
Follow Us on Reddit at u/TheScorecrow
Follow Us on Facebook at The Scorecrow
Follow Us on Instagram at The Scorecrow
Follow Devin Davis on Twitter @devindavis_14
Main Image Credit:  [getty src="1079273848″ width="594″ height="396″ tld="com"]