Scott Burke | August 9th, 2018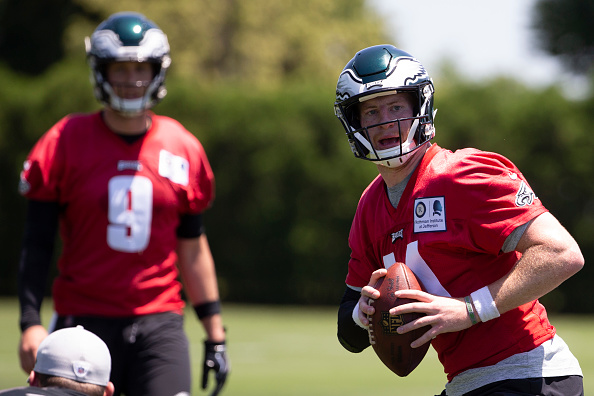 For Philadelphia Eagles quarterback Carson Wentz the 2018 preseason is more like an extended rehab session. Wentz is returning from a torn ACL that kept him out of the entire playoff run and eventual Super Bowl win last season for the Eagles. Wentz has been a partial participant throughout training camp, taking part in individual and 7 on 7 drills, but has been only an observer for full-team drills. It is expected that Wentz will not take part in any preseason game action, however, he is still on target to start Week one.
2018 NFL Player Profile: Carson Wentz
From MVP to Torn ACL
The Eagles were flying high heading into Los Angeles to play the Rams week 14. They were 10-2, destined to win the NFC East, make a long playoff run, and they were doing all this behind the arm of their young star Wentz. He was having a fantastic season. Through 12 games Wentz had thrown for 29 touchdowns and only six interceptions. He was on pace to throw for over 4,000 yards and had a quarterback rating of 101.9. Week 14 the Eagles were involved in a very exciting back and forth game with the Rams, a game in which Wentz added four touchdown passes to the 29 he already had. Both teams were having winning seasons and many thought we were watching an NFC Championship Game preview. Then, in a blink of an eye, the Eagles season took a sharp left turn, at least that's what it looked like. Wentz on a touchdown run that was called back due to a penalty injured his left knee. He ultimately stayed in to finish the drive, throwing a touchdown pass on fourth down to Alshon Jeffery, but he would not return after that.
Wentz left the game and was replaced by eventual Super Bowl hero Nick Foles and the Eagles held on to win the game 43-35 and improve to 11-2 on the season. Wentz was later diagnosed with a torn ACL, leaving many Eagles fans to think about life without their young signal-caller and what it meant to their Super Bowl hopes. Well, by now you know Nick Foles was able to step in and lead the Eagles to an exciting Super Bowl win over the New England Patriots. However, the question still remained, how long would Wentz be out and could he make a full recovery?
Offseason Rehabilitation
With Nick Foles taking in the sights and sounds that come with being a Super Bowl MVP, Wentz was hard on the road to recovery. We know how competitive Wentz is on the field, but that competitive nature was turned up even more during his strenuous rehab. According to NBC Sports Philly, Wentz made the trip from his South Jersey home to the NovaCare Complex over a hundred times during the offseason. Hours upon hours were spent pushing through drills to regain strength, mobility, agility, and endurance. After the great success he had before his injury, the motivation was certainly there to get back to the top, and to get back there quickly.
The hard work was evident right away during OTAs. Wentz was seen taking part in 7 on 7's and a variety of individual drills. He looked "comfortable and fluid", according to Reuben Frank of NBC Sports Philly. He was dropping perfect passes into the waiting hands of Mike Wallace and Nelson Agholor and was even seen "sprinting down the field during the midday sun". Wentz is way ahead of schedule, and despite not being cleared for full team/contact drills, he is on pace to start the first game of the 2018 NFL season against the Atlanta Falcons Thursday night, September 6th.
What to Expect
Over the years we have seen many quarterbacks suffer significant MCL and ACL injuries similar to that of Wentz. We saw it last year with explosive Houston Texans quarterback Deshaun Watson. While ACL injuries are significant, Eagles fans should be hopeful that Wentz will return to his near MVP form of 2017. Just in case you need some convincing, below are a few quarterbacks that suffered ACL injuries along with their stats the season of the injury and the season following:
2006 ACL and MCL injury suffered in a playoff game against the Pittsburgh Steelers
Injury season (2005): Comp 67.8%, 3,36 yards, 32 TDs, 12 INTs, 101.1 QBR
Return season (2006): Comp 62.3%, 4,35 yards, 28 TDs, 13 INTs, 93.9 QBR
Grade three ACL tear suffered in January 13, 2008 playoff game
Injury season (2007): Comp 60.2%, 3,152 yards, 21 TDs, 15 INTs, 82.4 QBR
Return season (2008): Comp 65.3%, 4,009 yards, 34 TDs, 11 INTs, 105.5 QBR
Grade three ACL tear suffered in week one of the 2008 season
Pre-injury season (undefeated season 2007): Comp 68.9%, 4,806 yards, 50 TDs, 8 INTs, 117.2 QBR
Return season (2009): Comp 65.7%, 4,398 yards, 28 TDs, 13 INTs, 96.2 QBR
Torn ACL suffered week 11 of the 2015 season against the Rams
Injury season (10 games, 2015): Comp 64.4%, 2,791 yards, 14 TDs, 12 INTs, 83.1 QBR
Return season (2016): Comp 64.9%, 4,317 yards, 20 TDs, 15 INTs, 83.5 QBR
The underlying theme here is that most quarterbacks that suffer significant injuries either return to form the next year or improve. While there are some that decline, most come back stronger.
2018 Season Prediction for Carson Wentz:
Comp 61.6%, 3,888 yards, 35 TDs, 16 INTs, 93.7 QBR
Questions and comments?
thescorecrowsports@gmail.com
Follow Us on Twitter @thescorecrow
Follow Us on Reddit at u/TheScorecrow
Follow Scott Burke on Twitter @Scot557
Main Credit Image: [getty src="972433996″ width="594″ height="396″ tld="com"]