Bruce Cagle Jr. | January 21st, 2019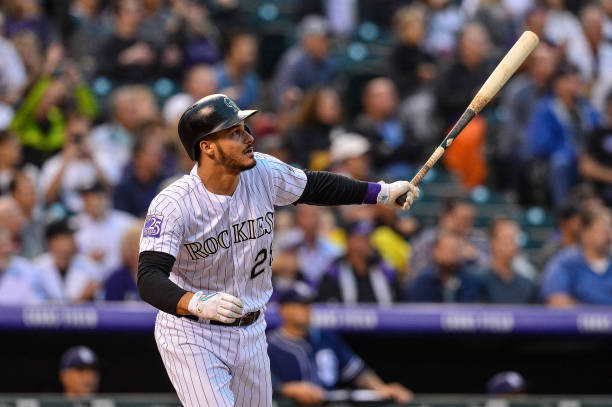 As we continue around the diamond we will be looking at the hot corner today. Some monster names here. Come look at the rest of the infield. Starting Pitchers | First Base | Second Base | Short Stop |  
Easily slotted at number three is Jose Ramirez, logging a monster season of 39 home runs and 34 stolen bases that featured a 15.2% walk percent, the only thing left desired was a rise in his .277 average. He hits for power, can run, makes great contact (87.7%) and has an elite batting eye what more do you want at the three spot? Next is perennial first-rounder Nolan Arenado. One of the safest players you can get, a lock for 35/100/120 and will hit you high .290's. He does all this while averaging 158 games per season over the last three years. Arenado's big problem is no speed, but other than that can you get safer in the first round?
Vladimir Guerrero Jr. is now just patiently waiting for the call. Everyone knows what he does, knows he is on his way and is willing to spend a solid top-five round pick on him. His max pick has been 60 so be prepared. Anthony Rendon offers nothing super sexy but everything you want in your top four picks. In 2017 Rendon went .300/.400/.500 and almost repeated that in 2018 going .308/.374/.535. He chips in mid 20's power and will be hitting in the middle of a very healthy Washington Nationals lineup. The games played has trended downward the past three seasons which cause some worry, but with the elite plate skills, I'll be buying for 2019.
Now study this chart for Kris Bryant close. If I told you he was battling injuries all year and still was a 25% better than the league average hitter would you be buying in at this year's price? News has Bryant's shoulder at full strength, with his floor and upside, team context, I'm gonna be buying in.
If I am fading anyone in the top 10 of third base it would be Miguel Andujar. He is a rock defensively, I know that doesn't matter much unless you're rumored to go after someone who can play third base *cough* *cough* Manny Machado but I've already stated how I don't like poor plate discipline. With an O-Swing percentage being 12th highest at 39.4% only five players were able to maintain higher than a .280 average with a higher O-Swing%. Those five are Corey Dickerson (.300), Andujar (.297), Javier Baez (.290), Eddie Rosario (.284), Adam Jones (.281) and that doesn't make me feel better.
Eugenio Suarez boosts a wonderful 25.2% LD rate with a fantastic 37.1% FB rate (identical to 2017) while playing for a team that made some upgrades. Some will point to the average jump from the previous season (.260 in '17 to .283 in '18) as being fluky, but I think with his IFFB% dropping from 11% down to 2.8% and the increase in hard contact percent (+14.8%, 48.6% in '18) will help keep his average around .275.
I love Justin Turner and if he stays at this price I will be buying as many shares as possible.
Round 4 is back around to me. A monster, Justin Turner with pick 117 overall.
I know it is a dynasty league, but I can't pass this up. Top tier hitter.

'18
.312/.408/.518
11% BB 12.7% K (elite plate skills)
26.2% LD 😍
44% FB.4 ✈️
45% Hard % 💪🏻#FFO30Mock @FanFrontOffice https://t.co/ymHvRfCTJn

— Bruce Cagle Jr (@BCJRFantasy) December 5, 2018
Josh Donaldson is slated to hit in front of Freddie Freeman for the Atlanta Braves this upcoming season and he is another guy you just want to stay healthy. He didn't seem to be able to throw the ball across the field last year, I was surprised he signed with an NL team. He continues his elite walk rate (15.2% in '18) but his three-year trend on strikeout percentage has gone up 7% since 2016 and he hit the ball on the ground at a semi-alarming rate, 47.8%, his highest in his career. Flags are there.
Wil Myers is only a few years removed from a 28 home run 28 stolen base season and even in a shortened season in 2018 he smashed 12 bombs and took 13 bags. The upside is here, will outfield help his health? Travis Shaw continues to slowly climb ADP over the past three years as he continues to put up 25+ home run power and hits cleanup for a very good Brewers team. Duel eligibility will make him noticeable to your league-mates. Matt Chapman is one of the best with the glove but what about the bat? It isn't as elite as fellow wizard Arenado, but it is lethal. Smashing 24 homers with 100 runs gives him two categories you can be happy to sport. He has a profile that suggests he may be able to cut down on that strikeout percentage a tad bit. He is a nice safe pick with some potential upside hitting the ball hard almost 40% of the time and hitting 45% flyballs. I'll take a chance on him.
Thanks for checking out my third base recap. The infield is loaded with positions this year, I can't wait to see how the ADP moves for these guys.
Questions and comments?
Follow Us on Twitter @thescorecrow
Follow Us on Reddit at u/TheScorecrow
Follow Bruce Cagle Jr. on Twitter @BruceCagleJr2
Main Credit Image:"[getty src="1024514392″ width="594″ height="395″ tld="com"]