Kody Clawson | May 4th, 2019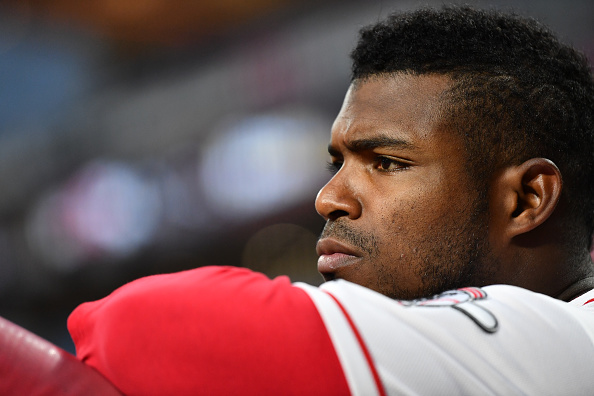 I'm going to lead off this whole article by saying that I'm a big Yasiel Puig guy. His combination of hitting, power, and speed was supposed to make him an early round talent year after year, only to see him struggle with injuries or playing time issues. Last year, when he played, he was fantastic, hitting .267/.327/.494 and accumulating 23 home runs and 15 stolen bases in just 444 plate appearances with the Los Angeles Dodgers. Then, in a weird salary dump type deal, Puig was sent in a trade to the Cincinnati Reds. As the offseason wore on, it looked more and more like there would be a full-time role for Puig in Cincy. Puig stans like me rejoiced. #PuigYourFriend indeed.
Then April happened. Scooter Gennett gets hurt. Joey Votto still hasn't bounced back from his struggles from last season. Jose Peraza is flailing at everything. The offense as a whole is struggling. April looks like a lost month, not only for Puig, but for the entire Reds offense.
Cut to May 2. As it stands, Puig is hitting just .184/.218/.340, albeit with four homers and three steals. Puig has struggled mightily, and as you start to peel back the layers of a stinky onion of a season Puig has had so far, it gets murkier as to how well he can do for the rest of the season.
When I look at players, especially struggling players, I look at three things that show the driving force of their statistics: walk rate, strikeout rate, and isolated power, or ISO. Usually, I'll try to compare it to either their previous season or to their career as a whole. For Puig, I wanted to look at last year to this year. This is what I've found:
BB%/K%/ISO
8.1/19.6/.221
4.5/26.4/.155
This is bad all over the map. An elevated strikeout rate and a lowered walk rate make it look like he's lost at the plate. The drop in ISO shows a loss of power in the swing as well. To look deeper into the power dropoff, I decide to look at some of his batted ball data:
GB-FB/IFFB%/HR'FB/Hard%
1.18/17.4/20/38.4
0.74/11.8/11.8/38.2
Interestingly, Puig is hitting the ball in the air more, with fewer of those fly balls being popped up (via the infield fly ball rate, or IFFB%). He's hit the ball just as hard as last year, but his HR/FB rate is almost cut in half, so there's something to him just having some bad luck power-wise. That's all well and good until you look at the contact numbers. Here's where it gets gross.
O-Swing%/Contact%/SwStr%
31.1/78.1/10.5
42.4/74.1/15.3
The outside-swing rate (O-Swing) is already pretty concerning. That means Puig is chasing more junk outside the zone, at a time when more hitters are swinging at less stuff outside the zone. But the swinging strike rate (SwStr%) is the really scary stuff. SwStr% measures the number of pitches that a hitter swings at that he misses. And Puig has increased his by nearly 50%. There seem to be some massive holes in his swing, and if he doesn't fix them soon, he could be in for a disaster of a season.
So is there any reason for hope? Maybe some. For one thing, it's just one month. Puig is a notoriously slow starter. His career slash line in April is .233/.303/.389, including this season. That puts his OPS at .692. The next closest month is .789 in August. But his contact numbers are usually not as variant as they are this year, so that's still concerning.
Another point of concern is the weather. While this April has been somewhat warmer than other years, this is his first year in Cincinnati. Sure, he's played road games in cold weather before, but not half his games in a northern city. Just ask fellow Cuban player Yoan Moncada how he feels about cold weather in Chicago. "We liked it really hot,'' Moncada said. "Here, you have to get used to the cold, but in my case, I'm not comfortable with it. I hate to play in cold weather.'' The article goes on:
"Join the club, Yoan. International players from hot-weather climes, Floridians and Midwesterners alike are all with you on that one. Hitting, fielding and throwing a baseball is about feel, and it's tough to do those things with numb or sore hands caused by April temperatures in the 30s or low 40s."
This isn't something you can see in statistics, but it's not nothing. And it can be expounded going from playing half your games in LA to half your games in Cincinnati.
So what do we do now with Puig? Should we buy or sell? I'd say yes to both. If you want to sell and you can find a player that you think is close to equal value that you'd rather have, then go for it. If you think he can bounce back out of this funk and have a piece to float out that a Puig owner might be interested in, I'd say do that too. He's probably going to finish better than he's playing right now, but he might not return to Peak Puig, so you have to decide whether he's worth the headache owning in the meantime.
Questions and comments?
thescorecrowsports@gmail.com
Follow Us on Twitter @thescorecrow
Follow Us on Reddit at u/TheScorecrow
Follow Us on Facebook at The Scorecrow
Follow Us on Instagram at The Scorecrow
Follow Kody Clawson on Twitter @kodyclawson
Main Image Credit: [getty src="1145484330″ width="594″ height="396″ tld="com"]