Antonio Losada| July 8th, 2019
I would be lying to you if I say I don't love Yasiel Puig. I do. I've love Puig since he entered the league all the way back to 2013 (time flies!)
Old-timers hate Puig, though. His antics. His demeanor. His non-existent respect for the game. Whatever. Puig is a major leaguer (and has been for six and a half years now) for a reason. He knows baseball. And lately, more than ever, he's been on a tear.
Take a loot the change in wRC+ during the first three months of the season to the past three weeks leading to the All-Star break for qualified hitters: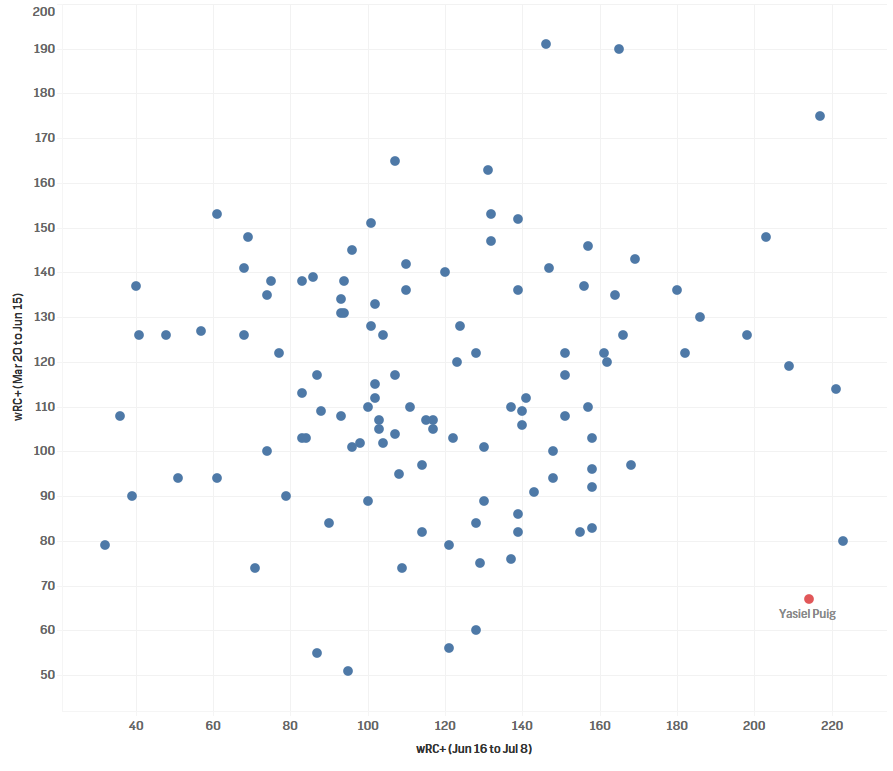 Yes, that red dot down there is Puig. It is fair to say his first three months as a Red did not play out as Cincinnati probably had expected. But talk about a late surge! Exiting the weekend, Puig is sitting at a staggering 214 wRC+ since June 16, only bested by Mike Trout, DJ LeMahieu and Yuli Gurriel. While that of Gurriel can also be considered an interesting (and to a certain extent unexpected) improvement, Trout and LeMahieu were already over 100+ wRC+ marks so they don't strike me as surprises.
We know Puig for his raw power. He has yet to have a season with 10 home runs or less (his low was 11 both in 2015 and 2016). He has hit a triple each and every year since 2013. He has had 10+ doubles every season.
So far in 2019, he's hit 20 homers (only three short of his 2018 mark of 23) and we are still right in the middle of the season. Do you know how many home runs did Puig hit during the first three months of the season? 12. During the past three weeks: eight! In 75 plate appearances! Basically, Puig has doubled down his chances of putting the ball out of the field each time he steps to the plate.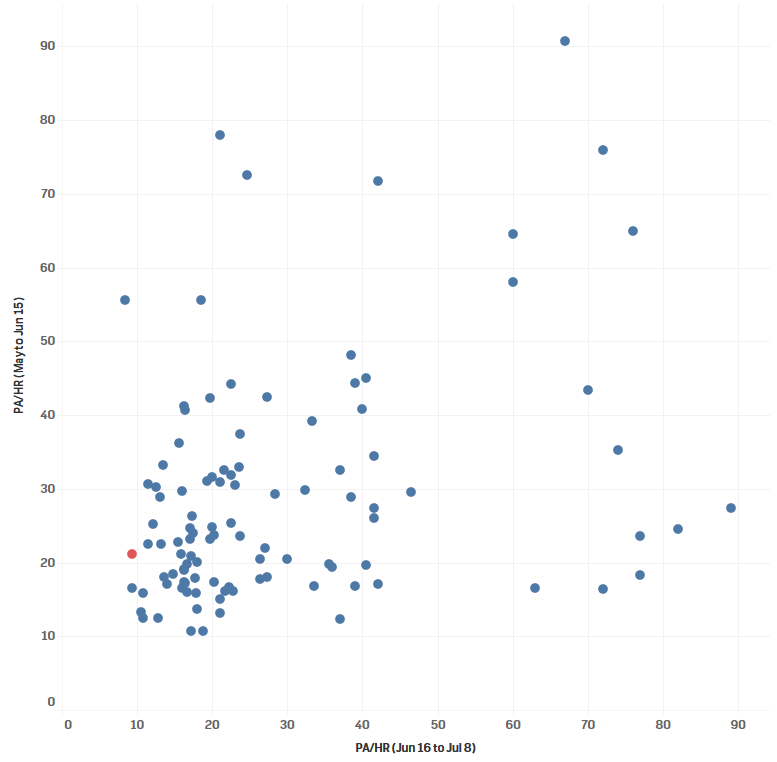 It is not that he wasn't having a good pace during the first months of the season. It is that he's getting ridiculous now. What took more than 20 PAs to become a homer is now below ten. Only Yuli, Gurriel, and Mike Trout are producing at that level.
Puig has been ramping up all the way since mid-June. Take a look at his ISO and SLG rolling averages for the season:
Not only is he surpassing his season averages, but he's also basically drawing a vertical rising line that I don't really know if will ever stop rising. That is all about power, though. So we better look at OPS as a whole to see if all of Puig's value is coming from just mashing the ball, or if he's also getting on base by every possible mean. Here is a chart mixing both ISO with OPS for qualified hitters during the past three weeks:
Believe it or not, Puig leads the league in OPS as of the All-Star break and has the second-highest ISO only behind old foe Yuli Gurriel. It is not surprising, though, as Puig has improved his numbers with regards to BB% and K% lately. During the first three months of the season, Puig's percentages for those were 5.1% and 24.8%. Since June 16 he's walking 6.7% (+1.6%) of the time and striking out only 14.7% (minus-10.1%) of his PAs.
Yes, Puig's batted ball luck has become much higher during these last few weeks (his BABIP has gone from .248 to .354) but Yasiel has a career average of .313 so it is not that high as one may think, much less when compared to that of other late-surging players like Chris Taylor (189 wRC+, .521 BABIP), Ketel Marte (182, .468), or Yoan Moncada (198, .457).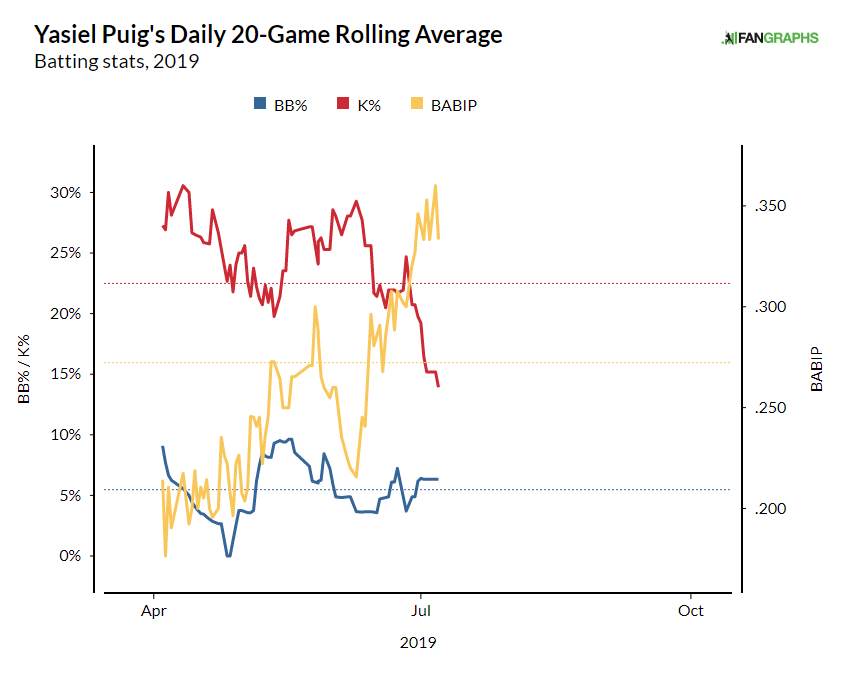 Getting back to power-hitting, we can turn our attention to Baseball Savant's data to see how both Exit Velocity and Launch Angles have played their role in Puig's late improvements. Here is a look at both EV and LA evolution for the 2019 season for Puig on a 50 Batted Ball-rolling average (June 16 is located at around the 175 BB mark):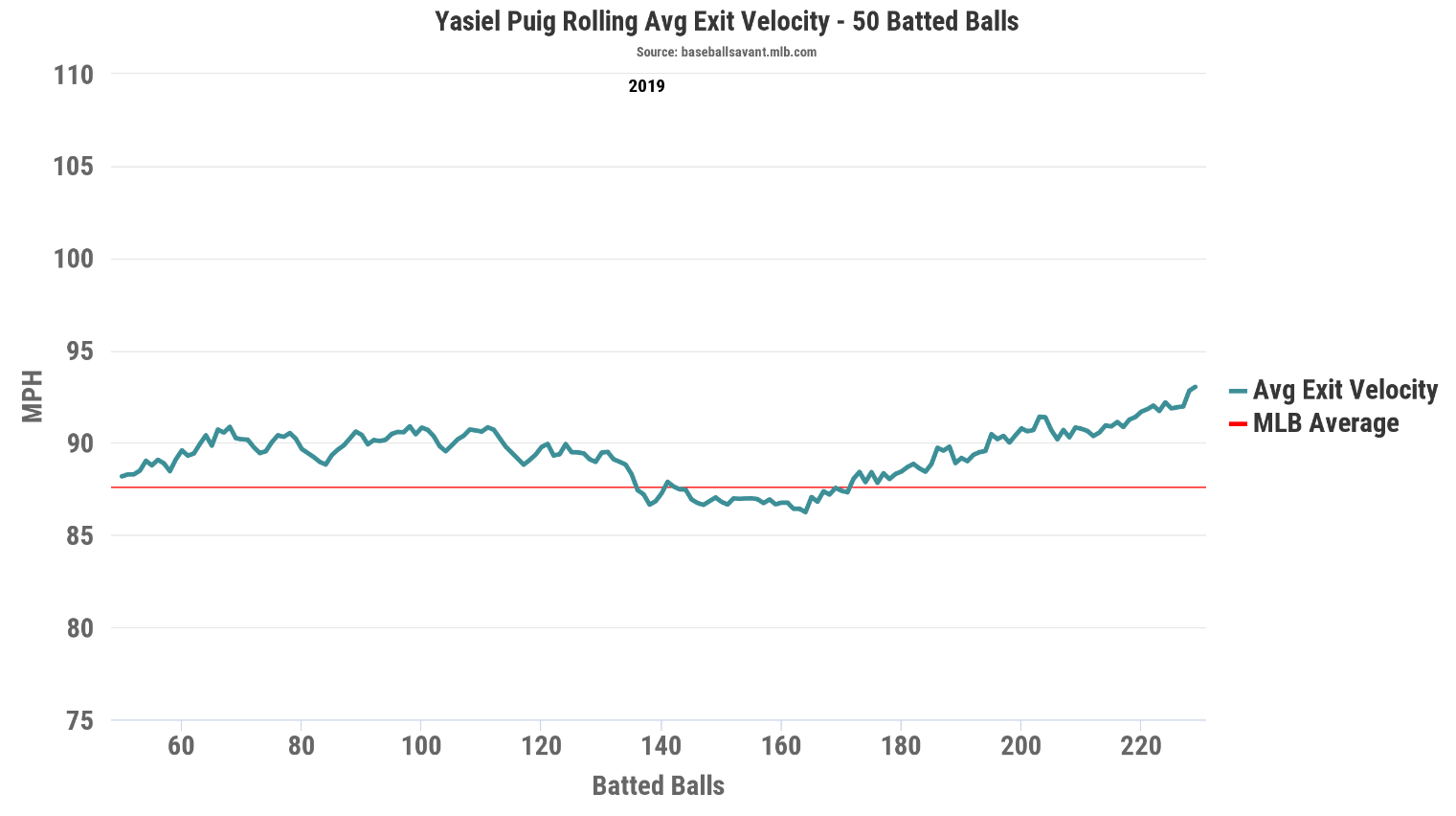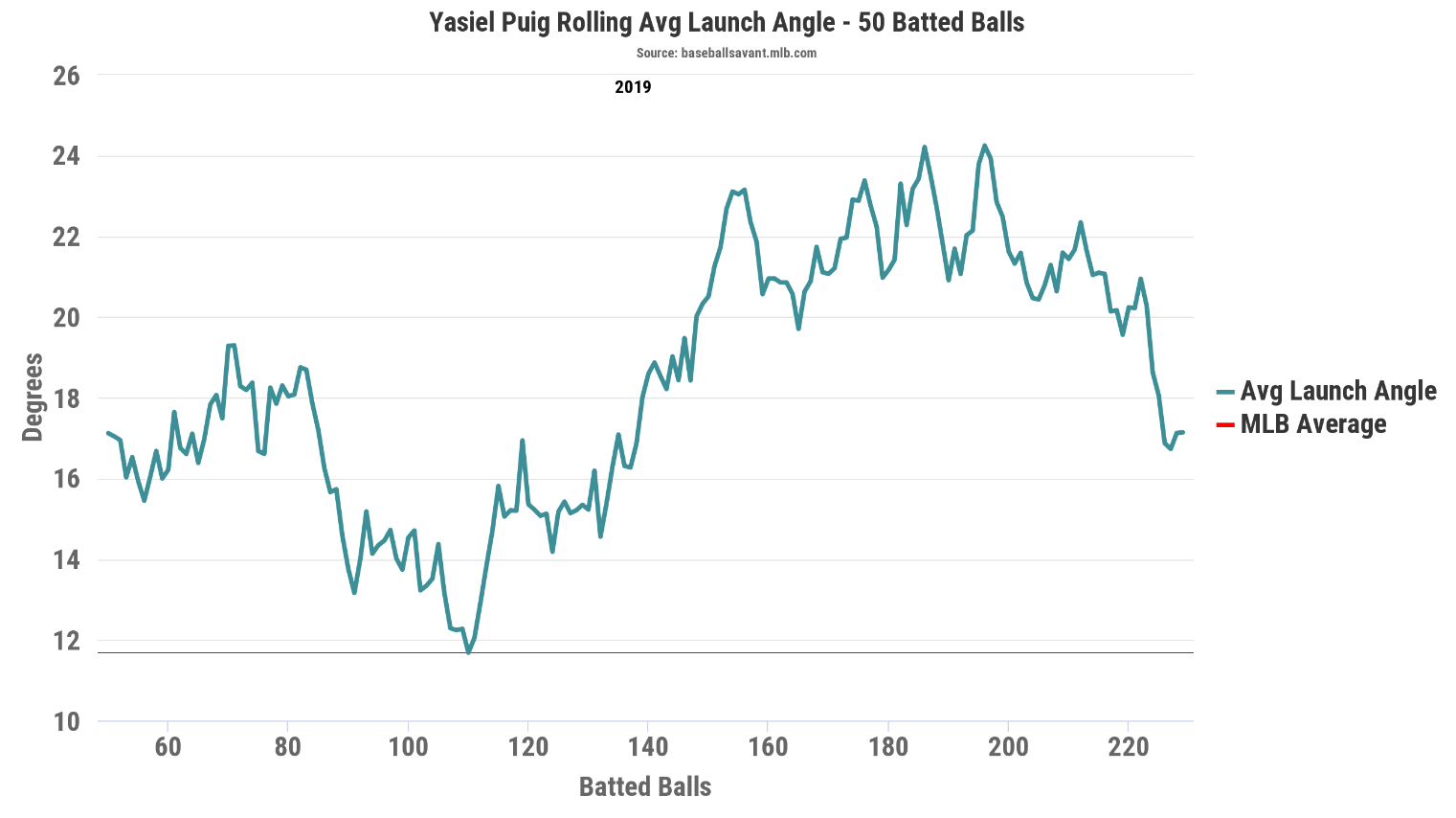 It is reasonable to expect little changes (if any) related to EV. Hard sluggers are going to mash the ball. Soft hitters will keep treating it gently. Puig's line has moved up and down and up, but not to great variation.
Launch Angle, though, tells another story. While Puig started the season at reasonably-good LA of around 17-degrees on average, he then dropped all the way to the 15-degree mark and is only since June (around 150 BB) that he started raising his angles. During the past three weeks, he's hitting the ball at around a mark of 21-degrees on average, with peaks of 24+. That doesn't outright mean he's hitting the ball better, though.
Getting a higher average LA is only good if mixed with enough power to put the ball past the wall, and not fall into an infinite array of fly outs. Puig has done that, and then some.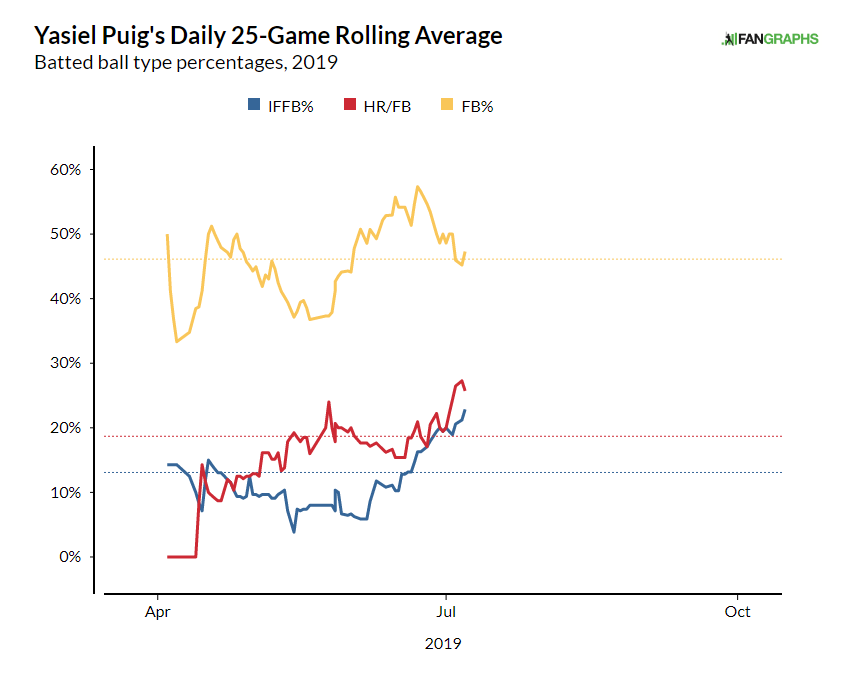 Hitting more fly balls is always going to bring more popups and flyouts, that's out of the question and the price you pay for going in that direction. But the payoff Puig is getting is more than enough to suppress the bad outcomes. While he is dealing with the 8th-highest IFFB% of the league during the past three weeks (24%), he's been lucky enough to get a hit out of hit on 22.7% of those batted balls. More interesting than that, though, is the fact that Puig is maintaining a HR/FB ratio of 32%, which puts him in the 91st percentile among qualified hitters.
Finally, and just as a mere curiosity to mix into the equation of this whole hitting analysis, Puig has also been able to steal four bases during the past three weeks, just in case you thought his bat wasn't explosive enough. Just a week ago he hustled his way home, stealing a game for the Reds. Good old Yasiel, folks.
[youtube https://www.youtube.com/watch?v=45vvjX9Fxz4&w=560&h=315]
Follow Us on Twitter @thescorecrow
Follow Us on Reddit at u/TheScorecrow
Follow Us on Facebook at The Scorecrow
Follow Us on Instagram at The Scorecrow
Facebook Group where you can read and post articles at The Scorecrow
Reddit Group where everyone can post without fear of being banned at The Scorecrow
Follow Antonio Losada on Twitter @chapulana
Main Image Credit:
[getty src="1159717987″ width="594″ height="388″ tld="com"]