Givanni Damico | May 20th, 2019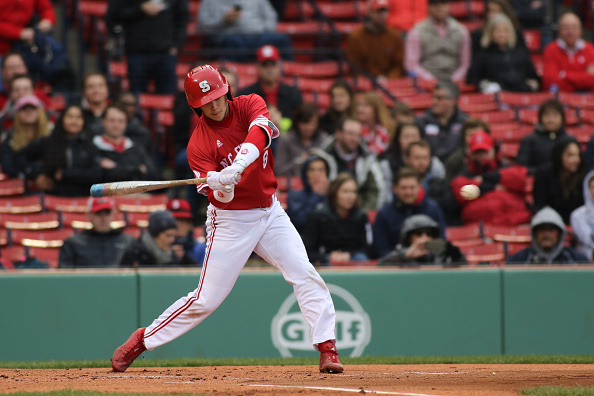 Will Wilson, SS (NC State)
Height: 6'0"
Weight: 184 LBs
Age: 20
Bats: Right
Throws: Right
2018 Stats: .307/.376/.588, 15 HR, 53 RBI, 41 SO, 27 BB
2019 Stats (as of May 18, 2019): .361/.450/.703, 16 HR, 56 RBI, 39 SO, 31 BB
Hit: 50 Power: 50 Run: 40 Arm: 50 Field: 50 Overall: 50
Will Wilson was born on July 21, 1998, in Kings Mountain, North Carolina. He attended Kings Mountain High School in North Carolina where he was a three-year starter. As a sophomore in 2014, Wilson hit .429 with four home runs. His average dipped down to .388 in his junior year, but he got it back and then some in his senior year. During his senior year of high school, Wilson hit .535 with 14 home runs and 29 RBIs in just 26 games. He had a .673 on-base percentage and an incredible 1.927 OPS. He went undrafted out of high school and joined the North Carolina State Wolfpack baseball program. In his freshman season, Wilson was one of a few freshmen in the entire ACC who started every game for their team. He ended the season with a .300 batting average and eight home runs with 72 total hits. He had 20 multi-hit games and 14 multi-RBI games. Wilson was a Collegiate Baseball Freshman All-American in 2017. In 2018, there was no sophomore slump for Wilson. He hit .307 with 15 home runs and 53 RBIs while recording 19 multi-hit games and 14 multi-RBI games. Wilson was one of 35 semi-finalists for the Dick Howser award, which is given to the nation's best collegiate baseball player. He also clinched All-ACC First Team honors as well as being a Collegiate Baseball Second Team All-American. 2019 has been a fantastic year for Wilson so far. He is flashing power while also hitting for a college career-high .361 batting average so far.
Strengths:
Will Wilson is one of the best defensive shortstops in the 2019 draft. He has only made four errors in 2019 and has proven to have soft hands. His range is decent, but not great. Given his fielding ability, Wilson already has a high floor because of how valuable defensive shortstops are in baseball. He has hit pretty well at the plate when it comes to batting average. He has flashed some pop, hitting 39 home runs over almost three full seasons so far. Considering his rather small build, this power is a bit surprising and unexpected.
Weaknesses:
I wouldn't call it a huge weakness, but his batting average in 2017 and 2018 was a bit low for someone being considered as a first-round pick. He has brought that up greatly in 2019 which shows that he has a high ceiling and a high floor. With an MLB Pipeline grade of 40, Wilson's speed is underwhelming at the shortstop position which will affect his range. His arm strength is average at best as well, so balls in the hole could be a problem. He has only stolen four bases in seven attempts during his three years of college. Wilson's plate discipline is a point of contention too. He needs to work on plate discipline especially since he'll be facing MLB pitchers who have better velocity and movement than what he is currently facing.
Overview:
Will Wilson has good hitting ability with decent power. His fielding ability at shortstop is very good but he may lack the range to make tough plays in the hole. His speed will restrict him from stealing many bases and making athletic plays that require covering a lot of ground. His mediocre arm strength and lack of speed might require him to make the transition to second base at the MLB level. Overall, I don't love Wilson because he isn't superb at anything. He's a solid hitter with good fielding ability. Nothing really stands out. This doesn't mean that he can't be a future all-star at shortstop, but he has to put in work to have better plate discipline as well as getting stronger to have that pop.
Draft Prediction: Round 1, Pick 27 to the Chicago Cubs
This may surprise some people because it's later in the first round than most people are projecting. Listen. The MLB Draft is so incredibly unpredictable because nobody truly knows everybody that a team is looking at or even all of the different positions. I think there are multiple better shortstops overall than Wilson, but Wilson is very valuable as someone who can be a four-tool player.
Check out Gio's other Draft Previews: Andrew Vaughn
Questions and comments?
thescorecrowsports@gmail.com
Follow Us on Twitter @thescorecrow
Follow Us on Reddit at u/TheScorecrow
Follow Us on Facebook at The Scorecrow
Follow Us on Instagram at The Scorecrow
Follow Givanni Damico on Twitter @giodamico15
Main Image Credit: [getty src="672009652″ width="594″ height="396″ tld="com"]