Beth Sullivan | January 6th, 2019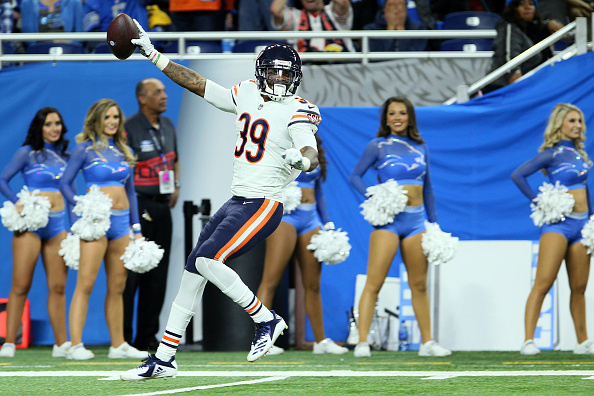 In part 1 I covered injury news for four of the teams scheduled to play on wildcard weekend. In Part 2 the remaining four teams are covered. Going into today, the team with perhaps the best news on injuries is the Baltimore Ravens.
Baltimore Ravens
All of the Ravens players practiced fully, and they also have a short injury report.  Wide receiver/kick returner Chris Moore who was dealing with shoulder and hip bruises is ready to go. Cornerback Tavon Young's groin strain also appears to be resolved as does guard Alex Lewis and his shoulder contusion.  Since all players practiced fully, despite being listed as questionable on the injury report I suspect they will all be a go come game time.
Los Angeles Chargers
The good news first, starting running back Melvin Gordon, was not on the final injury report and appears ready to lead the running attack.  Extra wrapping to help with any swelling in his ankle is the only thing I would expect for him.
Tight End Hunter Henry had not been added to the active roster as of Friday afternoon.  He sustained a non-contact ACL tear during offseason activities. The normal return time for this type of injury is 9-12 months.  He sustained the injury in May 2018.  He is only 7 months out from the injury, I don't expect to see him this weekend, and I believe if they win this weekend, then the doctors will be asked to determine if he is ready to return.  With an injury like this, healing is one issue, but conditioning is the other.  Whether the repair is fully healed or not, the risk of reinjury is real and his use will have to be tempered with future expectations.  While all players want to play in the playoffs, sometimes a voice of reason has to prevail. If I was the doctor, I would advise strengthening and conditioning thru offseason so he is ready to return fully in training camp.  Pushing the issue could lead to an even worse injury.
Outside linebacker Jatavis Brown has an ankle injury, however, the exact nature of this injury hasn't been released by the team. Since most injury reports about the ankle indicate that his season is over, I would suspect he is dealing with a grade 2 high ankle sprain at best and a chip fibular fracture at worst.  We may never know the exact injury he is dealing with, but I suspect he will be on the sidelines until offseason activities begin in the spring.
Nose Tackle Brandon Mebane will also miss the wildcard game.  He is not out because of an injury but rather because of the medical condition of his newborn daughter.  Somethings are bigger than football.  I know it is hard to believe for some, but in this case, all we can do is send prayers to the Mebane family as they deal with and face the care his daughter will require as she starts her life.  The road ahead is going to be a long tough one, but hopefully, she is a fighter like her dad and comes thru with flying colors.  NFL fanbases from all teams say a prayer for the Mebane family.
Chicago Bears
The Chicago Bears have 3 wide receivers who have all had minor nicks and dings throughout the season but have managed to play a full roll on the field when it matters. Allen Robinson – rib contusion, Taylor Gabriel – shoulder strain and Anthony Miller – shoulder strain should all be ready to go for quarterback Mitch Trubisky to throw to.
Safety Eddie Jackson was a limited participant in practice and is trending in the right direction after suffering an ankle sprain in week 15. It has only been 3 weeks since he suffered the injury during an interception return so despite being a limited participant, his availability will be a question of pain and swelling. The normal recovery time from even a grade 1 high ankle sprain is 4-8 weeks so his availability will be a game-time decision for sure.
The only player who should be considered as doubtful for the playoff game is outside linebacker Aaron Lynch who suffered an elbow injury of uncertain severity week 15.  He has been a nonparticipant the last 2 weeks and sat out practice all week this week. He was listed as doubtful on Friday's injury report and I would hazard to guess he will be ruled out come game time.
Philadelphia Eagles
Quarterback is the biggest issue for the Eagles after Nick Foles got bruised ribs during their week 17 game. Foles became the starter after Carson Wentz was diagnosed with a vertebral stress fracture.  He is not expected to need surgery to heal the injury, but if the 3rd string QB Nate Sudfeld has looked good in practice, I would keep Wentz on the shelf. A vertebral stress fracture needs time to heal and rushing that process could have detrimental effects on his career in the future. If I was the doctor, I would say Wentz is out and get Sudfeld ready to go as backup.
Left Guard Isaac Seumalo suffered a pectoral injury 4 weeks ago. He has been practicing with the 1st string all week and is expected to play in the wildcard game. The big question is whether he will be 100%. The big issue with him will be pain tolerance in light of the pectoral injury.
Defensive End Michael Bennett has been playing with a foot injury sustained in week 12.  He has been limited in practice since suffering the injury but has played in games. Since the main issues with this type of injury are pain and swelling, I suspect he will be able to play this weekend, however, the cold in Chicago may play a role in how well he is able to play.
Good luck to all the teams playing in wild-card weekend. Here's hoping it is a relatively injury-free 1st round.
Questions and comments?
thescorecrowsports@gmail.com
Follow Us on Twitter @thescorecrow
Follow Us on Reddit at u/TheScorecrow
Follow Beth Sullivan on Twitter @GAPeachPolymer
Main Credit Image: [getty src="1064624964″ width="594″ height="396″ tld="com"]