Marcos Mendoza | February 27th, 2019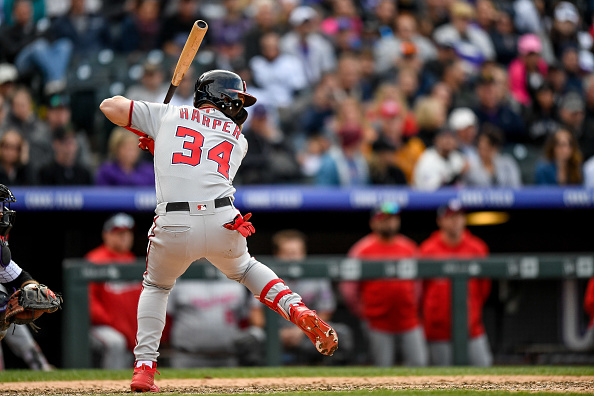 It has been said that Bryce Harper's contract demands were around $300 Million for 10 years. Some might say his contract demands are "ludicrous," well YOU ARE WRONG. As the Harper free agency saga continues let's take a look why he's worth his contract demands.
Harper is an elite talent in baseball. In his seven-year career so far, Harper has six all-star appearances, NL Rookie of the Year in 2012, Hank Aaron award in 2015, and the NL MVP in 2015. Harper has two top 10 finishes in BA, three top 10 finishes in OBP, two top 10 in SLG%, two top 10 in OPS, four top 10 in RS, and two top 10 in HRs.
In 2018, Harper had a solid season. His slash line was .249/.393/.496 with 34 HRs and 100 RBIs. He also had a .247 ISO, 135 wRC+ and a 3.5 WAR. Harper had a 42.3% hard hit, 45.9% med hit and only an 11.8% soft hit. He only saw 39.1% pitches inside the strike zone and he made contact 79.6% with pitches that were inside the strike zone. As to how much pitchers are really afraid to throw to Harper his 39.1% pitches in the zone was the 8th lowest % in the league. He was better than league average in AVG, OBP, SLG, OPS, and ISO in 2018. Most might say that this would've been a down season for Bryce Harper.
Let's take a look at his actual "worth." Per Fangraphs Harper has been worth 235.6 million over his seven seasons with the Nationals. In AAV terms, Harper would've been worth approximately about 33.6 million a year. Harper's highest yearly dollar worth in his career was 74.7 million in his 2015 MVP season. His lowest worth was 12.3 million in 2014 in which he only played 100 games and it was the only season he did not have an all-star appearance.
In his career with the Nationals, Harper has approximately earned around 52.3 million and as I stated earlier he's been worth 235.6 million in his career. That's about a 183.3 million difference in which he hasn't been rightfully paid. To say that Harper is ignorant for asking the amount he's been asking for is blatantly wrong. Harper is looking out for himself to what he needs to be rightfully compensated for and his projections for future seasons.
He's only 26 yrs old and Harper is only going to get better. He is entering his prime seasons and in my mind, we have yet to see his best season. Yes, Harper is definitely worth his contract demands. End of Story. Period.
Questions and comments?
thescorecrowsports@gmail.com
Follow Us on Twitter @thescorecrow
Follow Us on Reddit at u/TheScorecrow
Follow Us on Facebook at The Scorecrow
Follow Us on Instagram at The Scorecrow
Follow Marcos Mendoza on Twitter @MendozaM_12
Main Credit Image: [getty src="1049162858″ width="594″ height="396″ tld="com"]