Hunter Neel | July 12th, 2018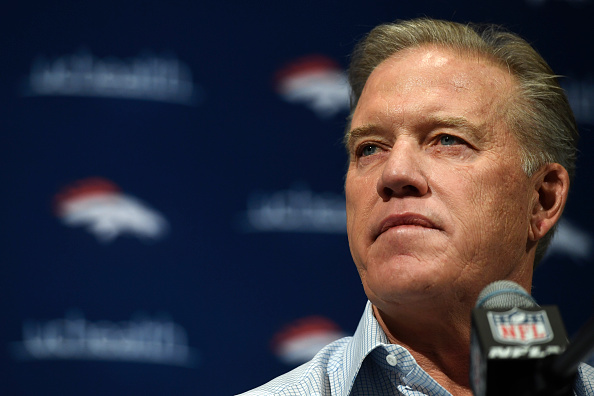 Every year there are coaches and general managers who are on a "hot seat" so to say. This means that due to their recent lack of success they need their draft picks or team to produce in order to save their job.
Hue Jackson, Head Coach Cleveland Browns
This should be sort of obvious. After going 1-31 as the Cleveland Browns head coach, Jackson is in need of some wins badly. It was a bit of a surprise to many that he still had his job after going winless last season. Yet, new general manager John Dorsey decided to give Jackson another year to prove himself.
Throughout his tenure with the Browns, many people have criticized the front office and have given excuses for why Jackson was losing. From the comments, "How could he win, the Browns have no talent" to "Oh he's a good coach just give him another year." Jackson seemingly has been able to skate by as a head coach despite damaging the reputation of some players. Most recently was former Browns, now Green Bay Packers quarterback, Deshone Kizer. It was very clear from the start that Jackson did not want Kizer, but ultimately he had to suck it up and try to produce with the talent he was given. Kizer started a good amount of the season for the Browns last year. During that time, however, he was benched multiple times and it was reported that his confidence was shot because of it.
Now Jackson enters the season with one of the best quarterback rooms the Browns have ever had, complemented by a revamped offense and an above average defense. This makes the outcome of this upcoming season rest on the shoulders of Jackson. On paper, this is a team that could easily go 7-9 or 8-8 based purely on talent and not coaching. Now it is up to Jackson to show he can coach in the NFL or he might get the boot.
John Elway, General Manager Denver Broncos
When many people think of John Elway they think of how great of a quarterback he was and not of the effect he has had as a general manager. Elway became the general manager for the Denver Broncos officially in 2013. Since then the team has had a winning record every year, with the exception of last year. On the surface, this makes him look like a good general manager. But if you scratch that surface just a little you start to see a pattern of draft misses and fails he has had throughout his time.
The Highs of His Career
First off though, the good. One of his biggest successes came when he signed legendary quarterback Peyton Manning. Elway was a huge part of what brought Manning to Denver and could play a big role in why he still is thriving in his job the way he is now. Of course, Manning was a huge get for the organization and he helped the team go very far when he was a starter. He brought the team to the AFC divisional round four straight years and the super bowl twice.
The Lows
As a general manager, you are remembered by the franchise quarterback you obtain in many instances. This is the area where Elway has struggled greatly. Perhaps one of the biggest misses he has had as a general manager is quarterback Paxton Lynch. Lynch was drafted in the first round of the 2016 draft as the franchise savior and has been nothing close to reaching those expectations. The Broncos quarterback woes have seemed to follow them since Manning retired and they have gone quarterback after quarterback not being able to find a solid answer through the draft. Though things are looking up for the team after the offseason addition of Case Keenum.
It isn't just quarterbacks that Elway has failed at drafting. Since joining the Broncos organization, Elway has been a part of seven drafts. Taking the 2018 draft out of the picture because we haven't seen them play yet, the team has not been able to find many consistent starters. In fact, many of the players drafted in the early rounds since Elway's time have struggled greatly and/or been inconsistent through their careers.
Tampa Bay Front Office and Coaching Staff
General manager Jason Licht and head coach Dirk Koetter are both sitting on the hot seat this season. With the recent news and suspension of Jameis Winston coming out, to go along with his below average play on the field, it looks more like the Bucs may need to move on from him and draft a new signal caller soon. And whenever you spend the number one overall pick on a guy who you aren't resigning to a second contract, it most likely means that someone is getting fired because of it.
Throughout Licht's career as a general manager with the Buccaneers, he has only managed one winning season in four years. Much of the teams constant losing is because their draft fails. Throughout Licht's tenure, many of his high round draft picks have resulted in bad play on the field or inability to get constant reps. That is not what you want from your early round draft picks and will lead to the demise of any football team like we have seen from the Bucs over the years.
Koetter has been the head coach of the Tampa Bay Buccaneers for two years now. During that time he has managed a losing record, going 14-18. While he did manage a winning record his first year, going 9-7, he fell off since. Going into last season many people had big expectations for the Buccaneers team. They, of course, were ultimately proven wrong when the team struggled to finish games and find any consistency. This is a big year for him. If he can manage to get back up top and pull a winning season out then he could save his job and put off being on the hot seat.
With the NFC South getting more and more competitive and the other teams improving, the Bucs will need to prove that they can still compete and play with the best. If they fail to show that again then it might be time to clean house and start from scratch.
Adam Gase, Head Coach Miami Dolphins
Over the past few years, Gase has employed his power by letting go of star players like Jay Ajayi, Jarvis Landry, and Ndamukong Suh in order to achieve a better locker room presence, whatever that means. Yet, the team has failed to bring in players to replace those star powers. This has left the team lacking in quite a few areas and it has really shown throughout the years.
While it is true that the team lost their starting quarterback last year, they still didn't look like a team ready to contribute anytime soon. This year quarterback Ryan Tannehill returns. This is a big season for both him and Gase. If they manage another losing season then the front office and owner might be looking to move on from both and try something new. Throughout his career, Tannehill has been nothing short of an all-around average quarterback. He maintains being a competent starter because of this, but if he and Gase can't find success this year then they could be on new teams this time next year.
Questions and comments?
thescorecrowsports@gmail.com
Follow Us on Twitter @thescorecrow
Follow Us on Reddit at u/TheScorecrow
Follow Hunter Neel on Twitter @Hunterneel_
Main Credit Image: [getty src="900551214″ width="594″ height="396″ tld="com"]