Givanni Damico | August 18th, 2018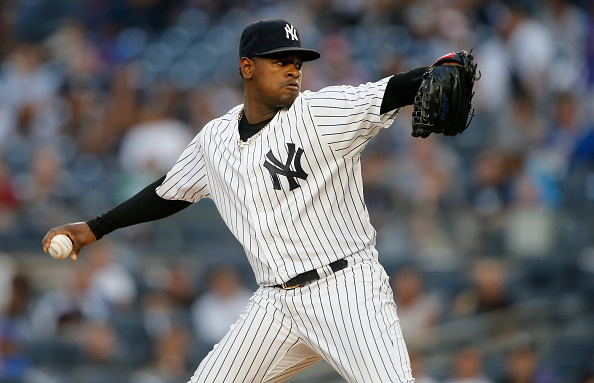 At one point in the 2018 Major League Baseball Season, the New York Yankees were in contention for the division lead in the American League East. Now the Yankees sit ten and a half games back of the Red Sox, which is their biggest deficit of the season. I, being a Yankee fan, have thought extensively about what the problem with the Yankees is lately, as well as why the Red Sox so good.
Pitching Woes
There are a few problems with the Yankees. Let me start with the obvious one that everyone acknowledges. The Yankees have a lack of quality starting pitching. They don't have anyone who goes out there and dominates every single game like the Red Sox do in Chris Sale. Even Luis Severino, who was at one point a Cy Young candidate has fallen off as of late. As recently as July 1st, Luis Severino had an ERA under 2.00. Although in the month of July, Severino posted an ERA of 6.58 in which he allowed seven home runs in four starts. Before the month of July, he hadn't given up seven home runs all season. He hasn't become much better in August thus far, posting a 5.94 ERA and surrendering four home runs. One key stat that has gone down for Severino is his strikeout totals. Through July 1st, Severino averaged 10.53 strikeouts per nine innings pitched. Since then he has averaged just 8.59 strikeouts per nine innings, which is still decent, but there is a problem. Although he still strikes people out at an acceptable rate, he has become predictable. He can't seem to put hitters away anymore. Hitters are expecting to see his 91 mile-per-hour slider outside the zone on a two-strike count so they lay off of it. Then, when they don't swing at that, they're ready for his frustration fastball which ends up in the gap or over the wall. Severino needs to be less predictable with his pitches and command the game better than he has been doing of late.
Now, Severino is obviously not the only problem. Sonny Gray, now a long relief pitcher, and Masahiro Tanaka seem to get hit hard every time they take the hill too. When your ace is struggling through, it makes it seem as if the whole team is struggling. Severino is looking like Luis Severino in his rookie year, where he had great stuff but was predictable and ended up having to be moved to the bullpen. Obviously, Severino doesn't need to be dropped in the rotation or anything extreme, I just think he and Larry Rothschild need to have a conversation on what he's doing wrong and how to improve.
Injuries
Another key piece of the Yankees struggles has been the injury bug. Most recently, Aaron Judge has been removed from the lineup due to a broken wrist. This is similar to losing an ace in the rotation, where when you lose your big power bat and have to use Shane Robinson to replace him, your lineup will struggle more. The offense has been on and off lately, but young players like Gleyber Torres, also returning from injury, have been struggling. One other quick but extremely important reason for the Yankees struggles is their inability to beat the bad teams. Boston will go up against the Orioles or the Rangers and sweep the three or four-game series, while the Yankees will take two out of three, two out of four, so on and so forth. The Bombers have an extremely easy schedule from now until the end of September, in which they play many teams below .500. This is where they need to capitalize and go on a tear. They are just 28-26 against AL East teams which is unacceptable when you have the Rays, Blue Jays, and Orioles in your division. In comparison, the Red Sox are 44-15.
The Bullpen
One more issue with the Yankees recently has actually been the bullpen. The Yankees pride themselves on their bullpen and everyone knows that their's is the best in baseball. Recently, almost everyone in the bullpen has struggled. Aroldis Chapman can't seem to locate and show command since coming back from his injury before the All-Star Break. Chad Green has just been getting hit hard and not putting batters away. Like Chapman, new Yankee Zach Britton has had no command resulting in many walks and mislocated pitches which end up being hits. David Robertson has been pretty decent lately but he has had his moments where he doesn't locate as well. The only Yankee bullpen pitcher that has been dominant and consistent throughout almost the whole season is Dellin Betances. Betances has been lights out, giving up just 28 hits and 19 walks in 50.1 innings pitched. His strikeouts per nine innings pitched is the best it's been in his career, sitting at 15.7.
As previously stated, the Bombers have to capitalize on this stretch of very winnable games from now until the end of September. If they work out their issues on the mound, you will see this team dominate their opponents with ease. Getting Judge back in the lineup won't hurt either.
Questions and comments?
thescorecrowsports@gmail.com
Follow Us on Twitter @thescorecrow
Follow Us on Reddit at u/TheScorecrow
Follow Givanni Damico on Twitter @giodamico15
Main Credit Image: [getty src="1018776612″ width="594″ height="383″ tld="com"]