Zach Gotlieb | May 19th, 2019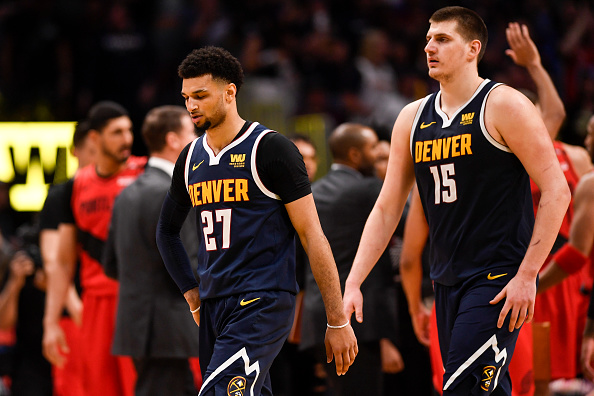 The Washington Wizards have been granted permission to interview Denver Nuggets president of basketball operations, Tim Connelly, for the same position, per Adrian Wojnarowski. There seems to be a legitimate interest from Connelly, which could very well be a big problem for Denver.
What Connelly Built
Tim Connelly joined the Nuggets after the 2012-13 season, inheriting a complete disaster of a situation. The franchise lost their executive Masai Ujiri, who got lured to the Toronto Raptors. Then longtime head coach George Karl was next to follow. Both right after posting the best record since the NBA/ABA merger with 57 wins. What he has done since taking over the franchise can't be overstated. He took a Nuggets team that severely lacked talent, their best player being Ty Lawson, and going through arguably one of the most successful rebuilds in the last decade or more.
After two tries, Connelly found the coach that brought a much-needed culture change in Michael Malone, creating a philosophy of toughness on the court and legitimate love in the locker room. This perfectly combined a "player's coach" and a critical coach that's going to do what he has to do to get the best out of his guys. He's had some growing pains and developments as a coach himself, but he's going through all of it with a young, growing team, and the patience with him and a developing roster has paid off in a big way, as Malone has been named a finalist for coach of the year this past year.
Hiring Malone was a slam dunk for sure. But if that was a slam dunk, then that would make the roster rebuild a perfect 50 in the Slam Dunk Contest. In the talent that was acquired as well as how it was acquired. Unlike the Miami Heat big three back in 2010 which was LeBron James and Chris Bosh joining Dwyane Wade in Florida, the Nuggets have grown organically. With most players coming from the draft and just developing them. Malik Beasley, a first-round pick, grew into a tremendous shooter with the highest 3-point percentage on the team and top 15 in the league in that category. The big concern with Monte Morris, a second-round pick, coming out of Iowa State was his shooting ability, and he also ended up top 15 in the league in three-point percentage.
What will always be the most critical part in building a roster is finding a core group to build around and for Denver, all three came from the draft. First-round pick Gary Harris is growing into one of the top two-way players in the NBA. Jamal Murray, another first-round pick, has shown to be the second best player on the team providing a deadly scoring ability from everywhere on the floor. The real gem was second-round pick Nikola Jokic. The scouting reports before the draft basically wrote him off as a fat center that would not be able to withstand the rigors of an 82-game NBA season. In nice terms, those reports did not age well and could not be more wrong.
In the nine-man rotation that ended the year for the Nuggets, six of them were either drafted or undrafted signings and developed with the player development staff. The other three, Mason Plumlee, Will Barton, and Paul Millsap, were signed as free agents or acquired in a trade and they play instrumental roles on this team, providing significant production and veteran experience that this team lacks. Suffice it to say, what he and general manager Arturas Karnisovas have built in Denver is something that is not easily replicated.
The Effects
Connelly is in the conversation for executive of the year and for good reason. With that, the question has to be asked, what's gonna happen with this whole Connelly situation?
Well, as the report by Woj said, Connelly went to Washington D.C. to interview with the Wizards for the same position. He interviewed, walked around the facilities and at the end was offered the position. All the reports say that the Wizards job is the only job Connelly would consider leaving his position with Denver for because of a couple personal reasons. He's got family that lives in the area and some sentimentality over the fact that the Wizards were the first team to give him a front office job.
From Denver's perspective, this has to be particularly frustrating considering they just signed him and the entire front office to extensions during the season. That being said, I don't see any way they go down quietly and just let Connelly go if he chooses. Reports say the Wizards offer for Connelly is ranging between $4-5 million annually. Denver can counter that offer with a higher salary, and it would be to see a scenario where they don't at least try and make it a more difficult choice for their president. This is a chance for owner Stan Kroenke to break the narrative that he underpays his front office personnel and show that he values the guys that got this team to where they got. Now, if they offer a higher salary contract and Connelly still decides to leave, there's nothing you can do about it. However, it would not be a very good look if they just let him go.
Potential Replacements
Obviously, the hope is that Tim Connelly decides to stay in Denver and continue to grow what he already built, but if he decides to pack up and go to the Nation's Capital, there's a couple of options Denver should look at for his replacement.
First, is current GM Karnisovas, who should be the overwhelming favorite. He has been just as big a part of the growth of this team and has worked under Connelly for years. Karnisovas' talents haven't gone unrecognized by the rest of league. Teams like the Philadelphia 76ers, Brooklyn Nets, and Milwaukee Bucks have all had their on eye on him for GM at one point or another. It just seems to make sense to go with an inside hire, that's been instrumental in the rebuild, that's also desired by other teams.
If they decide to not go with Karnisovas and go with an outside hire, Chauncey Billups may be a name that pops up in the conversation. "Mr. Big Shot" grew up in Denver, going to George Washington High School then college at the University of Colorado. He then had two stints with the Nuggets, including a Western Conference Finals appearance in 2009, while winning a championship and Finals MVP in 2004 with the Detroit Pistons. Billups seems to be a very desirable name for teams across the league looking for front office help. Drawing interest from the Cleveland Cavaliers, Pistons, Atlanta Hawks and recently the Minnesota Timberwolves. While he has no front office experience, that hasn't seemed to stop teams from wanting him, and it shouldn't for Denver either. Even if they do decide to hire Karnisovas as president, Chauncey should still be considered for what would be the vacant general manager position.
When this is all said and done, losing president of basketball operations, Tim Connelly, could be potentially catastrophic for the future of the Denver Nuggets. Orchestrating arguably one of the most impressive rebuilds in recent memory cannot be understated. It would be a worse look if they decided not to even compete with the Wizards offer, but at the end of the day, Connelly is going to decide what's best for him. While they have to hope for the best, the Nuggets need to be prepared to lose the orchestrator of a special team.
Questions and comments?
thescorecrowsports@gmail.com
Follow Us on Twitter @thescorecrow
Follow Us on Reddit at u/TheScorecrow
Follow Us on Facebook at The Scorecrow
Follow Us on Instagram at The Scorecrow
Follow Zach Gotlieb on Twitter @zachgotlieb
Main Credit Image:
[getty src="1148705772″ width="594″ height="396″ tld="co.uk"]