John Lepore | June 15th, 2018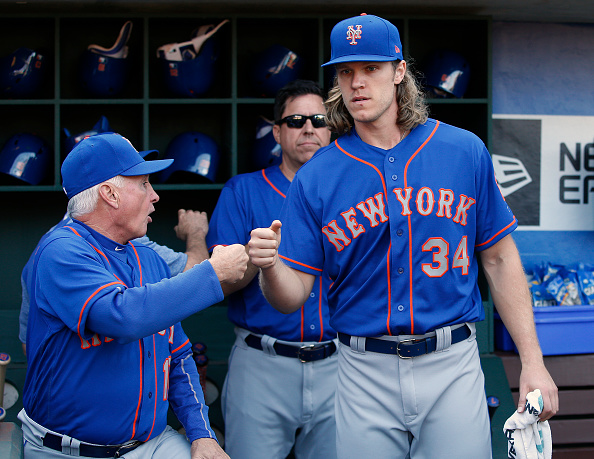 The viral video of New York Mets manager Terry Collins has made its rounds. MLB is trying to take it down wherever they can. Understandably it doesn't look good to have umpires and a manager cursing at each other and screaming. But what is the real motivation for having it scrubbed from the internet?
A Little History
Managers have been arguing calls forever in the game of baseball. There are even quite a few if you've watched over the years, that have been quite entertaining. As fans, we often yell at the TV when a call goes against our team, so it is somewhat cathartic to see the manager stick up for us and say what we can't. Earl Weaver used to turn his cap around so he could get closer to the umpire's face. Lou Pinella kicked his hat around the diamond to the laughter of his players like Ken Griffey Jr.Billy Martin liked to kick the dirt on home plate when he felt his pitcher was getting squeezed. Bobby Cox was kicked out of a game 161 times during his career. The list goes on.
Sometimes it's a motivating tactic to get the players fired up and out of whatever rut they have been in. Managers have often seen arguing with an umpire to the point of getting thrown out as a bonding experience. A way to get the players to rally around someone because that manager stuck up for you. Whether it works or not is arguable but the entertainment value cannot go unnoticed.
Terry Collins Video
In the video, Noah Syndergaard throws behind Chase Utley with a 99 mph fastball. He is immediately thrown out of the game. This apparently was in retaliation for Utley's slide into second base which broke Ruben Tejada's leg the previous year in the postseason. No warnings were issued before the game in the video which leads to the ensuing argument. Syndergaard shows poise and tries to explain he was merely trying to throw a fastball. Obviously, the argument goes nowhere and is abandoned once Collins comes out. Collins goes on a profanity-laced rampage and is eventually corralled by crew chief Tom Hallion. The exchange is heated and there is profanity from Hallion before Collins leaves.
Rob Manfred spoke to the New York Times during a break at the owners' meeting and had this to say about the video: "We made a commitment to the umpires that if they wore microphones, certain types of interactions, that we all know go on on the field, would not be aired publicly. We promised them that. It's in the collective bargaining agreement."
Overview
First of all, the home plate umpire should have issued a warning. By Hallion saying "our ass is in the jackpot", tells me he is being looked at by the MLB. The Mets played the Dodgers in Los Angeles with Syndergaard pitching on May 11th that year and no incident occurred. Why is it all of a sudden an immediate problem justifying an ejection? It seems suspicious that on May 28th, when the video is from, that all of a sudden Syndergaard is thrown out. Manfred made his statement and I understand that it may be a contractual issue with the union, but does MLB understand that this makes them look like they are controlling the games? They give umpires directives on what should be looked at and paid more attention to but this seems like they are directing how the umpires make decisions. The slide by Utley was largely viewed as dirty and he was originally suspended for two games. That sentence was appealed and overturned. At a time when MLB is trying to gain viewers and participants alike by considering pace of play changes and safety in the game, the last thing they need is to be shown as a bully to the people that are there to govern the rules.
https://twitter.com/DaTornadoz/status/1007065941044178944
Questions and comments?
thescorecrowsports@gmail.com
Follow Us on Twitter @thescorecrow
Follow Us on Reddit at u/TheScorecrow
Follow John Lepore on Twitter @jball0202
Main credit image: [getty src="856367098″ width="594″ height="459″ tld="com"]