John Supowitz | May 10th, 2019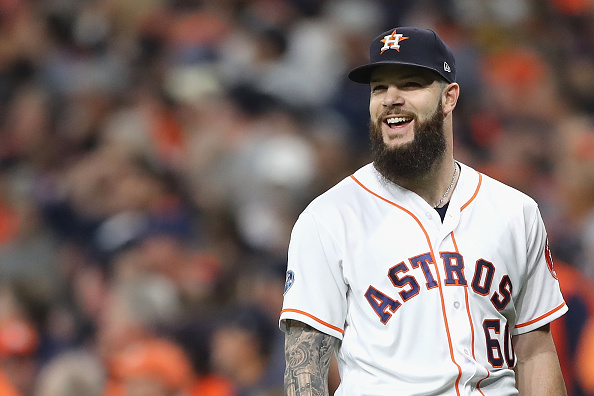 The MLB offseason was an interesting one due to free agency, meaning the lack thereof. Some veterans, expecting big pay-days, had to settle for less than expected and a smaller number of years, quite a few noticeable acquisitions only received one-year contracts. We're over a month into the new season, and there are still players seeking employment, including Dallas Keuchel.
The 2015 AL Cy Young winner has yet to sign anywhere, but it is not because of lack of offers. In a recent interview with Yahoo Sports, the former 20-game winner said:
"If you would've asked me on the first day of free agency, I would have said no way I'd be here on May 6th. This was not the plan at all. I would love to be out there playing ball and helping a team win. Because, to my career at this point, I've done more winning than I have losing, and at a much higher clip. So what team wouldn't want me to be out there? Am I the best at this point in time? No. But am I more than or better than some of the offers I've been given? Absolutely. That's not me being greedy. That's just my compensation in the market from what the analytical data is telling me. I didn't come up with this. The front offices came up with this. So now they're trying to tell me I'm less than what the analytical data is saying. How is that possible?"
The question is: What is he worth?
Here is a list of the current top five highest paid pitchers and their 162 game average while comparing with Keuchel.
Now according to Fangraphs, this is the projection of Keuchel the next three season
Keuchel believes he has been offered less than what he deserves because front offices are going by the analytics they created. I agree, analytics have become heavily relied on in baseball, but it's the path baseball has taken, and there's no sign of a change.
Secondly, baseball has seen the regrettable recent history of giving aging players, long-term, big money contracts.
There are several teams in need of veteran pitching: the injury to Corey Kluber put a hole in the Indians' rotation, Luis Severino is not set to return until at least the all-star break, Atlanta's starting pitching has struggled, the same with Washington's back end.
The question originally asked: What is Keuchel worth?
spotrac.com compared contracts to pitchers with similar numbers to Keuchel, then compared the numbers two years before signing those similar contracts. They came up with five yrs, $111,756,436.
Is this the number Keuchel wants? What has he been offered?
We saw the same move in the NFL this past season with Le'Veon Bell, resulting in him sitting out the entire season. Keuchel may take the same page out of that book.
Questions and comments?
thescorecrowsports@gmail.com
Follow Us on Twitter @thescorecrow
Follow Us on Reddit at u/TheScorecrow
Follow Us on Facebook at The Scorecrow
Follow Us on Instagram at The Scorecrow
Follow John Supowitz on Twitter @Imthatsupi85
Main Credit Image: [getty src="1052307674″ width="594″ height="396″ tld="com"]