Brian Handzel | November 15th, 2018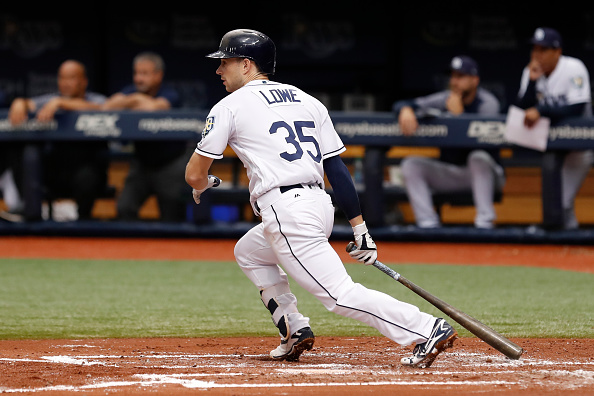 Revisiting the Minor League MVPs a Season Later.
How did 2017's Class A Advanced Most Valuable Player's perform in their 2018 campaign? In this week's installment of 'What Have You Done For Me Lately' I'll take a look.
California League:
For those who don't follow Minor League Baseball as closely as some do, you will find that, similar to Double-A, there are three different leagues; the California League, Carolina League, and Florida State League. First, we will take a look at the MVP from the California League. The most valuable player for the California League in 2017 was DJ Peters, who was playing for the Rancho Cucamonga Quakes, the Los Angeles Dodgers affiliate. Peters, for his first and only season at Class A Advanced, put up some impressive numbers, hence winning the most valuable player. In 132 games, Peters produced a slash line of .276/.372/.514/.886 while hitting 27 home runs and driving in 82 runs. The one downside of Peters' offensive season was that fact that he struck out 189 times in 504 at-bats. Peters is an outstanding fielder to go along with his offensive production, only committing six errors in a total of 1,009.2 defensive innings.
Before the 2018 season, Peters was promoted to the Double-A level where he spent his entire season playing in Tulsa, for the Drillers. Again Peters played in 132 games, but this season his numbers were slightly lower, slashing .236/.320/.473/.793. Peters kept his power numbers though slugging 29 home runs and driving 60. The Achilles heel of Peters' offensive game was still the amount he strikes out. Peters struck out 192 times in 491 at-bats in Tulsa. Peters did, once again prove that he is an asset in the outfield, only committing five errors in 1087.1 defensive innings.
My Outlook:
DJ Peters could be a special talent for the Los Angeles Dodgers in seasons to come. I believe that he will start the season in Double-A, but eventually throughout the season be promoted to Triple-A. Peters seems to be a solid pick to see some time in the Majors in the 2020 season, which is a good timetable for the kid, considering he is only 22 years old at the time of this writing. The biggest thing that the Dodgers and Peters should be working on is the plate discipline for the young kid.
Carolina League:
The most valuable player in the Carolina League for the 2017 season was Ademar Rifaela, who was playing for the Frederick Keys, the Baltimore Orioles affiliate. Rifaela, playing in his fourth year in the Minor Leagues, spent his entire season in Frederick. In 126 games played, Rifaela put up a slash line of .284/.358/.500/.858 while adding 24 home runs and driving in 78. Since coming into the Orioles system in 2013, Rifaela set career highs in; average, on-base percentage, slugging percentage, on-base plus slugging percentage, home runs, and runs batted in, just to name the major categories. On the downside, Rifaela also set a career high for strikeouts, with 124 in 450 at-bats. Rifaela played in a total of 913.1 defensive innings in 2017 and only produced three errors the entire season.
For the 2018 season, Rifaela was promoted to the Double-A level where he played for the Bowie Bay Sox. In 100 games played, Rifaela produced a slash line of .265/.322/.396/.717 with seven home runs and 41 runs batted in. Where Rifaela showed a slight decline in his numbers in 2018, he also significantly cut down his strikeouts, by almost 30 during the 2018 campaign. Rifaela did show again that his defense is top notch, only committing one error in 585.2 defensive innings.
My outlook:
Rifaela clearly showed during the 2018 season that he needs more conditioning before advancing to the higher levels of the Orioles system. At 23 years old he still has some time if he wants to be a career Major Leaguer. Rifaela's defense is already top-notch, but he needs to find his offensive groove. His power decline in 2018 is slightly concerning, but hopefully, he can find his pop again in 2019. I think Rifaela will begin the 2019 season in Bowie, and if he can produce like he did in 2017, I could see a promotion to Norfolk in his future.
Florida State League:
The most valuable player in the Florida State League for the 2017 season was Brandon Lowe, who was playing for the Charlotte Stone Crabs, the Tampa Bay Rays affiliate. Lowe played so well in the 2017 season, he split his time between Class-A Advanced and Double-A Montgomery. Let us first take a look at what he did in Class-A Advanced, where he earned his MVP honor. In 90 games for Charlotte, Lowe slashed .311/.403/.524/.927 with nine home runs and 46 runs batted in. When Lowe was promoted to Double-A Montgomery, he played in 24 games slashing .253/.270/.389/.659 with two home runs and 12 runs batted in. The second basemen showed good plate discipline only striking out a total of 91 times through the two levels. Lowe did need to sharpen his defense in 2017 though, committing 18 errors (14 of which at Class-A Advanced) in a total of 838.2 defensive innings.
Lowe played so well during the 2017 season, the Tampa Bay Rays were excited to get this 24-year old through the ranks and to the Major Leagues. 2018 was an exciting season for Lowe, playing 54 games at Double-A Montgomery, 46 games at Triple-A Durham, and finally 43 games in Tampa Bay. In his 54 games in Montgomery, Lowe had 199 plate appearances and slashed .291/.400/.508/.908 with eight home runs, 41 runs batted in. That, coupled with only one error in 210 defensive innings at second base got him promoted to Durham. In his 46 games in Durham, Lowe amassed 181 plate appearances and absolutely raked against Triple-A pitching slashing .304/.380/.613/.994 with 14 home runs and 35 runs batted in. In the field, Lowe amassed 274.2 defensive innings and only had two errors. When the Rays saw how well Lowe was playing against the highest level of competition in the Minor Leagues, they couldn't wait to call him up. As mentioned, Lowe started his service time in the Majors, playing in 43 games at the highest level of baseball. In 129 at-bats, Lowe slashed .233/.324/.450/.774 with six home runs and 25 runs batted in. Lowe kept up his stellar defensive play in the Majors committing only a single error in a total of 425 defensive innings, 219 of which were at his primary, second base, position, whereas the other 207 defensive innings were spread out between all three outfield positions.
My outlook:
Brandon Lowe is listed third on the Rays depth chart at second base behind 28-year-old Joey Wendle and 24-year-old Daniel Robertson. I don't think this is going to be a deterrent for Lowe to be on the Major League roster for years to come, whether it be in Tampa Bay, or somewhere else. Lowe has proved throughout the Minors, and at times during the 2018 season, that he can be a great defender in the outfield as well. This versatility is one of the main factors that I am coming to the conclusion that Brandon Lowe will be a name you will be hearing for a long time to come at the Major League level.
Stay tuned for next week's article where I will be taking a look back at the Class A level Most Valuable Players from the Midwest and South Atlantic League. You can always take a look back at the previous installments, where I take a look at the Triple-A Most Valuable Players by clicking here, and the Double-A Most Valuable Players by clicking here.
Questions and comments?
thescorecrowsports@gmail.com
Follow Us on Twitter @thescorecrow
Follow Us on Reddit at u/TheScorecrow
Follow Brian Handzel on Twitter @HandzelSports
Main Credit image: [getty src="1042577968″ width="594″ height="396″ tld="com"]