Frank Dyevoich | December 8th, 2018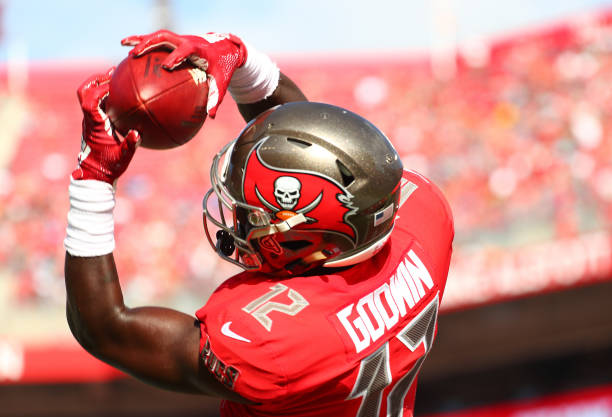 Ladies and gentlemen, this is it. Week 14, the fantasy football playoffs. Congratulations to those of us who have reached our first goal. Now we must re-dedicate ourselves and re-focus all of our energy onto the next three weeks. It is win or go home, and I don't know about you, but I want to win. There is one very important rule when preparing for an epic playoff run: don't get cute. Julio Jones only had three fantasy points last week, but this week's matchup vs the Packers should be a shootout between two bad defenses. Start Julio Jones. And don't get thrown by a matchup and start a much less talented player in a good matchup over an elite player with a bad one. Matchups are a factor, but not the only factor.
Here is an example:
This week, in the Saints vs. Buccaneers game, there are Bucs WRs Mike Evans and Chris Godwin. Spoiler alert: Chris Godwin is a start em' this week. Mike Evans will be shadowed by Marshon Latimore, an elite cornerback in the NFL, and Chris Godwin will be covered by Eli Apple, one of the worst cornerbacks in the NFL. However, Mike Evans's negative matchup knocks him down from a middle-tier WR1 to a back-end WR1. Whereas Godwin's delicious matchup bumps him up from a high-end FLEX to a WR3 with upside. The only play here is to start Mike Evans over Chris Godwin every time, despite the matchups. Don't get cute. It is certainly possible that Chris Godwin outscores Mike Evans, but Evans will get the majority of the targets and the highest value targets; therefore, he is far more likely to have the most fantasy production out of the two.
Now, get those studs in your lineups, and attack/avoid the following matchups to make the rest of your team unstoppable in Week 14.
Start 'Em
Quarterbacks:
Baker Mayfield vs. CAR – Baker is coming off of a stinker, so hopefully you sat him last week like I told you to. This week it is time to fire up Baker once again. The Panthers are coming to town this week and they are giving up the eighth most fantasy point to opposing QBs. Also, Baker has been lights out playing at home, so after a pitiful performance in Houston, he is itching to come home and put on a show. Projection: 327 yards, 3 TDs, 1 INT, and 27 rush yards.
Mitch Trubisky vs. LAR – The Bears have been saving Trubisky for this matchup. He is coming back from a shoulder injury that kept him out the last two weeks and everyone is dying for him to get back out there and start making plays. The Bears are going to have to light up the scoreboard if they want to compete with the Rams and it starts with Trubisky. Further, Trubisky is an extremely mobile QB and will likely give you the equivalent of a TD in rush yards alone. This is a true test for the Bears on whether or not they can compete with the elite teams in the NFL, and I expect Trubisky to rise to the occasion. He certainly has the weapons to get it done. Projection: 351 yards, 2 TDs, 1 INT, 53 rush yards and 1 TD.
Philip Rivers vs. CIN – Rivers is having an MVP season in 2018. Unfortunately for him so are Drew Brees and Patrick Mahomes. Rivers has not had a game with less than two TDs this season, and even though he may not need to throw very many passes in this one, he will have two TDs by halftime. The Bengals are the worst, literally. They are allowing an average of 25+ fantasy points per game to opposing QB, easily last in the league. Further, Melvin Gordon is out once again so Rivers is going to have full command of the offense. He is going to shred the Bengals. Projection: 315 yards, 3 TDs.
Jameis Winston vs. NO – Jameis has been playing his best football lately. He has over 300 yards, two TDs and zero interceptions in back to back games. This week the Saints are coming to town and he is going to have to put on a show if the Bucs have any hopes of beating them. Drew Brees and company are angry after the whooping they took in Dallas last week and they are going to take it out on the Bucs. Winston will likely have over 40 pass attempts in this one, and with his weapons, it will be difficult for him to fall outside of the top ten. Projection: 364 yards, 3 TDs, 2 INTs, and 36 rush yards.
Ben Roethlisberger vs. OAK – Big Ben and the Steelers are coming off of back to back losses and they need a get-right game desperately. Well, there is no better team to get right against than the Raiders. Oakland is giving up over 23+ fantasy points per game to opposing QBs, tied for fifth-most, and is allowing 2.33 TDs per game to QBs, tied for the most. Ben was going to have a great game against this defense regardless, but with James Conner out I expect Ben to see an increase in pass attempts. He seems to have fixed his road woes as he is averaging over 25 fantasy points per game on the road this season, and he has a floor of 20 fantasy points since he has reached that threshold in eight straight games. The Steelers need to get back on the same page if they have any hopes of making a run in the playoffs, so I expect Big Ben to keep slinging the rock even in a blowout. Projection: 352 yards and 3 TDs.
Running Backs:
Aaron Jones vs. ATL – Don't get cute. Aaron Jones had a terrible game last week because Head Coach Mike McCarthy gave Jamaal Williams an even number of snaps. Jones has been the superior RB all season and McCarthy's decision to go away from Jones against the Cardinals essentially cost him his job. This week the Packers are going to go absolutely ballistic with Aaron Rodgers calling the shots, and I expect Jones to eat just as much as anyone. Don't forget, the Falcons are dead last at stopping pass catching RBs, so look for Jones to get a decent amount of work in the passing game this week as well. Projection: 103 yards, 1 TD, and 5 receptions for 48 yards.
Jeff Wilson, Jr. vs. DEN – Matt Breida is out so this is Wilson's show on Sunday. After Breida went down last week, Wilson had 15 carries for 61 yards, but what was more impressive was his eight receptions for 73 yards on nine targets. We know that Alfred Morris is not going to be a part of the game plan, so any way you slice it, Wilson, is game-script proof this weekend. He should easily see 20 touches in this game, and in Kyle Shanahan's offense, that could easily lead to RB1 numbers. You just learned his name last week, but start him with confidence in your playoff matchups. Projection: 72 yards, 7 receptions for 83 yards, and 1 TD.
Justin Jackson vs. CIN – Justin Jackson is one of my favorite starts this week as he gets to take on the helpless Bengals defense, who are allowing the most fantasy points to opposing RBs. Jackson burst onto the scene last week against the Steelers with eight carries for 63 yards and a touchdown, as well as one catch for 19 yards on one target. Both Jackson and Austin Ekeler are excellent starts this week, but the coaches have said Ekeler is a little overworked, which could lead to Jackson seeing the bulk of the RB touches this week. As a runner, Jackson has excellent burst and elite agility, and he could be an absolute stud this week against the Bengals with Melvin Gordon out. Projection: 112 yards, 1 TD, and 3 receptions for 41 yards.
Sony Michel vs. MIA – Sony Michel is going to eat this week against the Dolphins. Last week, Michel had a poor outing as he failed to reach 70 yards rushing against the Vikings, but the Dolphins are like a high school varsity team compared to the Vikings. The Patriots are going to run away with this game and Michel is going to be a large part of it. He should eclipse 20 carries and 100 yards, and he is a virtual lock to get in the end zone. Last time he faced the Dolphins he went for 112 yards and a TD, and this week I think that is his floor. Projection: 122 yards, 1 TD, and 2 receptions for 22 yards.
Jaylen Samuels vs. OAK – Samuels is the starting RB or the Steelers this weekend. That does not mean that he is definitely going to see the majority of the carries; it just means that he is getting the first carry so we have to really analyze this situation as we set our lineups. First, the Steelers running scheme always produces RB1 numbers, regardless of who is running the football. This makes it likely that Samuels is effective when he gets the first crack. Second, the Steelers will likely be more pass-happy during the absence of James Conner. That greatly benefits Samuels because he is an excellent pass catcher; in fact, he is a better pass catcher than Conner. Third, his only competition is Stevan Ridley, and I don't think anyone is worried about Stevan Ridley. Samuels appears to be game-script proof in this one so start him with confidence. Oh, and if you play in a Yahoo league, Samuels is eligible as a TE, and I'd start him over everyone not named Zach Ertz, Travis Kelce or Eric Ebron.
Jalen Richard vs. PIT – Richard was far and away the best RB on the Raiders last week. He has not been involved until the Raiders are trailing badly, but that might change this week after he exploded for 95 yards on only six carries in Week 13. He looked explosive and elusive with the ball in his hands, and if John Gruden has any sense, he will get the ball in his hands as much as possible. Further, Doug Martin is banged up and was in danger of missing this game, so expect a light workload for Martin, which should result in more work for Richard. With a floor of 11 PPR points any given week, Richard is the safe play that could explode at any moment. Projection: 84 yards, 6 receptions for 72 yards.
Wide Receivers:
D.J. Moore/Curtis Samuel vs. CLE – Moore and Samuel have taken over as the WR1 and WR2 for the Panthers. This week they take on the Browns who will be without their stud cornerback Denzel Ward, so both WRs should find plenty of success. The only worry with these two is that Cam Newton is banged up, dealing with an injury to his throwing shoulder. If Cam can pull it together, Moore and Samuel should both be WR3s with upside. I'd start either of them with confidence. Projection: DM 6 receptions for 83 yards, 1 TD and 27 rush yards/ CS 5 receptions for 74 yards, 37 rush yards, and 1 TD.
Dante Pettis vs. DEN – Pettis is the apple of Nick Mullens eyes recently. He has at least six targets in three straight games and he is currently on a two-game TD streak. This week he faces the Broncos who will be without their All-Pro cornerback Chris Harris. Pettis should see at least seven targets in this game, and the Broncos figure to be in the lead so his target number could jump to double-digits. I like Pettis as a WR3 with upside this week. Projection: 6 receptions for 93 yards and 1 TD.
Chris Godwin/Adam Humphries vs. TB – Godwin is my favorite matchup play this week, but Humphries will have plenty of opportunities to eat as well. Winston has been money lately, and this week the Bucs are going to rely heavily on their passing game if they have any shot at keeping this game competitive. Since Mike Evans will be shadowed by Marshon Latimore for the entire game, that leaves Eli Apple on Chris Godwin, and the Saints abysmal slot corners to cover Humphries. Apple is one of the worst cornerbacks in the league and I expect Godwin to make him look silly. Both of these WRs are viable WR3s with upside in Week 14. Projection: CG 6 receptions for 89 yards and 1 TD/ AH 8 receptions for 83 yards.
Larry Fitzgerald vs. DET – Larry is back as the only viable pass catcher on his team. Christian Kirk was just placed on Injured Reserve so now Josh Rosen has no choice but to feed Larry early and often. He faces a tough cornerback matchup this week in Darius Slay, but Slay usually does not follow WRs into the slot, which is where Fitzgerald makes him money. Due to the target volume he is expected to get, I like him as a WR2 with upside this week. Projection: 8 receptions for 71 yards and 1 TD.
Courtland Sutton vs. SF – Like Larry Fitzgerald, Sutton is now the only viable pass catcher on his team. The Broncos lost Emmanuel Sanders for the season to a torn Achilles tendon, so now Sutton needs to finally step up and show this team that he can be a viable WR1 for this franchise. Sutton is coming off of his best game of the season where he had four receptions for 85 yards and a TD, and he is looking to maintain that production this week. Facing the 49ers, Sutton should have no problem getting open against Richard Sherman. I would trust him in my lineups this week as he has just as good a chance as any WR to get in the end zone. Projection: 6 receptions for 92 yards and 1 TD.
Amari Cooper vs. PHI – Cooper is averaging over 20 fantasy points per game in his last three games, and this week he faces the decimated Eagles secondary. The Cowboys are atop the division and they have their hearts set on the playoffs. Cooper is a big part of the reason they are in that position to begin with. Since the Cowboys traded for Cooper, the team has been on a role, and Dak Prescott has been playing his best football yet. Cooper has at least eight receptions in four of his last five games, and he should match that number this week. With the division on the line, I expect the Cowboys and Amari Cooper to put on a show against the Eagles. Projection: 9 receptions for 102 yards.
Allen Robinson vs. LAR – Robinson appears to be fully healthy heading into Week 14. Over his last few games, A-Rob has made some spectacular catches in tight coverage and has shown both the Bears and fantasy owners that he could be a stud in the right system. So far, except for one game, this has not been the right system for him, but this week they are going to need him to show up on a big way against the Rams. Further, Mitch Trubisky is back after missing the last two games, and if anyone can make A-Rob and viable WR2 play, it is him. The Rams secondary is very beatable so look for Robinson to see a ton of volume on Sunday Night. Projection: 6 receptions for 73 yards and 1 TD.
Tight Ends:
David Njoku vs. CAR – Njoku had a disappointing game last week, but this week he faces the Panthers, who are allowing the third-most fantasy points to opposing TEs. The Panthers have also given up nine TDs to the position this season, which is tied for first with the Raiders. I expect Njoku to have a huge bounce back game this week and help propel your team into the next round of the fantasy playoffs. Projection: 5 receptions for 61 yards and 1 TD.
Jared Cook vs. PIT – Cook is the only show in town for the Raiders. They are going to be down in this game early, so Jared Cook should see a ton of targets in this one. He has been a top-five TE this season and he has scored a TD in every game since Week 11. I expect Cook to be a focal point of the passing attack once again and keep his TD streak alive. Projection: 6 receptions for 76 yards and 1 TD.
Defense/Special Teams:
Los Angeles Chargers vs. CIN – The Chargers are the best defensive play this week. They take on the Bengals who are led by Jeff Driskel and the Chargers are at home. Not to mention, Joey Bosa is back, so the Chargers should have no problem keeping the Bengals score low and forcing a bunch of turnovers.
New England Patriots vs. MIA – The Patriots own the Dolphins over the last two decades, and this game will be no different. I expect Ryan Tannehill to throw at least one interception, and the Pats are good for a few sacks as well.
Buffalo Bills vs. NYJ – The last time the Jets and Bills faced off the Bills completely destroyed the Jets. It was an epic beating in which the Jets did not show up to the game. This time, the Jets are flying up to Buffalo and Sam Darnold is starting once again. It is going to be a cold miserable day for the Jets, and the Bills defense should be a lock for 10+ fantasy points.
Sit 'Em
Quarterbacks:
Carson Wentz vs. DAL – Dallas just held Drew Brees to under 150 yards and 1 TD. Carson Wentz doesn't stand a chance. This game is a historical rivalry that will determine the leader of the division, so both teams are going to be fired up. Unfortunately for Wentz, the Cowboys defense is playing at an elite level. Their secondary is the best in the NFL at fantasy points allowed to opposing WRs, and they have no trouble getting to the QB. Wentz and the Eagles are not the same team that they were last year and they are going to be exposed on national television. Do not let Wentz ruin your fantasy playoffs. Projection: 237 yards, 1 TD, 2 INTs and 26 rush yards.
Tom Brady vs. MIA – Brady has completely fallen off of the map in the fantasy playoffs for three years in a row. If you ask me, he takes it easy in the last month of the regular season so he can focus all of his strength and energy on one final Super Bowl run, but this season, he started early. Brady has one TD or less in four of his last five games, and he has not finished above QB16 over that span. This week, the Patriots travel to Miami where they have struggled of late, and I expect a heavy running game script for the Pats in this one. Brady has not been startable in five weeks, do not trust him to lead your team to victory in Week 14. Projection: 281 yards, 1 TD, and 1 INT.
Kirk Cousins vs. SEA – Cousins is in for a brutal game on Monday Night Football this week. First off, he is 0-6 on Monday Night Football, and if that wasn't enough, the Vikings are traveling to Seattle—one of the toughest places to play. Cousins started the season off with a bang, but he has been wildly mediocre of late, falling outside the top 20 in QB fantasy points per game over the last five weeks. Further, Stefon Diggs is banged up and the Vikings have gone much more run-heavy in the cold weather. The Seahawks are also very good at controlling the time of possession, which all add up to a rough outing for Cousins this week. Projection: 246 yards, 2 TDs, and 2 INTs
Running Backs:
Marlon Mack vs. HOU – Mack had two phenomenal games back to back in Week 7 and Week 8, but since then he has been underwhelming. Nyheim Hines is more involved in the passing game, and this week Mack is facing the Texans, who are the third best defense regarding yards allowed to RBs. I expect this game to be very competitive, but most of the Colts offense will come through the air, and Mack is not nearly as involved in the passing game as we would like him to be. Mack has not seen over two targets in a game since Week 8, so he is very hard to trust in your fantasy playoffs. Projection: 54 yards, 1 FUM, and 1 reception for 11 yards.
Doug Martin vs. PIT – The player you want to trust in your fantasy playoffs is Doug Martin. The Raiders are an embarrassment on offense, and this game should get out of hand almost immediately. Further, Martin is banged up and was in danger of missing this week; although, he is expected to play. In Week 14 where you need a win to keep your championship hopes alive, Doug Martin needs to ride the bench. You would be much better off with Jalen Richard given the game-script the RBs should face in this one. Projection: 42 yards, 1 FUM, and 2 receptions for 16 yards.
Josh Adams vs. DAL – Adams has been the only bright spot in the backfield of the reigning Super Bowl Champions. He is an explosive rookie with excellent burst, but he is not involved in the passing game at all. This week, Adams is taking on the Cowboys who just completely shut down the explosive Saints offense. Further, the Cowboys linebacking core is elite, chasing down RBs from sideline to sideline. I expect the Eagles to have to rely on the arm of Carson Wentz if they are going to have a shot at taking the lead in the division, and that means a small workload for Josh Adams. Projection: 61 yards.
Jordan Howard vs. LAR – It's over folks. Jordan Howard is one of the biggest busts of 2018 and you can't trust him in your fantasy playoffs. He did not help you get here so under no circumstances can you trust him to take you to the promised land. For some reason, the Bears just do not use Howard the way they should be. Tarik Cohen is a beast in the receiving game and Mitch Trubisky is extremely mobile, which usually results in him rushing for the first down on a broken pass play. Howard has been TD or bust all season and this week against the Rams his odds of scoring are very low. Leave him right where he is: on your bench. Projection: 41 yards.
Chris Carson vs. MIN – Carson is a little banged up, but he is expected to play. However, his opponent this week is the Vikings, who are the eighth best defense versus opposing RBs. Last week, the Patriots provided a blueprint to stopping the Vikings pass rush and the effectiveness of their run defense. The answer is quick passes and check downs to the RBs to alleviate the defensive pressure. Carson is a decent pass catcher, but Mike Davis has the best hands in this backfield. Further, Rashaad Penny seems to be coming along at the end of the season so we just do not know how the RB touches are going to be divvied up. I'm shying away from Carson this week. Projection: 57 yards and 2 receptions for 18 yards.
Tevin Coleman vs. GB – Coleman has been a major disappointment this season. It is a contract year for him, and he has left millions of dollars on the table with his mediocre performances. In fact, he has failed to rush for 10 yards in back to back games, and he has been extremely inefficient with his targets as well. Further, I expect the Packers to go ballistic this week in their first game in over a decade without Mike McCarthy. Matt Ryan is going to have to win this game through the air if they have any hope, and Coleman will not be a big part of that game plan. Projection: 37 yards and 3 receptions for 27 yards.
Peyton Barber vs. NO – Barber has been decent lately, scoring a TD in three straight, but he has averaged under 3.0 yards per carry in his last two games, and this week he faces the number one rushing defense in the NFL. The Saints are furious after their loss to the Cowboys on Thursday night last week and they are going to come out swinging. The only hope that the Bucs have in keeping this game competitive for Jameis to air it out all game. Barber is going to come back to Earth this week against this brutal rush defense and you do not want him in your starting lineup when he does. Projection: 31 yards.
Wide Receivers:
Tyler Boyd vs. LAC – Boyd has a brutal matchup this week against the Chargers. A.J. Green is officially done for the season which means Boyd is going to deal with number one cornerbacks. This week he will be matched up against Casey Hayward, who is shutting everyone down, and if they move him in the slot, the Chargers are top-ten in fewest points allowed to slot WRs. Boyd was already a shaky start with Jeff Driskel throwing him the ball, but in this defensive matchup I am sitting him anywhere I can. Projection: 4 receptions for 28 yards.
Devin Funchess vs. CLE – Funchess is an afterthought on the Panthers since the emergences of D.J. Moore and Curtis Samuel. This year, the offense runs through Christian McCaffery, and any work for the WRs has been dominated by the aforementioned Moore and Samuel. It is a shame to see Funchess take such a steep fall from grace, but as fantasy owners, we need to recognize these trends and act accordingly. The current trend with Funchess is that he is being completely phased out of this offense. Don't believe me? His reception totals over the last four games are as follows: four, three, two, and one. The only move to make here is to bench Funchess for your fantasy playoffs and hope he lands in a better situation next year. Projection: 2 receptions for 18 yards.
Alshon Jeffrey vs. DAL – Jeffrey has been a disaster since the Eagles traded for Golden Tate. Since Week 8, Jeffrey has not had double-digit fantasy points in any game, and he has not had more than four receptions since as well. This week he faces the Cowboys secondary who just shut down Michael Thomas. He is also expected to see shadow coverage from Byron Jones, who has been one of the best cornerbacks in the league this season. If Jeffrey has any shot at breaking out of this slump and producing for your fantasy teams, it is not going to be this week. Projection: 3 receptions for 42 yards.
Doug Baldwin vs. MIN – Baldwin has been a colossal disappointment this season. He injured his knee in the preseason and since then he has not been the same WR that we are used to. His best game of the season came against the Packers, and even in that game, he finished as a high-end WR3 with seven receptions for 52 yards and a TD. He has not been the WR1 that we have come to know, and with a ceiling of 18 fantasy points, I am looking elsewhere this week. Further, the Seahawks are facing the Vikings on Monday Night Football so you can bet that Xavier Rhodes will be matched up on Baldwin from time to time, so this is an easy fade for me. Projection: 4 receptions for 51 yards.
Jordy Nelson vs. PIT – Jordy Nelson came back to relevance last week with 10 receptions for 97 yards. However, this performance was a complete anomaly. Other than last week, Jordy has not had more than two receptions in any game since Week 5, and he failed to record over 16 receiving yards in that same span. Do not make the mistake of thinking that last week is the re-emergence of Jordy Nelson. This week he faces the Steelers and Nelson will likely be matched up on Joe Haden. It is going to be another stinker for Jordy and the Raiders. Projection: 2 receptions for 18 yards.
Tight Ends:
Kyle Rudolph vs. SEA – Rudolph has been a huge disappointment this season. We all expected him to have a prominent role on this team because Kirk Cousins has traditionally relied on his TEs, but it simply did not happen. Do not be fooled by Rudolph's week 12 game where he topped 60 receiving yards because it is the only time he has done it since Week 2. Further, he has only scored two TDs on the season, the last of which came in Week 3. He has been an afterthought on his team all season and he should be an afterthought on your team in the fantasy playoffs. Projection: 3 receptions for 22 yards.
Jordan Reed vs. NYG – This one is easy. Do not start any players catching passes from Mark Sanchez. It seemed like Colt McCoy was going to make Reed a decent TE1 because he was by far his favorite target. Now that McCoy is on Injured Reserve with a broken leg, Reed has to rely on Mark Sanchez to get him the ball. Reed should not count on very much production and you shouldn't either. Projection: 3 receptions for 27 yards.
Questions and comments?
thescorecrowsports@gmail.com
Follow Us on Twitter @thescorecrow
Follow Us on Reddit at u/TheScorecrow
Follow Frank Dyevoich on Twitter @Fantasy_Giant
Main Credit Image: [getty src="1076197612″ width="594″ height="405″ tld="com"]