John Supowitz | May 7th, 2019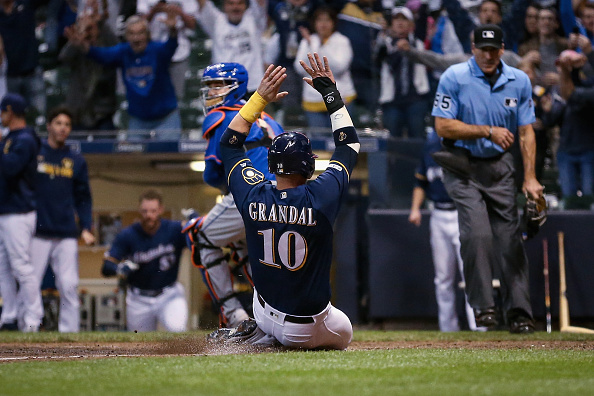 Although fans and players criticized teams for making the hot stove barely lukewarm, every team made some sort of move in the off-season. Some were massive, some barely made a splash. Let's look at how every team's biggest acquisition fared after the first month of the season.
Angels – 1B Justin Bour (Sign 1yr – $2.5 Million contract)
Bour was supposed to bolster the middle of the lineup and protect the franchise, Mike Trout. Justin has hit 20+HRs in three of the last four seasons, but so far the numbers aren't there. Currently hitting .175 with three HRs and .275 OBP hasn't contributed to an Angels squad sitting in fourth place in the AL West.
Astros – OF Michael Brantley (signed 2yr – $32 Million contract)
The longtime Indian is coming off back-to-back All-Star seasons, and from the start of this season, he has a good chance for the three-peat. Tied for AL lead in hits (39), he has gelled well into an already talented Houston lineup looking for a third consecutive AL West title.
Athletics – 1B/DH Kendrys Morales (Traded from the Toronto Blue Jays)
The A's are very good at winning without superstars. Khris Davis has established himself as the star of that team. Billy Beane traded for Kendrys Morales who has 79 HRs in the last three seasons and seems to have left his pop north of the border. He's currently hitting .162 with a single HR, a .217 SLG, and is currently 3 for his last 37.
Blue Jays – P Matt Shoemaker (Signed 1yr – $3.5 Million contract)
Shoemaker was the runner-up AL rookie of the year in 2014 going 16-4 3.08 ERA. He has struggled since then going 24-28 4.28 ERA from 2015-18. The Eastern Michigan University product might have needed to play in familiar colder weather; in his first five starts, he had three wins with a 1.57 ERA before going down with a torn ACL.
Braves – 3B Josh Donaldson (Signed 1yr – $23 Million contract)
The former MVP has played okay at the hot corner. He's currently hitting .258 with five HR. The Braves are probably expecting a little more for a guy they owe $23 million to.
Brewers – C Yasmani Grandal – (Signed 1yr – $18.25 Million contract)
Milwaukee made a huge splash in the 2018 off-season by acquiring Lorenzo Cain and future MVP Christian Yelich. This off-season, the AL Central winners didn't make news when they singed Grandal, but he has made quite an impact. With a .283 AVG, six HRs, and a .500 SLG, he is one of best catchers in baseball.
Cardinals – 1B Paul Goldschmidt (Traded from the Arizona Diamondbacks)
The new first baseman came out hot, hitting three HRs in the second game as a Cardinal, since then he has cooled off. He is currently hitting .259 with a strikeout percentage of 25.8%. The six-time gold glove winner has a fielding percentage of .992.
Cubs – 2B Daniel Descalso (Signed 2yr – $5 Million contract)
The second baseman has rarely been able to have an opportunity to be a consistent starter; he's getting that on the north side. He's been an optimal fill-in batting .263.
Diamondbacks – OF Adam Jones (Signed 1yr – $3 Million contract)
Jones finds himself with the D-backs after 11 seasons being the face of the Orioles. The former first-round pick has done exceptionally well hitting .276 and 18 RBI for an Arizona team that is knocking on the door of the Dodgers for that NL West.
Dodgers – A.J. Pollock (Signed 4yr – $55 Million contract)
The Dodgers were said to be a front runner in the Bryce Harper sweepstakes, but they signed Pollock as sort of an insurance policy. That policy hasn't paid off; only hitting .223 AVG with a .287 OBP, he was recently placed on 10-day IL with an elbow injury and is expected to miss a significant amount of time.
Giants – OF Kevin Pillar (Traded from the Toronto Blue Jays)
In another dump to get young, the Jays sent their center fielder to the bay. He's currently only hitting .208, but Pillar is more known for his fielding with a perfect fielding percentage
Indians – 1B Carlos Santana (Traded from the Seattle Mariners)
The Indians and Carlos Santana go together like peanut butter and jelly or musician Carlos Santana and a guitar. After one year with Phillies and ten days with the Mariners, he returns to Cleveland and continues where he left off. He leads American League first baseman in AVG (.323) and is second in hits (32).
Mariners – DH Edwin Encarnacion (Traded from the Clevland Indians)
There are quite a few new players on the Mariners (Jay Bruce, Tim Beckham, Omar Narvaez) but Encarnacion is the most notable one for this article. He's having a typical season; top 10 in the AL in home runs (8), with a .231 AVG for Seattle who is playing better than expected this year.
Marlins – OF Curtis Granderson (Signed 1yr – $7.5 Million contract)
Granderson is a veteran presence on a Marlins team that is rebuilding. The former teammate of owner Derek Jeter has struggled, hitting just .193 and leads the league with three caught stealing.
Mets – 2B Robinson Cano (Traded from the Seattle Mariners)
Robbie made a notable debut for the Mets by hitting a home run in his first at-bat and added an RBI double in their 2-0 win of the Nationals. He went into a bit of a slump, at one point hitting .192, but he's bounced back over the last ten games by hitting .452.
Nationals – P Patrick Corbin (Signed 6yr – $140 Million contract)
The rich seem to get richer as the Nats added to their already stacked rotation. On a team with a three-time Cy Young winner, Corbin has been the best pitcher with the lowest ERA (3.58) and ER (15).
Orioles P Dan Straily (Signed 1yr – $575K contract)
The Orioles didn't go out to try to get the top stars, and I don't believe many fans could name anyone on Baltimore besides Chris Davis. Straily has not played well 1-1 6.75 ERA and has given up 7 of 74 HRs the team has surrendered this year.
Padres – 3B Manny Machado (Signed 10yr – $300 Million contract)
Obviously, with that contract, Machado is held to a higher standard. His average is under the money at .236, and he has just five HRs. The team seems to be ahead of their re-building, just a couple of games out of first.
Phillies – OF Bryce Harper (Signed 13yr – $330 Million contract)
It's been a tale of two halves this month for Harper; he hit .325 with 13 BB in the first 12 games, but now in last 17 he's hitting .176 with 23 Ks.
Pirates – OF Melky Cabrera (Signed 1yr – $1.5 Million contract)
The Pirates have been an up-and-down team this year; They sat in first just two weeks ago, then after an eight-game losing streak they sit in fourth. Cabrera has played well throughout, currently hitting .341.
Rangers – P Lance Lynn (Signed 3yr – $30 Million contract)
Besides two rough starts giving up seven and eight ERs, Lynn has pitched well and is currently 3-2.
Rays P Charlie Morton (Signed 2yr – $30 Million contract)
The Rays have the best winning percentage in baseball, a big reason for that is the pitching staff. They lead the league in ERA (2.99) and runs (99). Tyler Glassnow is the clear best (6-0 1.47 ERA), but Morton is just behind him at 3-0 with a 2.52 ERA and an 11.0 K per 9.
Reds – Yasiel Puig (Traded from the Los Angeles Dodgers)
The former Dodger's move to the mid-west has not gone well. Every team in the NL Central has at one point been in the first place except the Reds. Puig also has underperformed, batting .205 with a -0.3 WAR.
Red Sox – Colten Brewer (Traded from the San Diego Padres)
The world champions were pretty quiet in the off-season, although they did a trade for Brewer to try to help out that bullpen. Just like most of the Boston pitching staff, it has been a rough 1st month; 14 hits in 14 innings with an ERA of 5.79.
Tigers – Josh Harrison (Signed 1yr – $2 Million contract)
Harrison has been abysmal in his first season after a long tenure in Pittsburgh, batting .156 and with a .233 OBP.
Twins – Nelson Cruz (Signed 1yr – $14.3 Million contract)
If only Ponce De Leon had been born 500 years later, he could have asked Cruz where the fountain of youth was. At 38, he's just as good as ever batting .289 with seven HRs and 21 RBI for the first place Twins.
White Sox – Yonder Alonso (Traded from the Cleveland Indians)
After the Indians brought back longtime first baseman Carlos Santana, they did not need Alonso, even after a 23 HRs and 83 RBI last season. It hasn't gone too well on the south side, as he's hitting just .176.
Yankees – James Paxton (Traded from the Seattle Mariners)
The Big Maple is looking sweet. Just before he was added to the long list of Yankees on the IL, he was 3-2 with a 3.11 ERA and 52 strikeouts in 37.2 innings.
Questions and comments?
thescorecrowsports@gmail.com
Follow Us on Twitter @thescorecrow
Follow Us on Reddit at u/TheScorecrow
Follow Us on Facebook at The Scorecrow
Follow Us on Instagram at The Scorecrow
Follow John Supowitz on Twitter @Imthatsupi85
Main Image Credit:  [getty src="1147034025″ width="594″ height="396″ tld="com"]