Beth Sullivan | September 19th, 2018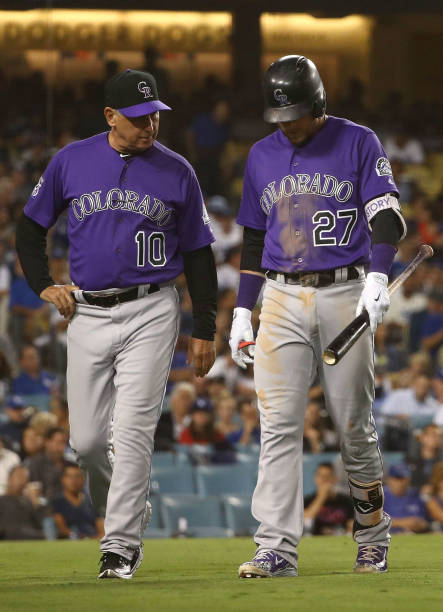 Trevor Story left the Rockies game in the 4th inning on Monday with right elbow soreness and reports out indicated it might be a UCL injury and that he was undergoing additional testing. Anytime a baseball player experiences elbow pain, the immediate assumption is Tommy John surgery and a lengthy recovery.
Update: Trevor Story was diagnosed with inflammation in his elbow and no structural damage was reported following an MRI on Tuesday according to MLB.com. He is expected to miss a few days to allow the swelling to go down.
Thanks to recent research presented during the American Academy of Orthopedic Surgeons conference earlier this year, surgeons from Rush University have been researching alternative explanations and treatments for elbow pain in overhead throwing athletes. They have identified Ulnar Neuritis or Cubital Tunnel Syndrome as the source of the pain. Especially in athletes who continue to experience pain with conservative rehab like is the normal first step for treating elbow pain.
Besides elbow pain, numbness in the pinky and ring finger when attempting to make a tight grip is the most often reported symptom. Since Story was removed after experiencing additional symptoms while attempting to bat, I suspect he may have been experiencing said numbness and tingling.
The good news is that this condition is not treated the way a Tommy John injury is normally treated with major reconstructive surgery and a long extensive rehab. The bad news is that it is treated with surgery but the recovery time and return to previous performance levels is 3-5 months rather than 12-18 months that Tommy John surgery takes.
I suspect he is undergoing an MRI and nerve testing to diagnose the exact cause of his elbow pain. While it isn't good in the short- term, if Cubital Tunnel Syndrome is what Story is experiencing, he could be treated and ready to return to form by Spring Training next season.
Before the worst is assumed, let's all take a deep breath, cross our fingers and see what the additional testing means.
Questions and comments?
thescorecrowsports@gmail.com
Follow Us on Twitter @thescorecrow
Follow Us on Reddit at u/TheScorecrow
Follow Beth Sullivan on Twitter @GAPeachPolymer
Main Credit Image: "[getty src="1035226730″ width="430″ height="594″ tld="com"]