Givanni Damico | May 19th, 2019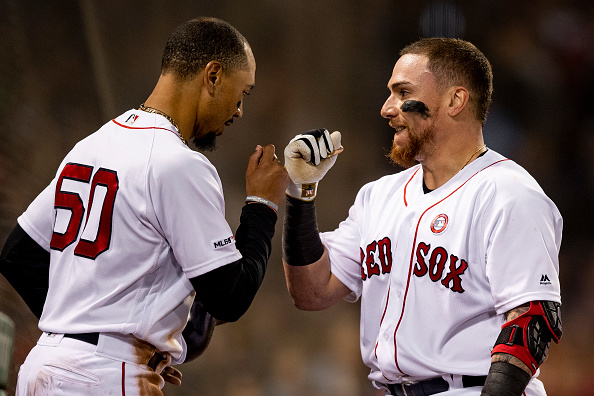 Note: This is for the main slate of 10 games starting at 1:00 PM EST.
Pitchers:
Noah Syndergaard (NYM) at MIA
DK: $10400
Honestly, you could probably stack the whole Marlins' lineup for the same price, but I wouldn't recommend that. Neither of these teams has been scoring a ton of runs lately and today's pitching matchup favors Thor. Hopefully, he can do what deGrom couldn't against a team that can't hit.
Reynaldo Lopez (CHW) vs. TOR
DK: $6900
If you enjoy going the "stars and scrubs" route when it comes to starting pitchers, Lopez is your scrub of the day. He's had a rough year so far, boasting a 5.58 ERA, but he does average 9.5 K/9 against a Blue Jays' team whose offense has been far from stellar this season. If you like going with two stars at the starting pitcher position, I'd suggest Hyun-Jin Ryu of the Dodgers against the Cincinnati Reds.
Stacks:
Boston Red Sox vs. Houston Astros (Wade Miley)
Xander Bogaerts (SS), J.D. Martinez (OF), Mookie Betts (OF)
DK: $15600
If there was ever a game to stack against the Houston Astros while they are on a 10-game winning streak, today is that day. The Astros are throwing Wade Miley today against a lineup whose core can dominate left-handed pitching (or any pitching). Martinez has seen his power return as of late as he is now up to nine home runs. Mookie Betts is back after a slow month of April. Since April 18th, Mookie Betts is hitting over .320 with an OPS over 1.000. Xander Bogaerts is relatively cheap at $4500 for a shortstop in the middle of this order who can hit.
St. Louis Cardinals at Texas Rangers (Drew Smyly)
Paul Goldschmidt (1B), Paul DeJong (SS), Marcell Ozuna (OF)
Add-Ons/Replacements: Matt Carpenter (1B/3B)
DK: $14000
At the time of writing, this lineup hasn't been released yet so please check if these players are all starting before submitting your lineup. All three of these guys love mashing left-handed pitching and Drew Smyly is the driver of the struggle bus right now. He is averaging 10.5 K/9, but he is also allowing 6.1 BB/9, 2.3 HR/9, and 9.5 H/9. The ball should be put in play a lot today and if history repeats itself, then it could be a home run derby today.
Game Stack:
Milwaukee Brewers (Brandon Woodruff) at Atlanta Braves (Mike Foltynewicz)
MIL: Christian Yelich (OF), Mike Moustakas (2B), Eric Thames (OF)
ATL: Freddie Freeman (1B), Dansby Swanson (SS), Austin Riley (OF), Johan Camargo (3B)
DK: $31300
Warning: Game stacks are extremely risky. I don't like either pitcher in this matchup today which is why I can see it becoming an offensive shootout. If you punt catcher using this stack and take someone like Grayson Greiner of the Tigers ($2400) against Mike Fiers, which is a solid matchup for him (if the game doesn't get postponed, if it does, take Jeff Mathis), then you will still have $16300 for pitchers. I took Shane Bieber and Reynaldo Lopez with the remaining salary. As I said earlier, play this at your own risk. Also, Thames can be replaced with Lorenzo Cain (batting leadoff) for $200 less. There are other ways to run this stack, but this is my favorite way.
One-Offs:
Max Muncy (1B/2B) at CIN (Tanner Roark)
DK: $4900
Matt Chapman (3B) at DET (Gregory Soto)
DK: $4200
David Dahl (OF) at PHI (Jerad Eickhoff)
DK: $4100
Jose Ramirez (3B) vs. BAL (Yefry Ramirez)
DK: $4100
Michael Brantley (OF) at BOS (Chris Sale)
DK: $4800
Yonder Alonso (1B) vs. TOR (Trent Thornton)
DK: $3400
Niko Goodrum (1B/OF) at OAK (Mike Fiers)
DK: $3000
Contrarian Stack:
Houston Astros at Boston Red Sox (Chris Sale)
George Springer (OF), Alex Bregman (3B), Michael Brantley (OF)
DK: $15000
Chris Sale hasn't faced the best of opposition, so I'm not sold on the fact that he's back. I called for a Astros' sweep which means the bats have to be alive today. This is expensive but should be low-owned and well worth it.
Contrarian Pitcher:
Sandy Alcantara (MIA) vs. New York Mets
DK: $5700
The Mets aren't hitting very well lately either, and for $5700, you don't need a no-hitter from Alcantara. If he can secure the win, the value is great.
Potential Rain Delays or Rain Outs
Athletics at Tigers (Rain Out potential)
Blue Jays at White Sox (Rain Delay potential)
Dodgers at Reds (Rain Delay potential)
Questions and comments?
thescorecrowsports@gmail.com
Follow Us on Twitter @thescorecrow
Follow Us on Reddit at u/TheScorecrow
Follow Us on Facebook at The Scorecrow
Follow Us on Instagram at The Scorecrow
Follow Givanni Damico on Twitter @giodamico15
Main Credit Image:
[getty src="1144883056″ width="594″ height="396″ tld="com"]