John Lepore | February 16th, 2019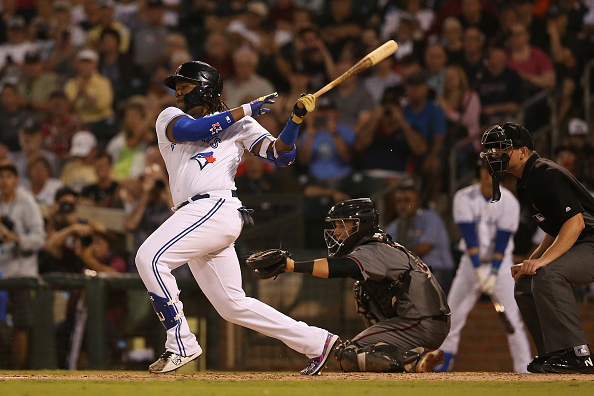 The Toronto Blue Jays are rebuilding. There's no secret about that. They are in a tough division with the big boys in New York and Boston. There's no secret about that either. Let's take a look at what we will see on the field this year from the team up north because the secret to success lies partly in the kids on their way to the Rogers Centre.
Last Season: 73-89 4th in the AL East
For the second straight year, the Blue Jays missed the playoffs. After their last appearance in the postseason in 2016, it was time to move on from aging veterans and start the rebuild in earnest. They let Edwin Encarnacion and Jose Bautista walk and recently traded away Russell Martin. They do have some promising young players on their way. Interestingly enough in a few years, they could have an infield made up of sons of former MLB stars: Kacy Clemens at 1b, Cavan Biggio at 2b, Bo Bichette at SS, and last but certainly not least Vlad Guerrero Jr. at 3b.
Catcher/Infield Projections
Danny Jansen is a lock to start the season as the everyday catcher. He is an up-and-coming star. He is the 5th best catching prospect according to MLB Pipeline and held his own in his 31 games last season slashing .247/.347/.432. Justin Smoak should also be a lock to start the season at 1B. Although his production dropped off last year (.883 OPS in 2017, .808 last year), he is still solid, only 32, and on the last year of his deal. The rest of the infield has a lot of moving parts for new manager Charlie Montoyo to play with. At this point, there are more questions than answers, But I'm here to answer them the best I can. Travis can't play a full season and isn't very productive anyway. Drury can get back to 2016-2017 production and be a contributor. Galvis is the iron man as he's played every game the past two years, but Gurriel has shown talent and is a better option at short than Galvis. Vlad will be up, albeit in the middle of April. Thank you service time manipulation. He will hit and do it well when he gets to The Show. Urena and/or Tellez will likely be the odd man(men) out.
Outfield/DH Projections
Pillar is set in centerfield. Although he is trending in the wrong direction as far as production goes. Even his defense took a hit last year as it was his first season with a negative in DRS (-2) in CF. His offensive contributions have been OK but nothing to write home about, and at 30 years old, he probably is what he is. Grichuk will man RF and had his best season last year. He finally started cutting down on his Ks going from 30.1% in 2017 to 26.4% last year. Everyone knows he has power and hitting the ball in the air isn't a problem (44.0% for his career). LF may be a battle in the spring. Hernandez seems to have the upper hand going in but McKinney showed he deserves a shot and hits on the better side of a platoon should Montoyo go that way which I think he will, and should. Anthony Alford may be the odd man out in the OF especially if the Jays want to mix and match more in the infield as Drury and Galvis can both fill in if needed. Kendrys Morales will start at DH because…well…he can't play anywhere else. Don't count out seeing Rowdy Tellez see some at-bats there or at first base. He showed he can handle major league pitching and has some serious pop (9 doubles and 4 HRs in 23 games). Tellez is young though and the Jays will likely want him with regular at-bats in Triple-A to start the season.
Starting Pitching Projections
The top 4 spots are pretty much set. Stroman's 2018 was a year to forget for the 27-year-old right-hander. His K-BB% dropped from 12.2% in 2017 to 9.1% in 2018. His BABIP jumped up 16 points and hisLOB% was a silly 60.5% (MLB Average is around 75%). His velocity also took a hit of almost a mph last year. Much of it was probably due to his shoulder issues so hopefully for Stroman and the Jays they can put it behind them. Aaron Sanchez was also bad last year. He has battled finger issues the past couple years between blisters, contusions, and a suitcase. Shoemaker and Richard are looking to eat innings and provide enough quality to keep them in games. The fifth spot is up for grabs although Borucki seems to have the upper hand right now. He is a ground ball pitcher and relies on soft contact. Borucki is the cliche "crafty lefty" and his best quality is keeping the ball in the yard (6.7 HR/FB%). Gaviglio and Reid-Foley are probably better suited in the bullpen at this point.
Bullpen Projections
The change of scenery last year may have done Giles a bit of good. He got back to getting groundballs at over a 52% clip and his BAA dropped to .231, his lowest since 2016. The rest of the bullpen is mix and match. Phelps is coming off TJ surgery about a year ago and may start the season at Triple-A. Axford is the wily veteran soon to be 36 but may still have a few innings in the tank. Biagini and Tepera will be the setup men and handle some tough situations. Mayza is the lefty of the group but he may need to be more than just a LOOGY. There isn't much to see here folks. This is not a great group and will likely be an Achilles Heel throughout the season.
Predictions
If we look at the bright side, we may see Jansen, Gurriel, and Vlad all have excellent first full seasons at the big league level. We may also see Stroman and Sanchez get back to 2016 form. Pillar could get back to gold glove caliber defense and finally see a 20/20 season. Grichuk could also finally realize the potential the Los Angeles Angels saw in him when they drafted him right before they grabbed some guy named Mike Trout in 2009.
All of that happening at once is unlikely.
The Blue Jays are rebuilding and in a very tough division. The reasonable prediction here is that they have a couple guys show they belong and take a step forward in their progression. I believe in Jansen but he has to prove he can take the wear and tear of a full season behind the plate. I believe in Gurriel but again he needs to prove it at another demanding position at SS. Of course, we all love Vlad who is as close to a sure thing as you can get to succeed at the major league level. That being said, the pitching is horrendous and will probably be eaten alive by the Sox and Yanks. I can see the Blue Jays putting up a fight here and there (they do open up at home against the Tigers), but the season is long for all teams and it will seem even longer for the Toronto Blue Jays as they will finish 70-92.
Check out our other Team Previews | Colorado Rockies
Questions and comments?
thescorecrowsports@gmail.com
Follow Us on Twitter @thescorecrow
Follow Us on Reddit at u/TheScorecrow
Follow Us on Facebook at The Scorecrow
Follow Us on Instagram at The Scorecrow
Follow John Lepore on Twitter @jball0202
Main Credit Image: [getty src="1057533110″ width="594″ height="396″ tld="com"]