Daniel Corrigan | February 8th, 2019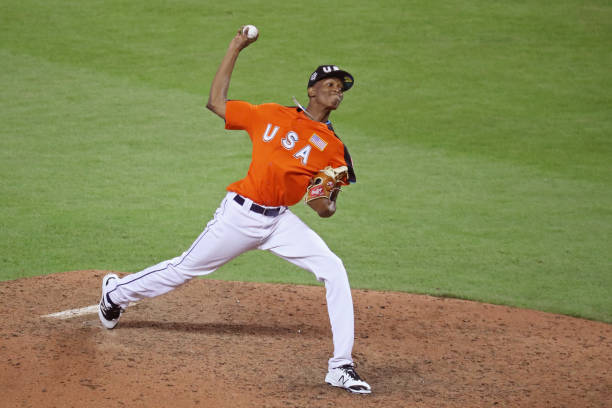 The Indians are a hard team to figure out. With their current roster, they have some great talent. Players like Francisco Lindor, Jose Ramirez, Corey Kluber, Trevor Bauer, and others you would think they should be the top team in the A.L. The 2018 season really was a confusing one.
They under-performed badly, getting swept in the ALDS by the Houston Astros. They have made some puzzling (or lack thereof) moves in the off-season. They let Andrew Miller, Cody Allen, and Michael Brantley go via free agency. They traded Edwin Encarnacion and Yandy Diaz to bring home fan-favorite (and personal favorite), Carlos Santana, back, and have not made any splash in free agency.
So let's look at their farm system. At one time, the Indians had one of the best systems in baseball. Once the Indians found success in the 2016 World Series run, they traded a lot of their youth to acquire key pieces. They don't have much left. They are a low-level ranked system. That being said, they do have some interesting players that could turn into great players for the Tribe or could be used as trade bait for another World Series push.
Here are my top five prospects in the Cleveland Indians system.
Height- 6'1
Weight 225 Ib.
Hit- 50
Power-60
Run-20
Arm-50
Field-45
Overall-50
Bradley is a 22-year-old power-hitting first baseman drafted in the third round of the 2014 first-year player draft out of Harrison Central High School in Gulfport, Miss. He won the Arizona League triple crown in his first year in the Indians system. He then went on to hit 27 home runs and 92 RBIs in the Mid West league. At age 20, Bradley won the Carolina Leauge MVP with his eye-popping power where he hit 29 home runs and drove in 102 RBIs. In 2018 with Akron in Double-A ball, Bradley slashed .214/.304/.477 While not impressive, those are some typical numbers for a power hitter. He saw 32 games with Triple-A Columbus where he slashed .254/.323/.430.
In a way, Bradley reminds me a lot of Jesús Aguilar. Before Aguilar became the home run threat with the Brewers, he would be crushing baseballs in the Indians minor league system. Bradley's biggest tool is his power, he has hit 20 plus home runs in every stop along his way up the Indians system. With every power hitting bat comes the big strikeout total. Bradley the power, the bat speed, and the naturally-gifted ability to crush baseballs. But his 29.7 strikeout percentage is hard to ignore. He tends to pull the ball a lot which is natural when swinging for the fences. He will be a threat at the plate when he makes it to the Show, he just needs to learn patience, and control with his bat.
Defensively, he is not as good on the field as he is up to bat, but he's not just some guy either. As a big man, he fits that perfect first-base mold. Some scouts labeled him as a below-average fielder but saw some significant strides with reps in the Arizona League. With being an every-day player in Columbus this coming season, he will get better and more comfortable in the field. I believe he will see some time in September call-ups this season, but I would assume he still needs some reps in Columbus before he's playing every day with the Tribe.
ETA Late 2020-Early 2021
Height-6'0
Weight-195 Ib.
Hit- 50
Power- 55
Run- 40
Arm- 55
Field- 45
Overall- 55
Naylor is a 19-year-old catcher drafted out of Canada in the first round of the 2018 first-year players draft. He is the brother of Padres first-base prospect Josh Naylor. If this kid was a couple years older he would be in Cleveland right now. The Kid is a stud in my opinion. He has a great bat, sees the ball nicely at the plate, and has a cannon behind the plate. He played in 33 games in the Arizona League and slashed for .274/.381/.402 He has the ability to hit for power once he develops more with the system, but for now, his main focus should be his defense.
Offensively, Naylor is very solid. He has a very professional feel up at the plate that will help him supplement his impressive batting averages with power numbers. His main concern is his defense. Scouts say he needs to work on his receiving and game-managing skills if he wants to stick with catching. He has played a little third-base where he showed a nice range and feel. But he is a raw prospect. He has plenty of time before he is even considered to be major league ready. The Indians are thin at catcher right now so if Naylor can improve behind the plate, he will be the every-day man for the Tribe in the coming years.
ETA- 2023
Height- 6'6
Weight- 200 Ib.
Fastball- 80
Curveball- 50
Slider- 50
Changeup- 55
Control- 60
Overall- 55
Hankins is a 2018 first-year draft selection out of Forsyth Central High School in Cumming, Georgia. Hankins was committed to pitch at Vanderbilt University before deciding to sign with the Indians after the draft. Many believed that Hankins had the potential to be number one in the draft due to his stellar pitching with Team USA on the World circuit. Injuries and uncertainty due to his commitment to Vanderbilt had him slip to the Indians. He is 18 years old with pro-level stuff on his fastball and control.
When healthy, he had the best fastball of anyone in the draft. He was right around 92-96 MPH with great control. He has reached 98 MPH and with his tall 6'6 frame and youth, he has the room to improve his already lethal heater. He dominates on the amateur circuit due to his fastball and ability to hit both sides of the plate. His injury did handicap his fastball at times. He's young, so he has time to be smart about this and really improve as he makes his way up the ranks.
Scouts rave at his potential with the changeup but still needs more work. He really needs to find that breaking-ball to supplement his fastball. His curveball showed much improvement with Team USA and even experimented more with a slider, but still needs reps against live pitching before he could be considered a top-level starter. He's a young and exciting prospect. He has time to work, especially with the starters that the Indians have now. A couple more years of solid pitching and he will be a nice addition to the Indians rotation.
ETA- 2023
Height- 6'4
Weight- 185 Ib.
Hit- 55
Power- 55
Run- 50
Arm- 60
Field- 55
Overall- 60
Jones is a 20-year-old second round selection in the 2016 first-year player draft. One of the best hitters in the draft, he was first round material if it wasn't for the concern that he would go play college ball at Virginia. He spent time in Class-A ball this past season where he demonstrated his great swing and ability to hit the ball hard at all spots of the field. He has a great arm but does have some concerns with his fielding.
Jones is a left-handed hitter who has a nice, clean, natural stroke that helps him hit the ball all over the park. He has demonstrated great power to go with his ability to get on base. He slashed .279/.393/.464 with a .858 OPS last season with the Lynchburg Hillcats. His power numbers do not demonstrate the potential that he has. With his build, he has time to work on it while hopefully cutting down on his swing-and-miss numbers.
He came into the organization as a shortstop, but with Lindor playing with the Indians, he was moved to third base. He has the size and power to make him the typical corner man in the infield. He has above-average arm strength and great speed. He does need more reps fielding, but with time he will get better and be with the Indians at the big level soon.
ETA- 2020
Height- 6'5
Weight- 165 Ib.
Fastball- 60
Curveball- 60
Changeup- 55
Control- 55
Overall- 55
McKenzie is a 21-year-old pitcher drafted in 2015 out of Royal Palm Beach High School in Florida. He dominated his senior year of high school striking out 157 batters in 91 innings pitched. Concerns about his ability to develop had him fall to the Indians. He stands out due to his ability to demonstrate control and velocity with multiple pitches. He can still grow into his slim, athletic build to help his pitches.
As he furthers into his development, his pitches should also improve. He has a great ability to locate his pitches. His fastball currently sits around the low 90s. His curveball has a great movement which allows him to have more swing-and-miss stuff. His changeup also has some great movement which supplements his above-average curveball.
His greatest tool is his control. He has elite control with all his pitches which will help him at the next level. He needs to add some more strength to his numbers. His speed will not blow you away, but with further reps, he will be a top-level starter with the Indians very soon. I expect him to see plenty of time during September call-ups. With McKenzie becoming a big-league player in 2020.
ETA- 2019
The Indians don't have the system that they had a couple of years ago. Some of these players mentioned could fall victim to trades to help the Indians win now. These players will all blossom to become everyday players. Some are very close, while some still need more reps. With the Indians needing bullpen help, some pitchers could see time this year working out of the depleted bullpen to help the Indians try and make it back to the World Series.
Check out the rest of our Top-5 Prospect Series | Toronto Blue Jays | Colorado Rockies | Minnesota Twins | Chicago Cubs | Texas Rangers | Atlanta Braves | Tampa Bay Rays | Arizona Diamondbacks | Cincinnati Reds | Kansas City Royals | Seattle Mariners | Miami Marlins | New York Yankees | Los Angeles Dodgers | Detroit Tigers | New York Mets | San Diego Padres |
Questions and comments?
thescorecrowsports@gmail.com
Follow Us on Twitter @thescorecrow
Follow Us on Reddit at u/TheScorecrow
Follow Daniel Corrigan on Twitter @Corrigan_Tweets
Main Credit Image:"[getty src="811488368″ width="594″ height="396″ tld="com"]