Alex Kielar | February 11th, 2019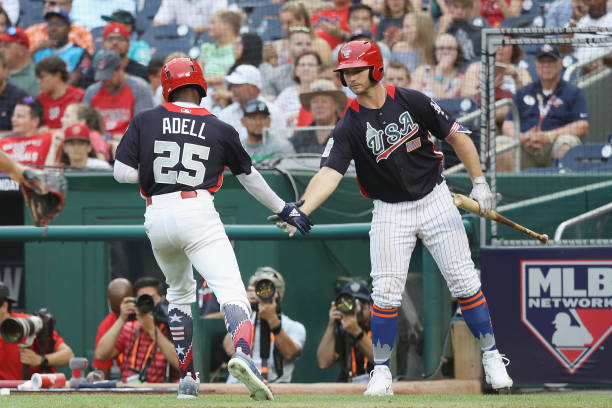 Since the 2016 season when Billy Eppler took over the Angels organization, their farm system has only gotten better and better. After a Rookie of the Year campaign from 2018 No. 1 overall MLB prospect Shohei Ohtani, the Angels are looking for similar debuts from their next line of prospects. With Mike Trout most likely entering free agency after the 2019 season, LA's grooming of their top prospects will be very important for years to come if they can't resign Trout. They aren't necessarily loaded, but they have good top 10-15 prospects. Now let's get into it!
Hit: 50
Power: 60
Run: 65
Arm: 60
Field: 60
Jo Adell was one of the most exciting players going into the 2017 Draft, coming out of high school in Kentucky and winning the state's Gatorade Player of the Year, leading all high school hitters with 25 home runs. In the draft, while there were concerns with Adell's ability to hit and make line drive contact, the Angels saw enough future value and upside to select him 10th overall and sign him for full pick value.
Adell has some of the best raw tools out of his draft class and he was able to show off all his tools during his pro debut across two levels of rookie ball. Adell finished his draft season at rookie ball with an overall .325 batting average, .908 OPS, 11 doubles, 8 triples, 5 home runs, and 30 RBIs across 222 at-bats.
Adell was able to continue showing off his raw tools and started to develop into an even better player in his first full season in 2018. He played across three levels in the Angels farm system, from Low-A to High-A to Double-A, and put up pretty solid numbers throughout, proving why he was worth a top 10 overall pick. Overall between the three levels, Adell hit for a .290 average with a .897 OPS, 32 doubles, 20 home runs, and 77 RBIs. One concern the Angels have with Adell is inability at times to make contact with some of his tendencies to swing-and-miss. He showed this in 2018 as he finished with 111 strikeouts.
The good thing for Adell is that he has tremendous upside and still in his teens and will work through his swing-and-miss problems. He was impressive with his ability to make adjustments during at-bats, and with his combination of speed and power, he will be a very dangerous hitter at the plate and baserunner when he gets on base. He has outstanding bat speed as well, which makes him an even more dangerous hitter. If he can lessen the number of times he strikes out, which was 25% of his plate appearances last season, and make more contact, he will be a threat to beat out groundballs, extend singles to doubles, and steal more bases. His stolen base total in 2018 was 15, and with already 32 doubles, he could get that number up even higher with more straight contact and not going all out for home runs with his power.
With Adell's speed, he also has great range in center field, which he was not able to play at all in summer league with a minor shoulder injury. Along with great range, Adell has a plus arm, which only makes his outfield defense even better, with speeds reaching upper-90s from center, and can help him transition to right field.
If Adell can continue to put up numbers like he did in 2018, he will be able to rise within the Angels system fairly quickly. With his impressive pro debut, he still needs to work through some things to get to the level the Angels are looking him to achieve. But with him being so young, he will only keep getting better and potentially develop into an all-star outfielder for the Angels for years to come. As far as where in the outfield he plays, it all depends on if the Angels are able to retain future Hall of Famer Mike Trout. If they are able to, which they will try their hardest to for sure, Adell will definitely be happy to move over to right field when he makes his Major League debut, and he will start getting groomed there and/or left field during the 2019 season. It will be exciting to see Adell alongside Trout for years to come starting in 2020, and the Angels are hoping for that to pan out the way they want. ETA: 2020
Fastball: 55
Curveball: 50
Slider: 50
Changeup: 60
With teams being concerned with Canning's health and injury history going into the 2017 draft, Griffin Canning fell right into the laps of the Angels in the second round, as he looked to be a sure-fire first-round pick out of UCLA. Because of Canning's workload and injuries in college, the Angels decided to sit him for the rest of the season instead of sending him to rookie ball.
Canning rose through the farm system of the Angels very quickly in his pro debut in 2018, only needing two starts in High-A where he made his debut until he got called up to AA. In those two starts, Canning only gave up four hits and didn't allow a run, while striking out 12 and walking three over 8 2/3 innings through both starts. Canning was able to pitch just as effectively when he moved up to AA, as he pitched to a great 1.97 ERA in 10 starts over 45.2 innings, striking out 49 with only 19 walks, and a .170 batting average against. After those 10 impressive starts, Canning got the call to Salt Lake, the Angels AAA-affiliate in the Pacific Coast League. So after only 12 starts in the lower levels, Canning had already made it to the highest level of the minor leagues. In the hitter-friendly Pacific Coast League, however, Canning did struggle, as he pitched to a 5.49 ERA in 13 starts there, but he should be able to adjust moving forward and shrug off any sluggishness.
All four of Canning's pitches are at least minor league average, with his fastball being his main pitch, which he improved in 2018. His average fastball speed clocked in at a few ticks more than when he was in college, as he averaged 94-97 in the minors after averaging 90-95 in college. He has an excellent command of his fastball, and his best secondary pitch is his changeup, which bode for a great combination, with much deception with his changeup. Canning's other two breaking balls in his curveball and slider are also good above-average offerings which he can use to get hitters off-balance, which equals more strikeouts, pop-ups, and groundouts. Canning struck out 125 total batters over 113.1 innings pitched in 2018.
With a simple and repeatable delivery, Canning will be able to work out some of the issues he faced in AAA in 2018 fairly easily and it will make his transition to the Majors smoother. Some people have even compared him to Zack Greinke with a similar delivery and body type. Canning has risen so quickly in the Angels' farm system and only has to work out some things as far as getting a better location on his secondary pitches and in turn lowering his ERA after he struggled in AAA. With his advanced feel for pitching, he will see time in the Majors at some point this year as the Angels need a spark in their rotation to improve as a club. Canning's floor is mid- to low-level starter and his ceiling is a frontline starter. ETA: 2019
Hit: 55
Power: 50
Run: 60
Arm: 50
Field: 50
Jahmi Jones was a two-sport star in high school, playing as a wide receiver along with starring on the diamond. There have been countless two-sport high school athletes that have shifted their focus to playing baseball at the professional level, but just pure athleticism doesn't always translate to the next level. But with the raw tools that Jones have plus his very high baseball IQ, the Angels potentially have something special.
Jones has already started to learn how to transition his athleticism to the diamond at a constant rate with great tools in all facets of his game. His best and the probably most dangerous tool is his plus speed, which makes him a great baserunner and a threat to steal. As far as his hitting is concerned, he has quick hands which should translate to plus bat speed, and his swing is built for contact and getting hard line-drive hits. He also shows great ability to recognize pitches, and letting close pitches go for balls. In his first full pro season, Jones didn't fully show off all his tools, especially at the plate, as his numbers didn't stand out. This was partial because he was making the transition from playing center field, to second base, which he did play some of in high school. His transition to second wasn't always the smoothest, but as he gets more comfortable there, he will be able to tap into all of his impressive tools with high ceilings.
As Jones got invited to play in the Arizona Fall League in 2018, his offensive production went way up as he was one of the best performers all Fall. His production will only rise even more at the plate when he can fully develop at second base. Jones will start 2019 at AA Mobile where he finished 2018 and continue to work on his defense and hitting, as his swing was changed three times in the 2018 season. After all the transitions he went through last year, 2019 should be a lot smoother and more productive for Jones, with not as many things to work on. He has a very high ceiling, as he is hyped to impact the upper levels of the Angels' minor leagues and has a chance to get the call to Los Angeles and join homegrown superstar Mike Trout, who Jones has similarities too. ETA: 2019
Hit: 50
Power: 50
Run: 60
Arm: 60
Field: 55
Brandon Marsh has a similar makeup of Jahmai Jones, with most of the same raw tools, as well as being a two-sport athlete in high school. Marsh was drafted in the second round of the 2016 draft by the Angels as they loved his upside and pure athleticism. The Angels were not able to see him play and have him start his seasoning until 2017 because of his a back issue they found in a physical after the draft, but he didn't disappoint when he was able to play at the Rookie Level in the Appalachian League. In 39 games he slashed .350 with 44 RBIs and 10 stolen bases.
Just like Jones, Marsh has great ability to make hard contact, recognize pitches, and has plus speed that translates to him being a threat on the bases. Marsh moved to Low-A Burlington in 2018 and played alongside No. 1 Angels prospect Jo Adell which turned into an exciting tandem in the outfield in Low-A and as they both moved to High-A Inland Empire. As Adell played in 25 games there, Marsh only played 9 more games until he joined Adell. Marsh's numbers fell off a bit as he attempted to pull the ball more as his pull percentage skyrocketed during his struggles.
The Angels feel that Marsh could become an above-average hitter with time as they have to be patient in his development. He has a plus arm in the outfield which makes him into a very solid outfielder, and with his plus speed can cover a lot of ground in any spot out there. Marsh will most likely start 2019 at High-A until he is ready and seasoned enough to move up to AA Mobile, where he will have a potential break-out year. The more production he shows the quicker he will move up the system, with his production at the plate needing the most improvement. ETA: 2021
Hit: 55
Power: 45
Run: 30
Arm: 50
Field: 50
Matt Thaiss was drafted by the Angels mid-first round in the 2016 draft out of Virginia and was seen as maybe the most advanced bat in the class and with the ability to move quickly through the Angels' system. Thaiss was the backstop for Virginia, but the Angels moved him to first base as he started at the Angels' rookie level.
Thaiss dominated rookie level slashing .338/.394/.569 and only after 12 games were called up to Low-A Burlington where he spent the rest of his draft season. He started the 2017 season at High-A Inland Empire and made the jump to AA Mobile after half a season. Thaiss had an overall slash line of .274/.375/.395 with 73 RBIs, which was good enough to earn him an invite to the Arizona Fall League.
Thaiss, with his contact approach, strives to hit for high average and get on base, also using his keen act for seeing pitches and drawing walks to make him into a difficult out for pitchers. Thaiss led the Angels' system in walks in 2017, as he reached base via the free pass 77 times. Hitting for power was one concern for Thaiss as a first baseman, but he has more power he can improve upon and reach his limits, and he has the potential to hit 30-35 doubles a year and could be seen driving in over 100 runs in the future.
Thaiss reached AAA Salt Lake in 2018 after 40 games at AA where he hit .287 with 10 doubles, 6 home runs, and 25 RBIs through 157 at-bats. Overall in 2018, Thaiss slashed .280 with 34 doubles, 16 home runs, 76 RBIs, and 44 walks, and he would most likely be starting the season in the Major Leagues if not for the depth the Angels already have at first and DH. He will be able to get more seasoning in AAA to start the season and will only improve his power and other parts of his game that could use some work, and develop more at first, where he had to transition to coming into pro ball. His future is still a question mark with whether he will be an above-average player or more of a platoon/bench player in the Majors. As far as the Angels are concerned, he will be the first guy they call if any injuries occur in the lineup, as he can be inserted to play DH. ETA: 2019
Check out the rest of our Top-5 Prospect Series | Toronto Blue Jays | Colorado Rockies | Minnesota Twins | Chicago Cubs | Texas Rangers | Atlanta Braves | Tampa Bay Rays | Arizona Diamondbacks | Cincinnati Reds | Kansas City Royals | Seattle Mariners | Miami Marlins | New York Yankees | Los Angeles Dodgers | Detroit Tigers | New York Mets | San Diego Padres | Cleveland Indians | Boston Red Sox |            St. Louis Cardinals | Philadelphia Phillies | Baltimore Orioles
Questions and comments?
thescorecrowsports@gmail.com
Follow Us on Twitter @thescorecrow
Follow Us on Reddit at u/TheScorecrow
Follow Alex Kielar on Twitter @yankeescave7
Main Credit Image:"[getty src="999736018″ width="594″ height="396″ tld="com"]