Alex Kielar | February 1st, 2019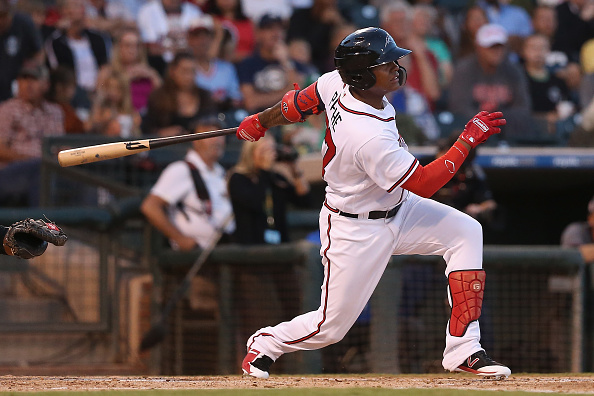 The Braves entered the 2018 season with little to no expectations on their Postseason chances. If anything, they were only expected to fight for a Wild Card spot. The one thing Braves fans were excited for was seeing the rise of the No. 2 Prospect in all of baseball at the time, Ronald Acuña Jr.
Acuña Jr. made his highly-anticipated Major League debut on April 25, and despite missing a month of the season, won the NL Jackie Robinson Rookie of the Year Award by a landslide, receiving 27 of 30 first-place votes. After the All-Star Break, Acuña Jr. was moved to the leadoff spot for Atlanta and his season took off from there, as he hit .322, drove in 46 RBIs, and had an OPS of 1.028, in addition to bashing eight lead-off home runs, in the lead-off spot.
Acuña Jr. was the spark for the Braves in route to their unexpected playoff run. After facing a half-game division lead deficit heading into the All-Star break, Atlanta took control of the division on August 13, and never looked back, capturing the NL East crown for the first time since 2013.
The Braves will look towards more incoming prospects hyped to make their Major League debuts in 2019 and beyond, to build off their unexpected run in 2018.
Without further adieu, let's take a look at the Top 5 Atlanta Braves Prospects Rankings:
Fastball: 60
Slider/Curveball: 55
Changeup: 55
Control: 60
Mike Soroka was drafted right out of high school in Calgary, Canada, at 28th overall in the 2015 Draft. Soroka made his Major League debut last year, less than three years after being drafted. He jumped straight to the show after a full season at AA Mississippi in 2017 in which he put up a 2.75 ERA and struck out 125 batters.
Soroka earned a spot in the Braves rotation and seemed like he was going to be able to hold his spot throughout the season and into the Postseason. That was until he, unfortunately, went down with a shoulder injury in June. He was never able to return to competitive action in 2018, but he started throwing at full strength in the fall and will be ready to return to in-game action in the 2019 season.
Soroka has a long and lengthy build and his long arms bode well for his delivery, as he has quick and constant arm movement at the end. His delivery is one that some scouts likened to that of Greg Maddux, also with slow and steady movements early. Soroka uses his sinking fastball in the 93-94 mph range to pitch to contact early in counts and get groundball outs. He was reported to have reached upwards of 96 mph but tends to only go this speed up in the zone. His tendency is to mostly go low in the zone so that when he reaches his high velocity up in the zone the opposing hitters can't adjust to it. Soroka could use this to strike more batters out while also forcing groundballs with these pitches low in the zone early on.
Besides his fastball, Soroka's arsenal also consists of a breaking ball and a change-up. His breaking ball is a pitch that he can alter to look like either a sharp slider or a power curveball. His changeup has similar sink to his fastball and has excellent movement along with a solid velocity difference from his fastball that helps generate swing and misses and weak contact. With this impressive arsenal, Soroka has three above-average pitches that he can locate in the strike zone very well. His control and command can indeed use some work, but he does tend to hit the target put up by his catcher. If he finds a way to locate out of the zone as well as in, he will be able to fool hitters even more.
Outlook: Barring any injury setbacks moving forward, Soroka should be able to have a major impact in the Braves' rotation in 2019. Soroka could very well see himself as the No. 3 Starter in Atlanta's rotation behind Mike Foltynewicz and Sean Newcomb. With his fast rise to the show and improvements in his command and pitch arsenal, this is definitely likely for this season. ETA: 2019
Fastball: 65
Curveball: 60
Slider: 55
Changeup: 55
Control: 50
Kyle Wright was drafted 5th overall by the Braves in the 2017 Draft out of Vanderbilt and similar to Soroka, made quick work of the Minor Leagues. Wright, however, made his Major League debut during his first full season and was only used out of the pen in his four appearances during the 2018 season.
In Wright's four appearances last season, he pitched in six innings, surrendering 4 hits and 3 runs for a 4.50 ERA with 5 strikeouts. One downfall to Wright's game is control and command, which showed in his appearances in the Majors, as he walked 6 batters.
Standing in at 6-foot-4 and 220 pounds, Wright has the size and scale typical of a productive right-handed pitcher, standing tall on the rubber. Wright uses his size to put solid power behind his pitches and that included with his good body control equals a powerful combination. Along with this combination, Wright's mechanics and delivery leave little to nothing to desire. His delivery is simple and consistent, one of which is easy to repeat.
Wright has a full arsenal of above average pitchers, starting off with his fastball that he throws at 92-95 MPH and can reach as high as 97 MPH. His fastball plays well to weak contact as he can force groundballs and he has average command of it, mostly locating down in the zone.
Wright has two distinct breaking balls, both of which are plus pitches. The better of the two is dependent on what day he's pitching and which one he is feeling for more. The first one is his curveball, one that he seems to be more consistent with. This pitch has a sharp 12-6 downward break too and sits around 80 MPH and he shows ease when he throws it as he gets swings and misses on it when paired with his powerful fastball.
Wright's next pitch that goes vice versa with the curveball is his slider, which also sits in the low to mid-80s, giving him two pitches that go hand-in-hand to putting batters away late in at-bats. Wright works his slider in on the hands of left-handed batters and works down for swing-and-misses and weak contact in the zone.
Wright's fourth and weakest pitch is his changeup, which he sells very well and has a feel for it on both sides of the plate. One concern that comes with this pitch for Wright is the low-velocity separation it has with his fastball. He can make up for this with the movement he has on the pitch, however, but he also struggles at times with commanding it. When he tries to go out of the zone, he loses control of it and that's where his walk-to-strike ratio rises. He also at times hangs the change and he gets hit hard. If he can find a way to control it better, he will have four very solid pitches in his arsenal.
Outlook: Wright could very see himself as a mid-level starter at some point during the 2019 season, as long as he can work out his command and control. He will most likely start the season getting work out of the bullpen and work up his control. With such a solid delivery, commanding his pitches will bode well to striking out batters even more consistency. He will find himself right in the middle of the Braves' rotation when this happens. ETA: 2019
Fastball: 60
Curveball: 55
Changeup: 55
Control: 50
Ian Theodore Anderson was drafted out of Shenendehowa High School as the 3rd overall pick by the Braves in the 2016 draft. He has made rapid progress in pro ball, but as a player out of high school, the Braves put a pitch limit on him in 2017. In 2018, Atlanta continued to monitor his workload.
Despite being inquired about by several teams leading up to the 2018 Trade Deadline, the Braves held onto Anderson, and he remained at high-Class A Florida. Overall in 2018 between Class AA Mississippi and high-Class A Florida, Anderson pitched to a 2.49 ERA, struck out 142, only walked 49, and allowed 87 hits. These numbers were good for finishing second in the system in ERA and third in strikeouts.
Anderson's three-pitch arsenal starts off with his fastball that sits around 92-94 and tops off at 96. Coupling this with his overhand downward breaking curveball, Anderson strikes out more than 10 batters per nine innings and generates a plus amount of ground ball outs. A major key to his rise in the Atlanta system is his improvements with his changeup. The Braves have worked on his changeup to pair with his explosive fastball which would make for three outstanding pitches in his arsenal that he can control.
Outlook: One part of Anderson's game that still shows room for the most improvement is his overall command. He showed a great ability in 2018 to pitch to all quadrants with all three pitches and with his easily repeatable delivery, the Braves are confident in him having average control. With all this in mind, improving his control would help him reach the level of a frontline starter. ETA: 2020
Hit: 55
Power: 45
Run: 70
Field: 70
Cristian Pache was signed by the Braves as an international free agent back in 2015 out of the Dominican Republic. The most praise Pache receives is his outstanding defense and blazing speed. One part of his game that he definitely needs improvement is his bat, but he showed improvements in 2018 which allowed him to move up to Double-A.
Pache's speed allows him to cover a lot of ground in the outfield, which added with his plus instincts helps him make more above average plays than the average outfielder. On top with making great plays while covering a lot of ground, Pache has an outstanding arm, which would definitely make him a gold-glove caliber defender in the Majors.
A concern for the Braves with Pache is his aggressive approach and lack of power at the plate which scouts say may be a concern at higher levels. The upside to this, however, is that he is young and has plenty of room to grow and develop. He also did start showing adjustments to his swing and showed signs of power towards the end of 2018 season, and he has the potential to have average power. The more reps he gets within the organization, the more he will be able to improve, so the potential is definitely there.
Outlook: As I said, the part of Pache's game that needs the most improvement is his bat, with not much power there. If he can continue to refine his swing and approach, he will have the potential to be an All-Star caliber player. Even if he falls a little short of reaching his full power potential, he has the speed, outstanding defense, and contact ability to have a successful Major League career. With more seasoning needed for Pache to reach his full potential, he is most likely a couple seasons away from making it to the Big Leagues. ETA: 2020/2021
Hit: 50
Power: 60
Run: 40
Arm: 60
Field: 50
Austin Riley was drafted 41st overall by the Braves in the 2015 supplemental draft out DeSoto Central High School in Southaven, Mississippi. Leading up to the draft, most teams preferred Riley more as a pitcher, as he was a two-way player in High School. After the Braves drafted him, they sent him out as a third baseman and this decision is looking like a good one, as his raw power has shown and allowed him to rake his way through the minors all the way to AAA Gwinnett as a 21-year-old.
Riley showed off his power moving up the minor league ranks as he had back-to-back 20 home run seasons and then a 19 homer season in 2018. One concern is his contact rate, which is not yet at the level the Braves would like, but he isn't just a pure home run or bust guy. Last season, he worked on some of his mechanics with Braves hitting instructor Mike Brumley, to try and have more consistent contact with pitches in the zone. The more contact he can produce, the more dangerous a hitter he will be, especially with his raw power.
Riley had shown some concern with his defense at third base, but some of the conditioning changes he made early in his career have made him more agile and smooth. He has a very strong arm, and being able to move quickly at the "hot corner" equals making more plays and using that strong arm to throw runners out at first and starting double plays. His plus arm and above-average defense will translate to being a potential gold glove winner at 3rd.
Outlook: With how quickly Riley has risen through the Braves' system using his raw power and showing major improvements in his third base defense, he will have the chance to get the call to the show in this upcoming season. The more improvements he makes to his defense and making contact more, the quicker he will get there. Within the next couple seasons, he could very well see himself as the starting third baseman for the Atlanta Braves, or another team if they decide to trade him at some point. ETA: 2019
Check out the rest of our Top-5 Prospect Series | Toronto Blue Jays | Colorado Rockies | Minnesota Twins | Chicago Cubs
Questions and comments?
thescorecrowsports@gmail.com
Follow Us on Twitter @thescorecrow
Follow Us on Reddit at u/TheScorecrow
Follow Alex Kielar on Twitter @yankeescave7
Main Credit Image: [getty src="1057560068″ width="594″ height="396″ tld="com"]