Cody Potanko | March 29th, 2019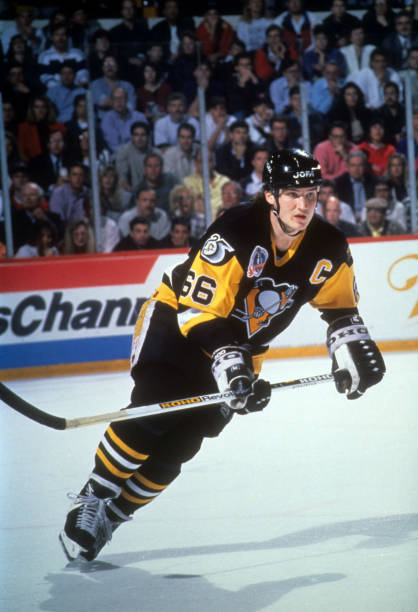 The Pittsburgh Penguins. That name in Pittsburgh, when brought up, brings special memories. With 5 Stanley Cups coming from 90-91, 91-92, 08-09, 16-17, and 17-18 this city has been blessed with a multitude of fantastic players. I have compiled a list of the top 10 players. Making this was extremely difficult.
Tom Barrasso a two time Stanley Cup champion has an impressive list of credentials reads like a Hall of Famers should be. He placed 2nd on the Penguins all-time wins list (226) along with shutouts (22). With his impressive 43 wins in a season is another team record for wins in a season.
The 91-92 playoffs saw Barrasso go on a tear with 11 straight wins and we also saw two consecutive sweeps in the conference finals (Bruins) and The Stanley Cup finals (Blackhawks.) Barrasso will always be a legend in Pittsburgh and the NHL.
One of the best offensive defenseman ever in the NHL Paul Coffey is the only other defenseman to average a point or more a game for an entire career. His illustrious career placed him 3rd all-time in points per game as a Penguin (1.33) Over Coffey's career he scored 108 goals and had 332 assist which puts him 2nd in all scoring categories for a defenseman in Penguins history.
Over five years with the Penguins Coffey placed his mark on this franchise. He will go down not just as one of the best Penguins defensemen of all time but as one of the best defensemen in the NHL.
With this next player, we go a little old school Jean Pronovost played ten years for the Penguins from 1968-1978. Pronovost was one of if not the most consistent player for the Penguins ever. Averaging 40 goals per season for five years straight (73-78) His best season he scored 52 goals (75-76.)
As the forefather of Penguins excellence Pronovost is 7th on the all-time scoring list (603) along with being 5th on the goals list (316). In a time when the Penguins were in their infancy, Pronovost took them to the playoffs 5 out of his 10 years with the organization. He was the father of many first for the team with first to 50 goals and the first to 100 points he will forever be a Penguin great.
Known as one of the best power/grinder forwards ever in the NHL Kevin Stevens played an integral part of the Penguins 90's run. While playing a total of 10 years with the organization, Stevens played only a full 5 years in those 5 years Stevens had 2 50 plus goal season (91-92 54, 92-93 55.) He is 7th all-time in goals and 10th in assists.
Though Mr. Stevens had injury issues and substance abuse problems, he is a Penguin great and should be recognized as so. As one of the team leaders during the '90s and a great winger, he is a solid choice on this list.
Another remarkably consistent player for the Penguins Rick Kehoe was indeed a great shooter. With 9 out of his 11 seasons, he scored 25 or more goals his best season being the 80-81 campaign where he posted 55 goals at the time a franchise record for goals in a season. His remarkable Penguin career placed him 6th on the all-time goals list (312) and 5th on the all-time scoring list (636.) A true marksman of the game Kehoe will be in diehard Penguin's hearts for the remainder of time.
Cracking into the top 5 Marc-Andre Fleury or better known as Flower has posted an incredible career with the Penguins. Leading in basically every goaltender category imaginable for the Penguins Flower has proven to be special. With 375 wins 44 shutouts, a career GAA at 2.58 and 691 total games the 2 time Stanley Cup champion holds a special place in our hearts.
The future Hall of Famer deserves to have everyone's respect and love. Let's be honest who can hate that big smile and childlike nature of the Flower.
Some say the 2nd best Russian player to lace up the skates. Here in Pittsburgh, he is the best Russian born player ever to touch the ice as of now he is ranked 4th all-time on the points list at 1,001 along with ranking 4th in goals with 391. He has a gaudy amount of hardware to prove his excellence 4 time Stanley Cup champ, 1 Conn Smythe,1 Hart, 1 Art Ross. The list could go on for days. When it is all said and done Evgeni Malkin will have his banner in the rafters of PPG.
His Hall of Fame is not a matter of if it's a matter of when. The 32-year-old still plays with an exuberance of passion and heart. There is no doubt in my mind that he along with Lemieux and Crosby will be the most magnificent Penguins of all time.
In his illustrious 11 year career with the Penguins, we saw one of the most beautiful scorers the game has ever seen. Placing third in both Goals and Points (1,079 points 439 goals) we saw Jaromir Jagr other than his rookie season score at least 30 goals or more. His most impressive season with the Penguins came in the 95-96 season where he posted 62 goals and a total of 149 points.
For quite a long time Jagr was the backbone of the Penguins along with Lemieux. Leaving for the Capitals in the 01-02 season left Penguins fans sore, and that is understandable, but you can not deny the impact Jagr had on this team for several years.
What hasn't been said about this guy? Sidney Crosby is the best player in this game all around hands down. Along with being the youngest captain in the NHL ever to hoist Lord Stanley, he has also won Olympic gold and a World Juniors. He holds the franchise lead in points for a rookie at 102 and games played at 938 (still climbing.) He is 2nd in goals at 444 and 2nd in points at 1,210 with his assists outnumbering his goals by far at 766; this shows you why he is not just a great player but a tremendous teammate.
Placing Sidney at number 2 doesn't come as a surprise to most of you because the next player on this list, in my opinion, is the greatest player of all time even though cancer and injuries hindered him tremendously.
Coming in at number 1 is no surprise to anyone Mario Lemieux. Mario is the Franchise Leading Point, Goal, and assists (690 goals, 1,033 assists, 1,723 points) Mario is a 5 time Stanley Cup champion 2 as a player and 3 as an owner. He not only was a savior for the team when he was drafted in 1984 but when Mario took ownership of the team he and Ron Burkle literally saved the club from bankruptcy.
So when you hear the name, Mario Lemieux, remember him as not only a great player and overcomer of cancer remember him as a great human being and owner. Lemieux will forever in the city of Pittsburgh be a legend and somewhat of a tall tale.
Honorable Mentions
Ron Francis
Pascal Dupuis
Chris Kunitz
Bill Guerin
Sergei Gonchar
and last but not least Mark Recchi
Questions and comments?
thescorecrowsports@gmail.com
Follow Us on Twitter @thescorecrow
Follow Us on Reddit at u/TheScorecrow
Follow Us on Facebook at The Scorecrow
Follow Us on Instagram at The Scorecrow
Follow Cody Potanko on Twitter @Tankotanko013
Main Image Credit [getty src="167889533″ width="406″ height="594″ tld="com"]