John Lepore | July 2nd, 2018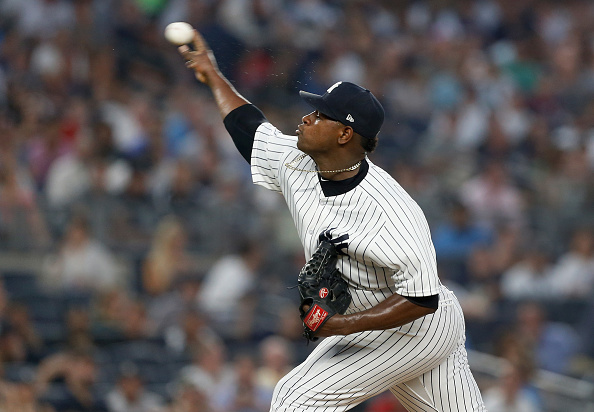 Trade rumors are swirling and teams are already putting out feelers to make deals. This is the month when MLB squads try to position themselves for a playoff push and even fortify what they have to hopefully get that ring. So with the non-waiver trade deadline coming at the end of the month, let's take a look at the top 10 teams right now and what they need to bring the championship home.
1. New York Yankees (54-27) They are exactly through half their schedule and have won precisely two out of three games. It may not seem like they need much but the starting rotation could use a boost, especially in the playoffs. While the news that Masahiro Tanaka will be making a rehab start this week is good, there is always room to improve the rotation.
What They Need – The Yankees will be in the mix for Cole Hamels, J.A. Happ, Chris Archer, and possibly Jacob deGrom. With C.C. Sabathia possibly retiring, Jordan Montgomery's elbow, Sonny Gray's struggles at home, and the question of Tanaka's health, getting a bona fide starter with some years of control would give some stability to the rotation now and in the future.
2. Boston Red Sox (56-29) While their starting staff has been pretty good, their bullpen could use some help. Aside from Kimbrel, they have been decent but not great. The only reliever with more than 30 IP and above a 3.20 K/BB rate is Kimbrel.
What They Need – They could benefit greatly from deepening the bullpen and getting a player like Zach Britton or Brad Hand to set up Kimbrel. Hand would likely cost more because he is signed through 2020 with a team option for 2021. Britton would be a rental and won't cost top prospects due to his impending free agency and health history.
3. Houston Astros (55-31) The defending champs are back in the AL West lead. They have the best pitching staff in the majors. They lead the majors in ERA (2.84), K/9 (10.48), and are second to the Giants in HR/9 at 0.90.
What They Need – The Astros could actually use an outfielder. While their lineup has been solid, going into the playoffs with a combo of Springer, Reddick, Marisnick, and Kemp doesn't inspire confidence. There are some outfielders who could be an upgrade like Adam Jones, Leonys Martin, or Shin-Soo Choo.
4. Seattle Mariners (54-31) The Mariners are on a seven-game winning streak. They lost one of their best hitters to a suspension and went out and acquired Denard Span who has been very good. The Mariners are looking to finally make it back to the playoffs and they are definitely on the right track.
What They Need – While their starting staff has been very good with emerging ace James Paxton along with Marco Gonzales, Mike Leake, and Wade Leblanc, they could use another starter. They have had talks with the Rangers for Hamels and will likely be in the mix for Happ or Archer which could be that final piece to get them over the hump.
5. Atlanta Braves (48-34) With Freddie Freeman looking like an MVP, Nick Markakis turning back the clock, and Ozzie Albies becoming a young Robinson Cano, the Braves are in good shape. Their lineup is as stacked as any in the NL and their pitching has been coming along.
What They Need – Like many teams it comes down to starting pitching. The Braves are no exception. While Sean Newcomb and Mike Foltynewicz have been great, Julio Teheran has been bad. A veteran starter like Happ or Hamels who could slot in at two or three could be just what the doctor ordered to get this team a division title and far into the playoffs.
6. Milwaukee Brewers (48-35) The Brewers have an excellent bullpen. Their starting pitching has not been as good with Junior Guerra as the only starter with more than 10 starts below a 3.50 ERA. The catching has been horrible also with the combo of Manny Pina and Jett Bandy combining for a .264 OBP and only 6 HRs.
What They Need – A starter would really help the Brewers. They don't have a true ace and the longer they go into the season and likely the playoffs, the more the top bullpen arms will be taxed. They have the prospects for deGrom so it may be interesting to see where that goes and if they are willing to go for it.
7. Chicago Cubs (47-35) The Cubs have a solid lineup and good defense but the starting rotation has been hurt by the off-season acquisitions of Tyler Chatwood and Yu Darvish. They are a combined 4-8 with a 4.69 ERA and an absurd 119/87 K/BB ratio.
What They Need – This year they need a starter and may be the front-runners for deGrom if the Mets are looking to sell. They have plenty of bats still left to move. The Cubs will not be in a good position if they go into the playoffs with Jon Lester and a bunch of 4.00+ ERA guys.
8. Arizona Diamondbacks (47-37) Their pitching has been solid with Patrick Corbin and Zack Greinke at the top, and now they have Robbie Ray back which gives them a solid three. The bullpen has also been good with Yoshihisa Hirano and Archie Bradley setting up Brad Boxberger.
What They Need – Another bat. Plain and simple. They can get creative to bring in Manny Machado like they did last year with J.D. Martinez and possibly catch fire again. Nick Ahmed and Ketel Marte have not been producing in the middle of the infield so this seems like the logical move to win now. It just depends on what it will cost.
9. Cleveland Indians (45-37) The Indians are in a great position. They basically don't have to worry about the Wild Card game like the rest of the AL. What they do have to worry about is the playoffs and how they match up with the likes of the Yankees, Sox, and Astros.
What They Need – With the exception of Michael Brantley, who could hurt himself at any time, the outfield has been atrocious. The bullpen has been bad also but a solid centerfielder like Adam Jones would go a long way into solidifying the lineup and the outfield defense.
10. Philadelphia Phillies (47-35) The lineup has been decent although no one with over 100 PA is hitting above .285. The starting pitching has been good with Aaron Nola emerging as an ace, Jake Arrieta holding his own, and Zach Eflin playing a solid three.
What They Need – The Phillies could actually use a bit of everything as their rebuild continues. A move like bringing back Hamels and Diekman could help this year and next year. They could also use a bat but that would likely come at the expense of a younger player they are trying to develop.
Questions and comments?
thescorecrowsports@gmail.com
Follow Us on Twitter @thescorecrow
Follow Us on Reddit at u/TheScorecrow
Follow John Lepore on Twitter @jball0202
Main Credit Image: [getty src="989146118″ width="594″ height="412″ tld="com"]