Antonio Losada | June 28th, 2019
When you think of a household name you don't come up with Tommy La Stella's first. Yet, somehow, you may start slotting him at the top of such list.
Look at this season from a broad scope. Entering June 28th, and among 162 qualified hitters, Tommy ranks 43th in fWAR at 2.1 in 74 games and 294 PA. That is, La Stella is on the 76th percentile of the current crop of qualified batters. Not bad by any means, much less considering he has never been among the group of players to break the 200 PA in a season during his career barring his 2014 rookie year.
La Stella is already 30 years old. He's nothing close to a high-upside player with 20 seasons of potential improvement ahead of him. But he's made quite a substantial jump since he was traded from the Cubs to the Angels last winter. Actually, he finished 3rd in the voting for this year's All-Star AL second base starter, falling just one percentage point under José Altuve for the second-most voted 2B around the league.
Getting back to what I already mentioned, his debut season, Tommy's path has been quite unique, to say the least. Drafted in 2011 and becoming a regular for the Braves after getting called to the Majors, Atlanta decided to trade him due to his lack of power, as observed by their talent evaluators. Of course, it was always going to be hard for him to break through a crowded infield in Chicago, so ultimately he ended in Los Angeles this off-season after only topping 74 games last season in the Windy City.
Turns out, La Stella has found his power with time.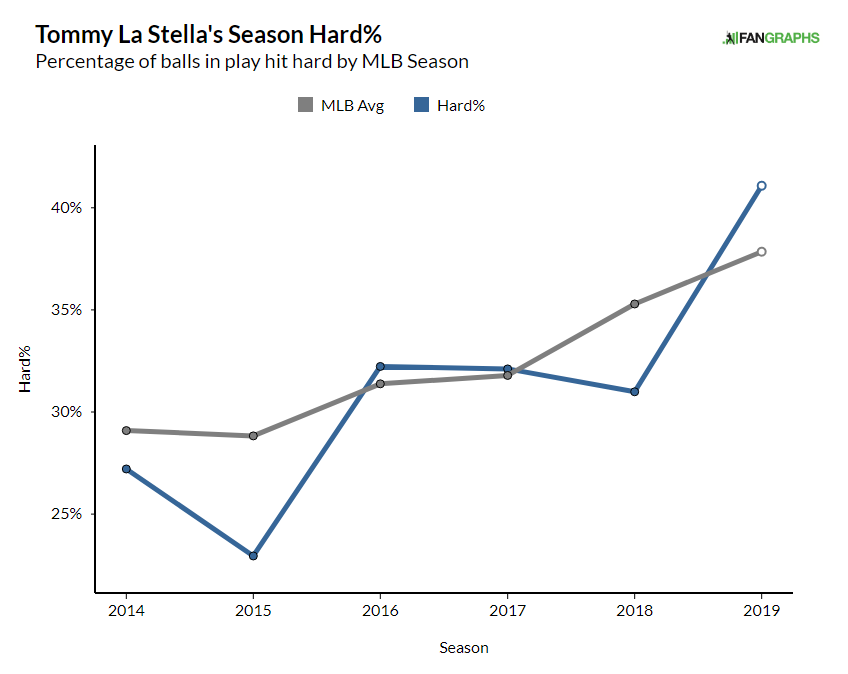 Yes, everybody is hitting the ball harder and harder. Tommy indeed was below-average in terms of hard-hit balls percentage back in his first pro years, but he turned into a much hard hitter around 2016 and after keeping it constant for three seasons he's just exploding in 2019. Moreover, he's lowered his Soft% to 15% and currently boast a virtually similar Hard% (41%) and Med% (44%).
Not only is Tommy La Stella hitting the ball harder than he ever has, but he is also being as disciplined as it gets. Although he has always navigated the low forties in terms of Swing%, he's logging his lowest rate this season at 42% while the average MLB batter is sitting at 47%. That and a pin-point pitch recognition has him at a ridiculous 8.8 K% per BaseballSavant, right there in the 99th percentile.
To be fair, it must be said that his walk percentage is not that good at 6.1%, but paired with the low amount of strikeouts he's taking, it makes for a combined K/BB ratio of 1.44 that ranks as the 20th-lowest among qualified hitters, which is staggering in the context of such a low walk rate.
It doesn't matter much that La Stella is not walking a lot, nor that he's not atop the ISO or SLG leaderboards. The fact that he's been slightly above average all around the place is making him one of the best hitters in all of baseball, and it shows.
Taking advantage of the Stats+ tab at FanGraphs, we can take a look at how better or worse than the rest of the league, on average, La Stella has been in 2019:
| | | | | | | |
| --- | --- | --- | --- | --- | --- | --- |
|   | PA | K%+ | AVG+ | OBP+ | SLG+ | wRC+ |
| Tommy La Stella | 294 | 39 | 117 | 107 | 115 | 128 |
Digging a little bit deeper into the numbers, we get to appreciate the season La Stella's putting together even more. Let me remind you: there are 162 qualified hitters by PA so far. Of those, looking at the Stats+ table from FanGraphs, only eight players have an AVG, OBP, and SLG at least 5% better than the rest of the field while sustaining a below-average BABIP, that is, carrying bad batted-ball luck.
These are the eight said batters, sorted by wRC+:

Not bad company. Four of those players are already All-Starters. Max Kepler and C.J. Cron are younger than La Stella and year-to-year 2.0 WAR threats. Tommy has caught up to them, if not more.
As far as counting stats go, Tommy La Stella is also having quite a season. Even in a homer-happy environment such as the one we're experiencing this season, La Stella has 16 homers in 74 games, besting his best mark to date by far (five in 73 games in 2017). He's already logged 79 hits (one short of his career high in 2014) and seven doubles and just hitting one triple he'll be on par with his best numbers in the category.
In a year that has seen the resurgence and put some veterans in the spotlight (Carlos Santana, Michael Brantley, and Hunter Pence, just to name a few who will even get to make the All-Star as starters), La Stella's explosion definitely fits the narrative.
There is still a ton of baseball to play, yes. We've barely reached the mid-season point. A slump can be at the turn of the corner. But the underlying numbers and the stability that Tommy's game has shown during the first 74 games he's made it to the field doesn't point in that direction.
Here's to hope for a continued run of great performances by La Stella.
Check Out The Other Deep Dives: Lucas Giolito | Rafael Devers | Corey Seager | Eduardo Rodriguez | Amed Rosario | Alex Verdugo | Joey Gallo | Mike Soroka | Christian Yelich| Justin Smoak| Martin Perez|Marwin Gonzalez|Derek Dietrich|Bryce Harper|Kirby Yates|Nomar Mazara|Zack Wheeler
Questions and comments?
thescorecrowsports@gmail.com
Follow Us on Twitter @thescorecrow
Follow Us on Reddit at u/TheScorecrow
Follow Us on Facebook at The Scorecrow
Follow Us on Instagram at The Scorecrow
Facebook Group where you can read and post articles at The Scorecrow
Reddit Group where everyone can post without fear of being banned at The Scorecrow
Follow Antonio Losada on Twitter @chapulana  
Main Image Credit:  [getty src="1152294255″ width="594″ height="396″ tld="com"]