Nick Popio | May 25th, 2019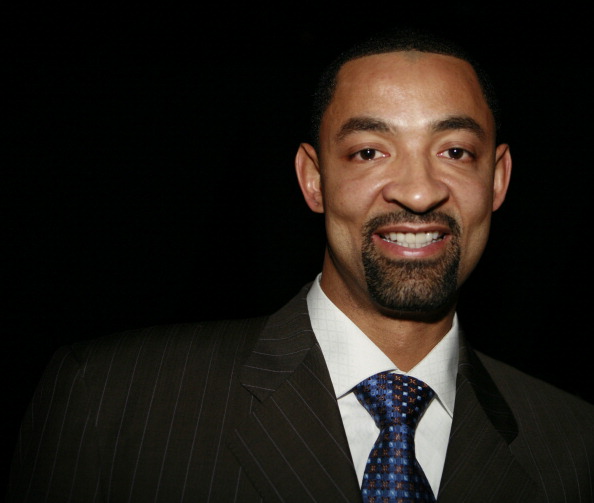 On Wednesday, May 22, 2019, Juwan Howard was named as the 17th head coach in Michigan's Men's Basketball history. It will be his first real head coaching opportunity, not counting the NBA Summer League. He replaces a man who will live on as a Michigan legend forever, in John Beilein.
Howard brings to the table a wealth of knowledge that he learned over the years since leaving Michigan. He managed to survive in the NBA for nearly 20 years and won titles as a player and assistant in Miami. Howard is a basketball lifer and his record proves it. Now he'll get the chance to prove the doubters wrong and coach his alma mater to earn the respect of the College Basketball universe by winning everyone over.
Juwan Howard was so poor as a child that his crib was a dresser drawer. His accomplishments:
– McDonald's All-American
– college All-American
– 1st-round pick
– graduated on time while playing in pros
– 2-time NBA champion
– 19 years in NBA
– head coach at Michigan

What a life!

— Scott Turken (@Turk0219) May 22, 2019
The cupboard in Ann Arbor is not completely empty after losing three starters to the draft though. The Maize and Blue bring back three capable standouts in Jon Teske, Zavier Simpson, and Isaiah Livers. Other notable talents who will need to step up for Howard include Eli Brooks, Brandon Johns, David Dejulius, Adrien Nunez, and Colin Castleton. All of who played significant minutes over the course of the 2018-19 season.
Howard's recruiting tactics are yet to be seen, but he already has he work cut out for him in this aspect. The Michigan Man has to re-recruit Small Forward Jalen Wilson out of Texas, who decommited shortly after Beilein departed. Cole Bajema remains the only commit in the 2019 class. In 2020 and beyond names like Zeb Jackson, Nimari Burnett, Zaire Wade, Jett Howard, and LeBron James Jr. will get very meaningful attention by Coach Howard and staff trying to bring them to Ann Arbor.
Tim McCormick: Juwan Howard Could Become Michigan's Best Recruiter Ever – https://t.co/cuYTiDeSNX pic.twitter.com/FYVkkWjtvb

— Sam Webb (@SamWebb77) May 23, 2019
Assistant coaches are also yet to be named, but Howard knows that Luke Yaklich, is a must retain to his first staff. He's a defensive savant, like Howard, who is an important piece to Michigan's recent success on the defensive side of the ball. Look for Howard to also hire an experienced former head man so he can lean on them in certain situations.
Bold move by UM AD Manuel to hire Juwan Howard – universally liked and respected, but lacks experience. Bet they're working to keep assistants Saddi Washington and Luke Yaklich, who would shore up Howard's college inexperience, and provide continuity w/Beilein's ethical approach

— John U. Bacon (@Johnubacon) May 23, 2019
Even basketball greats including LeBron James, Dwyane Wade, Pat Riley, and Steve Fisher have come out to show their support for the new Wolverine coach. His ex-teammates and players he coached have also expressed the type of man that Howard is. With the backing of so many, it's easy to see why Howard is such a well-respected individual who will have an excellent shot to succeed as the new head honcho at the University of Michigan.
Take 5 minutes and listen to Chris Webber talk about Juwan Howard. It's hard not to buy in and want Juwan as the next coach after hearing this. Wow. pic.twitter.com/CkEylfSXZL

— Good Analysis Corner (@WolverineCorner) May 21, 2019
All of these reasons and more will undoubtedly factor into why this is Juwan Howard's time to shine at Michigan. Perhaps summing up what his friend Chris Webber said about Juwan really says it best. Juwan will work tirelessly to win at Michigan to reach the goals that are the new standard for the program. Expect this year's team to struggle at times, but ultimately begin the Juwan Howard era of Michigan basketball with nothing less than endless hard work and a nonstop effort to be the best that it can be.
"This is the right hire at the right time."@TheAndyKatz discusses the implications of @umichbball hiring Juwan Howard: pic.twitter.com/jlA5lMbF4x

— Michigan On BTN (@MichiganOnBTN) May 23, 2019
Questions and comments?
thescorecrowsports@gmail.com
Follow Us on Twitter @thescorecrow
Follow Us on Reddit at u/TheScorecrow
Follow Us on Facebook at The Scorecrow
Follow Us on Instagram at The Scorecrow
Follow Nick Popio on Twitter @nick_popio21
Main Image Credit:  [getty src="115337491″ width="594″ height="503″ tld="com"]